19 Aug

Hand Eye Society Ball 2016 Tickets On Sale!

Posted on Aug-19-2016

in

Event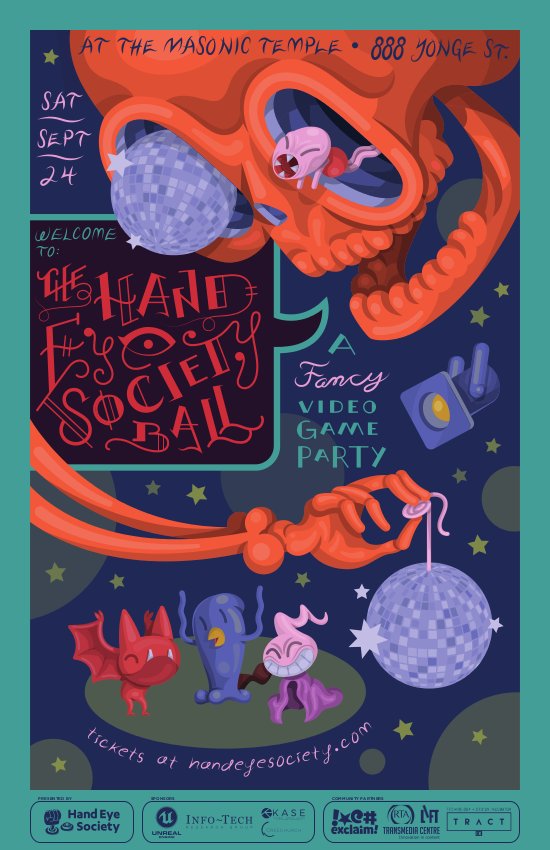 Already got your tickets? Please RSVP on the Facebook event and spread the word!
---
Cuphead / Line Wobbler / Multibowl / Last One Standing / VHS vs BETAMAX / Tilt Brush Pictionary VR
Brolly Folly / Criquette / Pico Park / Nothing Good Can Come Of This / ???
MUSIC: Scarlet Spades / C418 / dualryan / Ryan Henwood / Coins
At long last, our third annual fancy videogame party is back in town, ready to dazzle your senses with another spectacular night featuring music, dancing, and the best party videogames from around the world. Our last two shindigs — held at the Art Gallery of Ontario in 2014 and the Masonic Temple on Yonge Street in 2015 — sold out, so don't wait too long! We have some great games, art installations, DJs, and other mysteries yet to be unveiled; click on the links above for screenshots and information about the games. If you want to stay updated, why not subscribe to our e-mail newsletter, Facebook group, Twitter feed, and secret brainwave frequency which we broadcast to all our telepathically adept initiates? And if you're not psychic, feel free to use the hashtag #HESBall16 to spread the love around.
Scroll down past last year's smiling faces for event details, ticket prices, membership discounts and volunteer info!
Ticket Info
✨ Hand Eye Society members get 25% off! ✨

A special promo code will be e-mailed to all currently active Monthly, Annual, and Volunteer Members with valid credit cards. Not a Member? Become one today!
🎉 BONUS: Free ticket to all NEW ANNUAL MEMBERSHIPS! 🎉


Sign up for Annual here any time between August 19 and Sept 23 and we will e-mail you to confirm your membership and free HES Ball ticket. Note: This offer applies only to new Annual memberships, not Monthly.
As a Hand Eye Society Member, you don't just get tons of perks like discounts to our events and from community partners such as Real Escape Games and The Beguiling; you also help support tons of awesome year-round activity such as game-making workshops, festivals, socials and much more. We have lots of great videogame arts and culture events planned for the rest of this year and beyond, including this presentation on the connections between architecture and videogame design, an arcade featuring games about social change at the Reelworld Film Festival, our mental health-themed workshop Mind Games with Workman Arts, and big news for our interactive fiction festival WordPlay. What else does a videogame arts non-profit do, you may ask? Check out our Initiatives and News pages for a partial list!
---
Event Details
THE HAND EYE SOCIETY BALL
A Fancy Videogame Party
Saturday, Sept 24 2016
8pm-1am
The Masonic Temple – 888 Yonge St. at Davenport (Bloor/Yonge Station), Toronto
Facebook RSVP
*** This is a 19+ event. Please bring ID! ***
---
Volunteer Information
If you've signed up using our Volunteer Form and checked off "Hand Eye Society Ball" as something you'd be interested in helping out with, we will be in touch very soon about opportunities to help out for a few more hours towards the 10 hours needed to earn a Volunteer Membership (which comes with the same perks as a paid membership) such as postering and flyer distribution. More involved on-site roles such as game station attendant, ticket taker, coat check and Safe Spaces Officer will of course include a complimentary ticket, and the work will be divided into shifts so you can enjoy the party!

About the Venue
The Masonic Temple wasn't always just the former home of the secretive Freemasons; this heritage building at Bloor and Davenport was also a ballroom in the '30s graced by Bing Crosby and Frank Sinatra… then a concert hall that hosted Led Zeppelin, David Bowie, and The Ramones… and now, in a rare event open to the public, it will be the setting for an elegant night of videogames from around the world. Dress up fancy, enjoy a curated selection of delightful and surprising games amidst music and mingling, and support your videogame arts not-for-profit at the same time!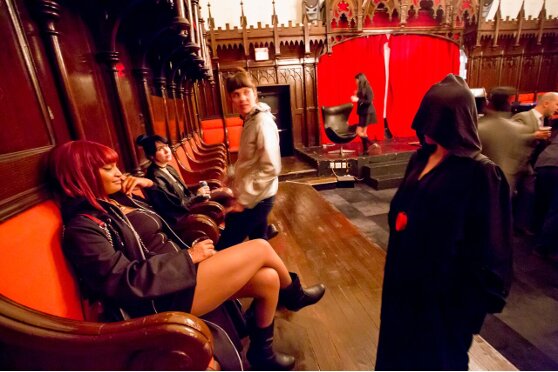 Thanks to Our Sponsors
Thanks to our Gold Sponsors Unreal Engine, Info-Tech Research Group, Kase Insurance and Creechurch; our community sponsors LIFT, Ryerson Transmedia Centre, and Tract 9; and our poster artist Roman Arabia.