13 Oct

The Society Ball Photo Recap

Posted on Oct-13-2015

in

Event

Here's a 2 minute video to drop you into the scene, photos below.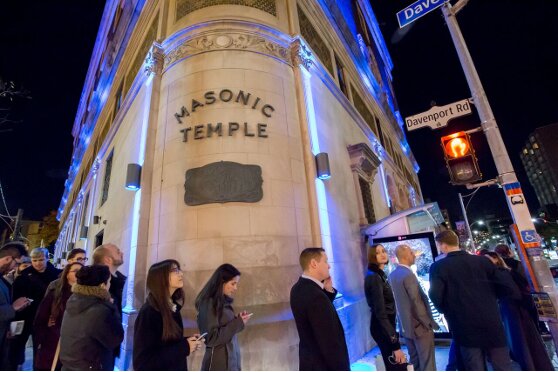 We had a line around the block, but more on the lines at the end of the post…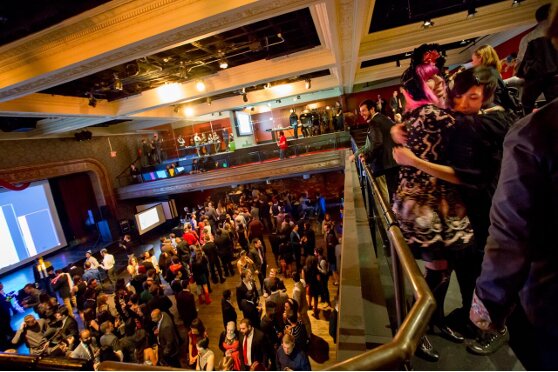 Once in, people encountered friends new and old in an elegant ballroom surrounded by videogames!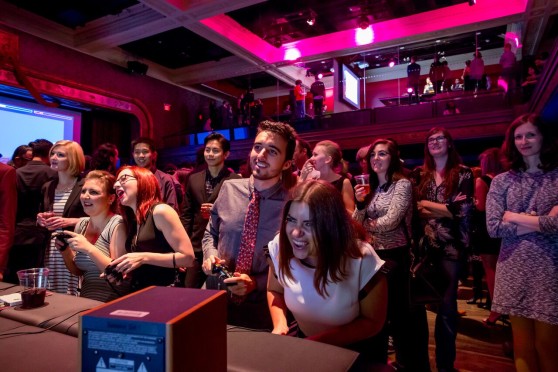 They watched the elongated wrestlers of Push Me Pull You in horror and delight!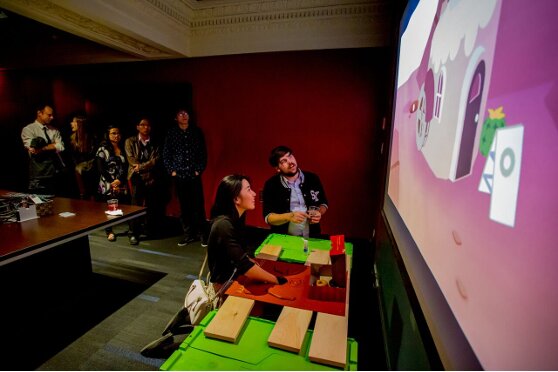 They moved the hole in Donut County by daring to put their hand in an actual hole!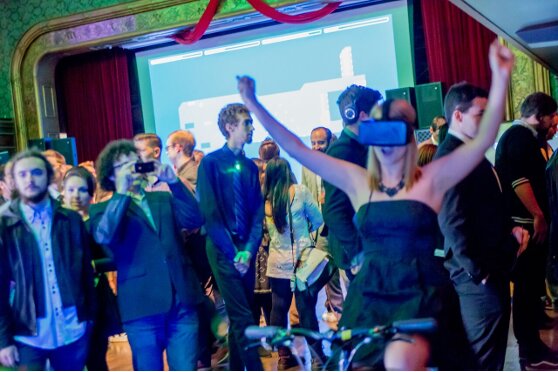 They challenged themselves to a virtual paper route in PaperDude, and emerged victorious!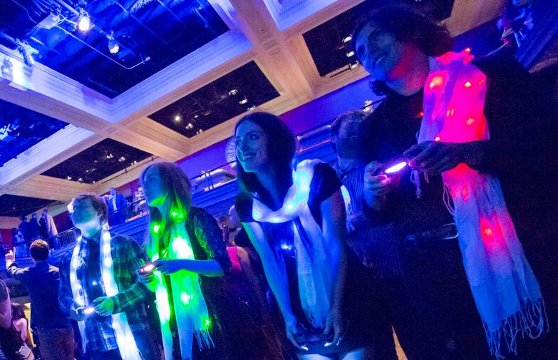 The ninja colours of N++ were matched with LED lit scarves so spectators could tell who's who…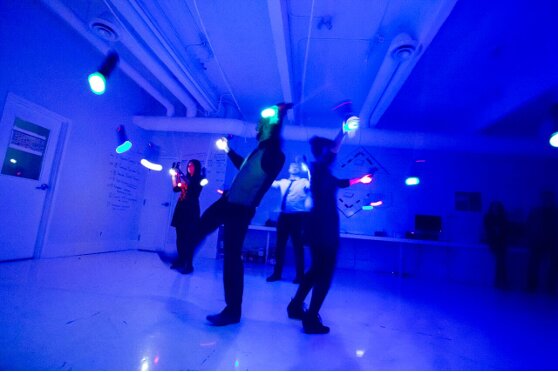 …while in the jungle of Edgar Rice Soiree, players swung from colour to colour.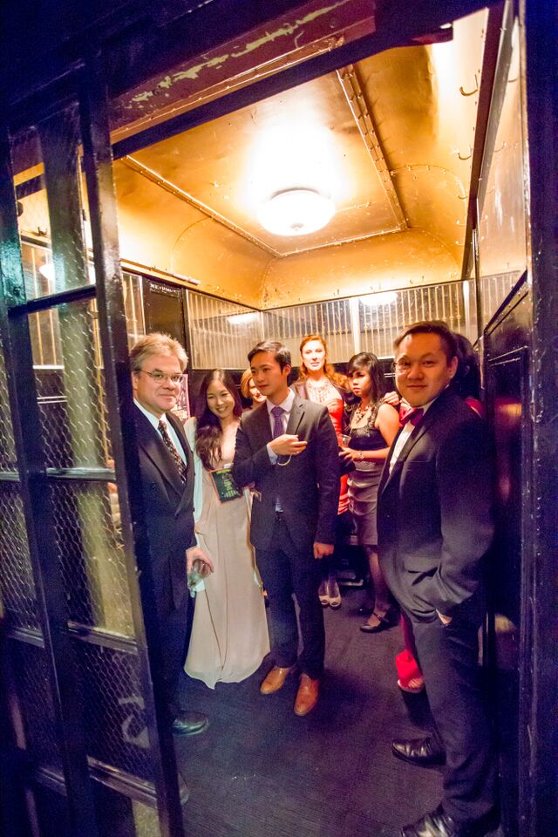 Some discovered through whispers and rumours a 100-year-old elevator that took them to the Red Room…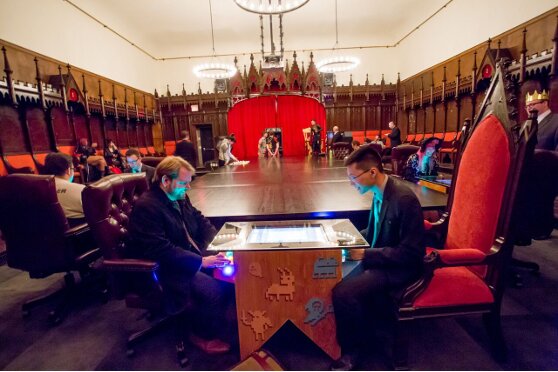 …where one could challenge a friend or foe to a game of Chesh on a custom made cocktail table…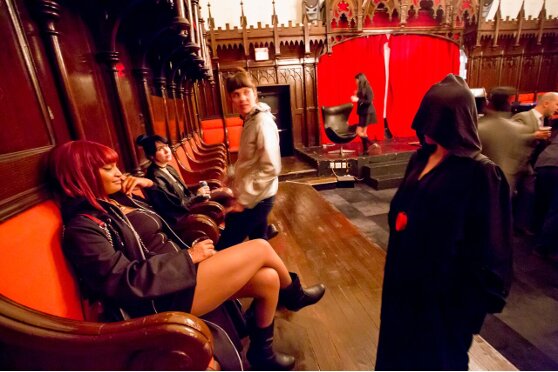 …so long as one was willing to brave the presence of hooded figures, wearing an amulet in the form of an arcade button…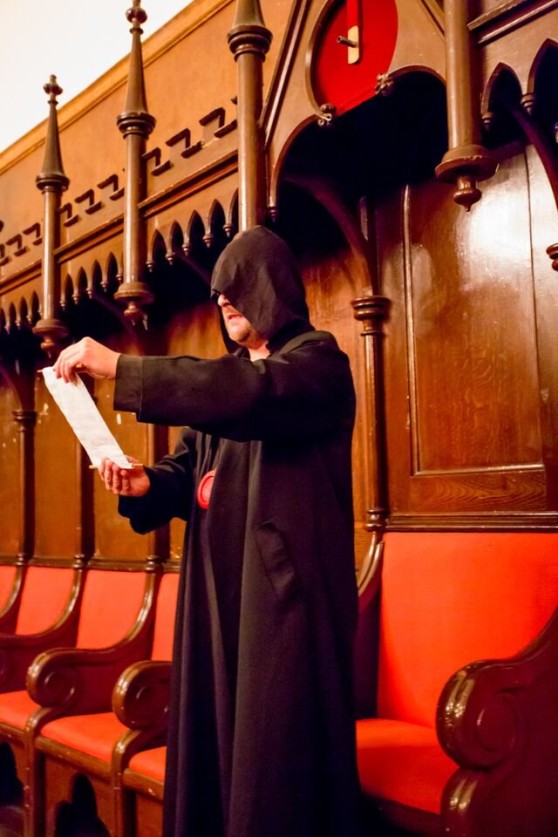 …who recounted a (surely?) fictional history of the Hand Eye Society.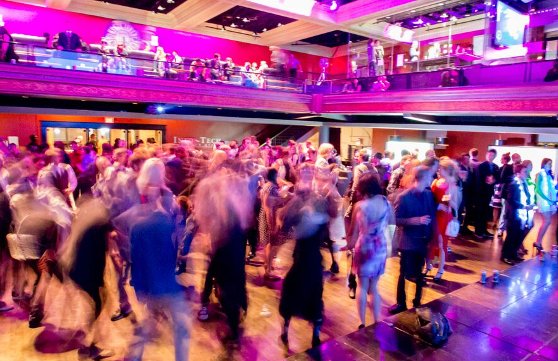 Meanwhile, downstairs on the dancefloor…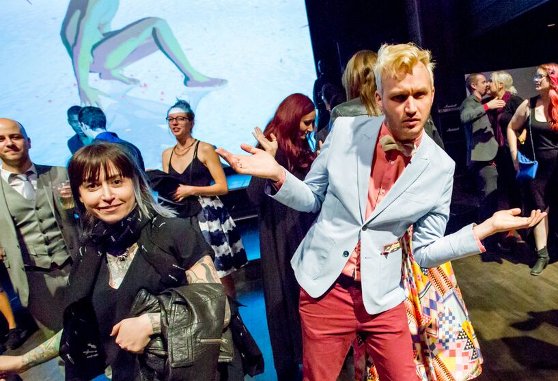 …people started to get playful!
So — all in all, our second fancy videogame party was a lot of fun. But the long lineups were not, and we'd like to apologize for them. As a fledgling arts organization, it was our first time handling door, coat-check and bar ourselves — the AGO handled that last year, and it was a steep learning curve for us. We based our bar setup on the last fancy videogame party, but sold 10x the amount of drinks — which is terrific, just not what we planned for.
We will fix that bug in next year's iteration, we promise.
Photos: Dean Tomlinson.

Check out the rest of Dean's photos here, and Paul Hillier's photoset of fancy people over here. If you got any good pics — especially of the One Button cabinet in action — please email us or tag it @handeyesociety!
Luckily, as the pictures above attest, the delightful games were worth the wait. Thanks so much to the gamemakers who let us exhibit their work! Here's the evening's program.
Main Floor Games
N++
PaperDude
Push Me Pull You
Runbow
Second Floor Glass Rooms
Donut County
Lovers In A Dangerous Spacetime
Mushroom 11
Shoot Shoot Mega Pack
Second Floor White Room
Edgar Rice Soiree
The Red Room
Chesh
Techno Tarot
---
The Society Ball was made possible by the following small army…
Co-Curators: Sagan Yee and Jim Munroe
Poster and Program Design: Michael Pitropov
Press Outreach: Alex Hayter, Tracy Tendean
Street Team: Kadeem Dunn
Social Media: Al Donato
Sponsorship: Richard Dang
Consultants: Jason Agar, Alex Jansen, Sal Patel
Venue Liaison: Wanda Yuen
Hand Eye Society Board: Miguel Sternberg, Cindy Poremba, Alex Jansen, Chris Gehman, Adam Axbey, Sara Grimes.
Tech Lead: Kyle Duffield
Gear Transport: Nawaf Bahadur
DJs: Dual Ryan, Ryan Henwood, Coins, and Dilettante.
Ticket Check-in: Randal Harris Ball
Safe Spaces Officers and Ticket Vendors: Kimberly Koronya, Chris Young
Troubleshooting: Stephanie Marchioni
Security: Kwame Kyei-Boateng, Rankin John Ewasyn
The One Button Arcade Cabinet and Main Floor VJ: Camp Cult
Custom Cocktail Table Creators: Nik & Megan Stewart from SpriteBox
The One Button Amulets: Derek Quenneville
Hooded Figures: Tim Walker & Caitlin Driscol, with help from Benjamin Blais
Scarf Modding: Julie da Costa
Donut County Hole Peripheral: Louis Roots
Cocktail Creator: Adam Axbey
Thanks to Josh Zucker and Long Winter, Richard Lachman and Ryerson, Pat Navarro and OCAD Print Shop, William and Michael at Info-Tech Research Group.
Our amazing volunteers, who performed beautifully under trying circumstances: Brendan Lehman, Aaran, Maryanne Peters, Thomas Camayang, Tyler Savage, Alijah Murrell, Jennifer Link, Chris Davies, Marishka Zachariah, Rose Behar, Andrew Gilbert, Tom Guo, Jeremy Moore, Joshua P'ng, Jarrett Reid, Valentin Staykov, Mohsin Shah, Yusef Dualeh, Cody Virag, Jessie S, Lucas Seara Medeiros, Kenrick Du. There were also a few people who spontaneously pitched in — contact us so we can add you!
And it wouldn't have been possible without the support of our Gold Sponsors Globacore, Ubisoft Toronto, Double Trouble and Info-Tech Research Group; our community sponsors LIFT, TOJam, and Storefront Arts.