29 Apr

Torontron High Roller debuts at TCAF!

We're happy to announce the Torontron High Roller! A companion cabinet to the original Torontron and what may be the first multi-game indie arcade box with a trackball! It's making its debut at TCAF, the Toronto Comic Arts Festival, May 7th-8th.
More on other great game content at TCAF after, but first the High Roller details!
The cabinet features five local games as well as a sixth international guest slot for notable games by developers outside Toronto. The inaugural launch games are:
Our first International Guest Game is Calamity Annie by Auntie Pixelante (aka Anna Anthropy). It's a wild west quick draw shooting game with a romantic subplot and great big blocky pixels. A novel addition to this version is the high score reward which lets the top player make their mark by drawing a picture in bullets.
There are also rumors of a secret seventh game, however we can neither confirm nor deny that it exists.
More Torontron cabinets are on their way as we refit the cabinets from the Nuit Blanche Arcadian Renaissance event for multiple games. Big thanks to Jph of iteration GAMES (for the skills) and Site 3 (for the tools) needed to modify the cabinet buttons and to Jph again for putting together the cabinet in the first place.
Other HES Games at TCAF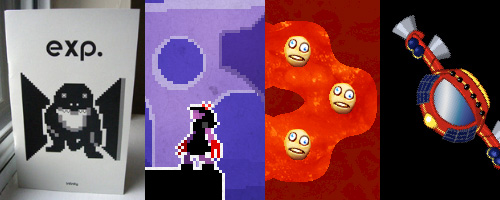 Along with the cabinets we'll have three demo stations set up with games by Golden Gear, Big Pants and Spooky Squid including a few making their first playable appearance at the show. It's a great chance to get a sneak peak of upcoming games by local developers, play some of their back catalog and chat with the creators. Writer of many fine words about games Mathew Kumar will also have his excellent exp. zine for sale at our table.
Less local, but sure to be of interest to many Hand Eye members the indie game culture shop Attract Mode will also be at the show!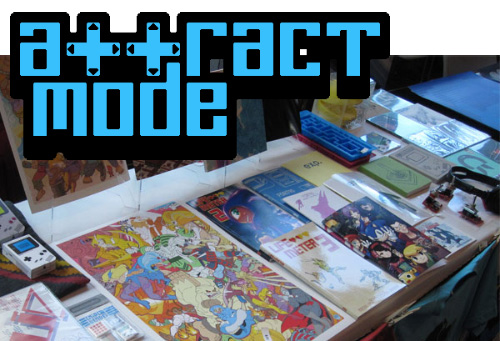 They'll be selling a selection of their usual assortment of game culture goodness, zines, comics, chiptune CDs, shirts and prints (or whatever subset of these they manage to get across the border). Debuting at the show are new Giant Robot prints by Farel Dalrymple, Hilary Florido and a Game Boy zine by Nick Maynard. The TCAF booklet will also feature an exclusive Attract Mode illustration by Maré Odomo, probably best known for his deeply melancholic "Letters to an Absent Father" Pokemon comics.
They'll also have the last few remaining issues of the current printing of Life Meter Comics which I pimped last year. They're full of amazing fan comics by comic artists, animators and illustrators. (Full disclosure: I have a Lovecraft-meets-Jet Grind Radio piece in issue 2, however the comics really are great… and my section can be removed to increase the street value.)
The Attract Mode table is manned by Matthew Hawkins of Fort90 so look for the table listed under his name to find it. He'll also have all four issues of his Fort90 zine for sale. Number four FORT90ZINE4ANSWER is debuting. Issue three describes his experience as a game designer at a major game company. The second and most popular is all about the game scene in NYC and the first issue is being discontinued so grab it while you can!
Other tables at TCAF likely to be of interest to HES folks:
There are probably a ton of others, go check out TCAF's full listing for all of them.
Toronto Comic Arts Festival
Saturday May 7th, 9am-5pm
Sunday May 8th, 11am-5pm
@ Toronto Reference Library
789 Yonge St., Toronto, Canada
416-533-9168
Admission to TCAF is Free.
Hate Comics But Like Making Things?
Our friends at Site3 are involved with the Mini Maker Faire the same weekend as TCAF and Shawn McGrath will have his game Dyad playable on The Machine — a hand-built motorized arcade machine that really has to be seen to be believed.
Dyad – THE MACHINE from Shawn McGrath on Vimeo.
There's also a chance the orginal Torontron Classic will be making an appearance at the Faire. Attend both, collect them all!
Toronto Mini Maker Faire – May 7th-8th – Evergreen Brickworks