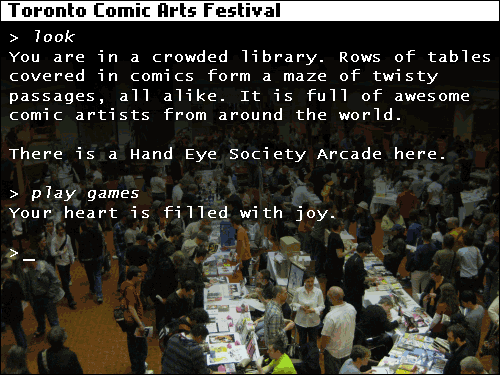 03 May

Hand Eye Society at TCAF!

Posted on May-03-2010

in

Event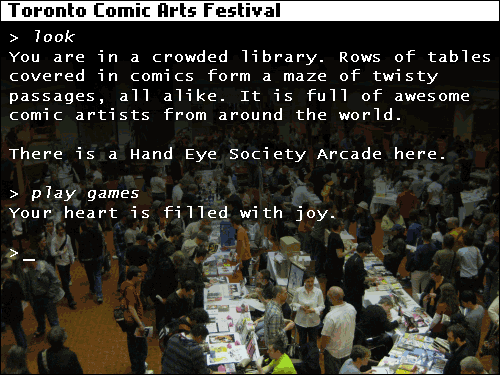 May 8th and 9th come down to the Toronto Comic Arts Festival to check out The Hand Eye Society's TCAF  Arcade!  The mighty Torontoron arcade cabinet will be there along with three game stations rotating through a wide range of playable Toronto indie games. The lineup includes games by:
WHAT'S A TCAF?!
TCAF is a massive comic festival (around 10,000 people attended last year) that takes place over two floors of the Toronto Reference Library.  It is not a typical comic event, it pulls a more diverse audience, emphasizes small press and independent creators (not super hero stuff!), and doesn't have vendors or any big press attending (that means no Marvel or DC).  Also ADMISSION IS TOTALLY FREE!
"But I hate comics!"
To bad! Here's a big list of awesome game related stuff at TCAF:
Mathew Kumar will be selling  his excellent game 'zin
'exp.'
*UPDATE*
I've been informed that Issue 2 will be debuting at TCAF!
The folks behind the fantastic Life Meter video game inspired comic anthologies will be there (and many of the contributors will be too!). Hopefully they'll bring a truckload of 'em, they tend to sell out fast.
There are also some notable game/comics crossovers including:
Jamie McKelvie artist for indie life sim Kudos2
Scott c. art director and concept artist for Double Fine (Psychonauts, Brutal Legend)
The Hand Eye Societies own Benjamin Rivers (Drunken Rampage, Snow) and Jim Munroe (Everybody Dies, Roofed) will be selling their comics as well.
*UPDATE* Frequent TOjam participant and character designer for 'Guerrilla Gardening: Seeds of Revolution' Eric Kim will also have comics at the show.
You may also wish to catch this panel on the intersection of indie comics and indie games:
The Spirit of Indie: Where Comics Meet Video Games
Saturday, May 8th, 2:00 – 2:45pm, The Pilot
There's more to the game industry than blockbuster, multi-system titles just as there's more to comics than Batman. This panel seeks to explore the ways in which independent comic artists and game developers have influenced each other and spurred each other on to explore the possibilities of their medium. Cartoonists/game contributors and creators Scott Campbell, Jamie McKelvie, Jim Munroe, and Miguel Sternberg will be interviewed by games journalist Matthew Kumar.
TCAF
May 8th and 9th 2010
@ Toronto Reference Library
789 Yonge St., Toronto, Canada
Admission to TCAF is Free.
More Info on the Toronto Comic Arts Festival including a truly massive list of guests at:
http://www.torontocomics.com/
If you're a Hand Eye Society member or indie game maker doing something at TCAF feel free to post about it in the comments and I'll add it to the list!