The Torontrons are classic arcade cabinets retrofitted to play contemporary games by local indies.
Unlike the digital nature of games themselves, the arcade cabinet has weight. It takes up space. It catches the eye from across the room. Not hidden away in basements or nested directories, it protrudes into the real world. Both historical reference and mobile gallery for our nascent art form, a Torontron challenges you to stand up and approach it, to engage with it, to do your best in front of friends and strangers: to play in public.
Inspired by MAME cabinet makers, the first Torontron was released in November 2009. It was cited as inspiration for the Winnitron, released in Winnipeg about a year later, which in turn went on to spawn an international arcade network. There now are active indie arcade cabs in the Netherlands, New Zealand, New York, Australia, Pittsburgh, Chicago, Shanghai, and Oakland. If you know of other active cabinets please drop us a line!
The Torontron cabinets were engineered by Jph Wacheski (who has written a how-to), and the current deployment officer is Alex Jansen. The project is produced by Jim Munroe.
The Cabinets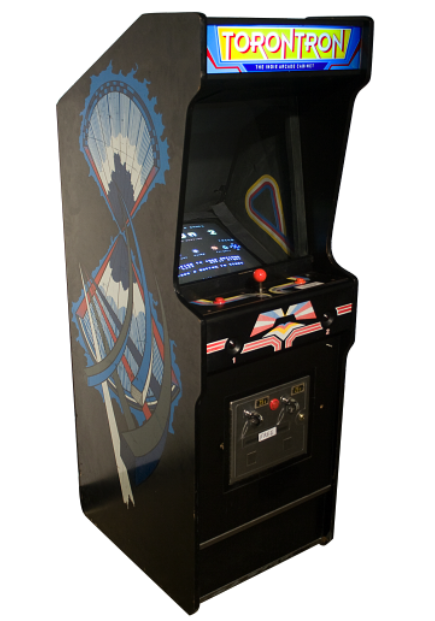 Name: Torontron
Place and Date of Birth: Canzine, Nov. 2009
Special Power: The Original Indie Arcade Cabinet
Previous Life: Magic Maggot, an Italian Centipede bootleg
Curator: Jim McGinley
Designer: Nadine Lessio
Financial Support: Toronto Arts Council, Ontario Arts Council
Games: Albacross, LockON 2, Mondrian Provoked, Monster Puncher, Heavy Weather, & Night of the Cephalopods.
Current Location: TIFF Bell Lightbox, 4th Floor (open 9-5, Mon-Fri)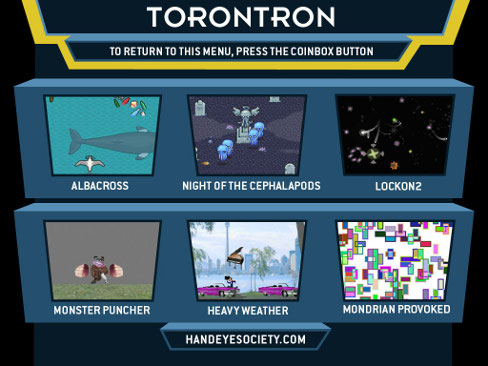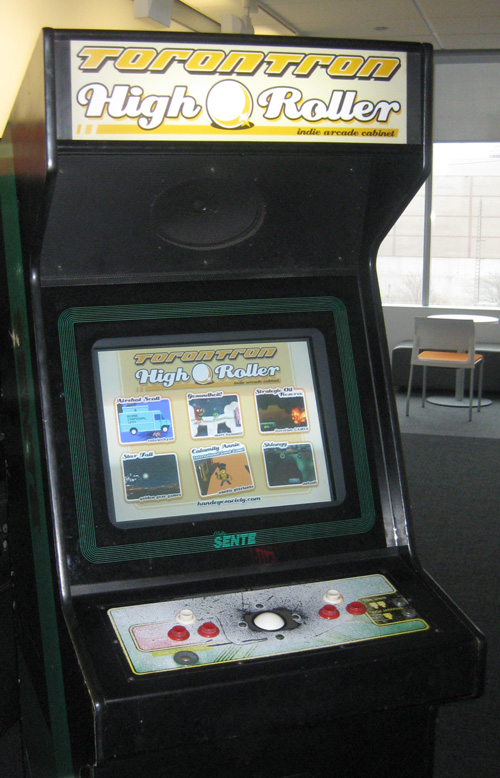 Name: Torontron High Roller
Place and Date of Birth: Toronto Comic Arts Festival, May 2011
Special Power: Trackball enabled
Previous Incarnation: Gimmie a Break! pool game
Curator: Miguel Sternberg
Designer: Miguel Sternberg
Financial Support: The Ontario Media Development Corporation
Games: Shlongg, Gesundheit!, Airshot Scott, Strategic Oil Reserve, Star Fall High Roller & international guest  Calamity Annie.
Current Location: Bento Miso (map)

Name: Torontron Twinstick
Place and Date of Birth: Toronto Animated Arts Film Festival launch party, Nov. 2011
Special Power: Dual joysticks
Curator: Jim McGinley
Designer: Craig D. Adams
Financial Support: Toronto International Film Festival
Games: Amici Exeunt, Cephalopods Co-op Cottage Defence, N Arcade, A Friendship in 4 Colours, Seeds of Descent, & international guest Forget-Me-Not
Current Location:Academy of the Impossible(map)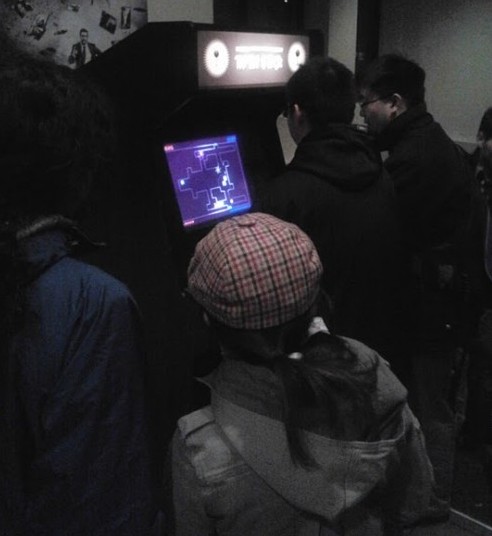 Booking a Torontron
We're always looking for places that could host a Torontron for free play to the public. Check out this form! If selected there is no charge but we ask for a minimum booking of a month, but one or two day event bookings can be arranged for a transport/handling fee of $500/cabinet.
Past Torontron Appearances
Nov. 1, 2009: Canzine Artcade
Apr. 24-27, 2010: Flash In The Can
May 8-9, 2010: Toronto Comic Arts Festival
May, 2010: Function 13
June -September, 2010: InterAccess
October 2, 2010: Nuit Blanche at TIFF Bell Lightbox
Aug 28, 2010: Fan Expo
November 13-14, 2010: Gamercamp
May 7-8th 2011: Toronto Comic Arts Festival
May 2011: George Brown
June 2011: Centre for Social Innovation
September 2, 2011: Mississauga Celebration Square
September 2011-Sept 2012: Toronto Underground Cinema
October 2012: Site 3
October 21st: Canzine DIY Games Room
Nov-March 2013: The Monarch Tavern and The Projection Booth Cinema
Mar. 2 2013: The Toronto Symphony Orchestra at Roy Thompson Hall