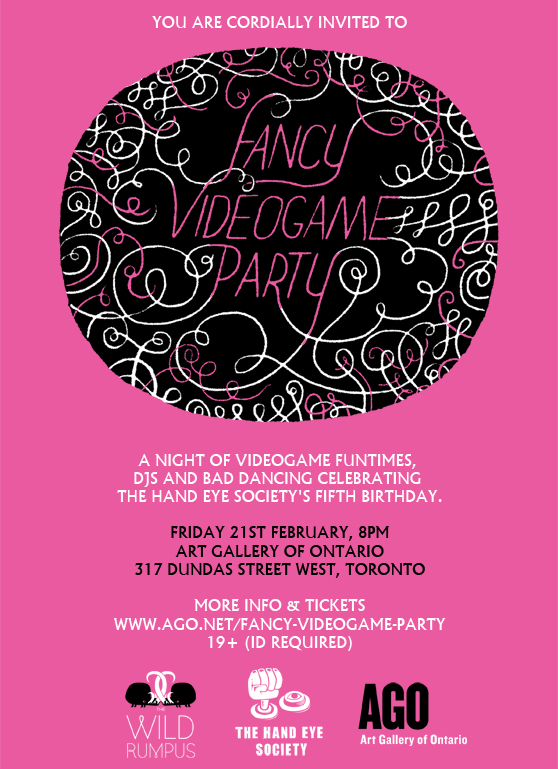 12 Dec

Fancy Videogame Party

Posted on Dec-12-2013

in

Event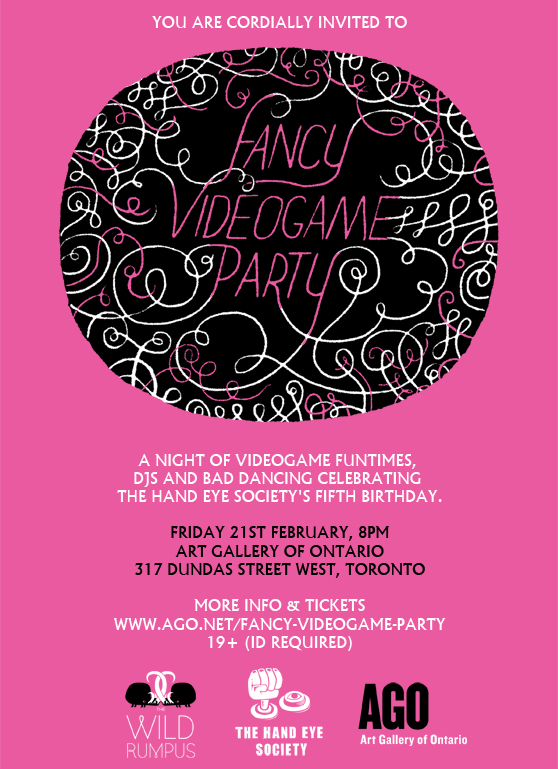 Update: All 550 tickets have been sold. Sorry!
Update: The second selected games, DJs and technology announcement is up!
Update: The first selected games announcement is here!
Ready to see the epicentre of the Canadian arts establishment transformed into a playground? We're excited to announce a mind-blowing partnership between The Hand Eye Society, The Wild Rumpus and the Art Gallery of Ontario to celebrate our fifth birthday!
On February 21, 2014 at 8pm, the Fancy Videogame Party will bring together the very best multiplayer, party and physical videogames from around the world for one night only at the AGO.
The Hand Eye Society celebrates its fifth year throughout 2014, starting with this marquee event in the spirit of international collaboration — combining Toronto's vibrant arts community with the internationally renowned games party collective The Wild Rumpus. We encourage gamers and non-gamers alike to attend, as the event is suitable for all types. With incredible previous parties in London, Austin and San Francisco, The Wild Rumpus offers a chance to experience some of the most fantastically eclectic and creative videogames out there.
As always, The Wild Rumpus' call for games is open and we encourage game makers to submit their creations.
Tickets are 19+ and available for $15 for the public or $12 for AGO and Hand Eye Society card-holding members, who will be receiving an email with the promo code.