11 Dec

Comics x Games 2018 OPEN SUBMISSIONS Now Live!

Once again, the Hand Eye Society is holding an open call for videogames to showcase on-site at the Toronto Comics Arts Festival (May 12th and 13th) as part of this year's Comics X Games 7! Comics X Games fosters collaboration between the independent game and comic communities through a variety of projects, partnerships and events. Every year with our partners during TCAF, we present unique, game-focused content — from arcades and gallery shows, to panels, talks, and even cross-collaborative game jams. It's a great opportunity to expose your game to TCAF's diverse audience of over 20,000 visitors. Table space is limited, so apply now!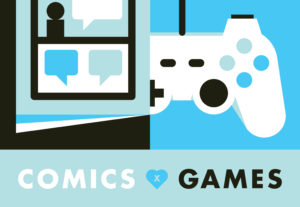 Click here for the 2018 Exhibitor Application Form
Submissions end January 31 2018 at midnight EST. 
Exhibitors must be able to attend TCAF in Toronto, Canada both days to set up and staff their table. Send any questions to the Comics X Games Team at cxg@handeyesociety.com (Sagan Yee, Ken Cho, Amanda Wong).
---
New Table Fees In Effect: Please Read!
For the first time in 7 years, we are requesting a small fee of $30 per table and $10 for each piece of rented equipment (computers and monitors) for a maximum of $50. This money will go directly towards replacing and maintaining our tech, which takes a lot of wear-and-tear during events like this. Capital costs such as computers, monitors and speakers are often disqualified from funding sources such as government grants, and we're always on the lookout for ways to replenish our weary machines. Additionally, financial support for Comics x Games often varies widely from year to year, so this will help ensure that we can continue to run this program sustainably.
You always have the option to waive the fee if you feel it would be a barrier to applying; simply check the appropriate box when applying through the exhibitor form.
Compared to other trade show table fees and considering games don't make a ton of money off merch, we feel this is a fair price. However, you won't be penalized for waiving the fee – we want to keep things accessible and inclusive! Consider it a suggested donation for those who are able to afford it, and know that we will forever appreciate your contributions to making our programming free and open to the public. This is a new thing we're trying out, so we look forward to hearing your feedback.
For Toronto/GTA and sometimes international artists, we have several non-vendor exhibition opportunities where we pay out artist fees (such as Waterfront Arcade, Curious Cabinets, WordPlay and the Oakwood Village Residency in 2017), so please keep an eye out for ongoing activities throughout the year!
---

Application FAQ
When and where is TCAF?  The Toronto Comic Arts Festival 2018 will take place Saturday, May 12th, 9am-5pm, and Sunday May 13th, 10am-5pm, at Toronto Reference Library, 789 Yonge Street. The Comics x Games exhibit usually takes place on the second floor.
How does Comics X Games fit into this? TCAF is its own event/organization, but the Comics x Games programming is coordinated by the Hand Eye Society and promoted as a cross-disciplinary part of the main festival. It's a partnership that started in 2012 between TCAF and HES c0-founder, Miguel Sternberg, with support from TIFF.nexus. We are extremely grateful to TCAF for being a great host all these years!
Do I need to live in Toronto take part? Nope. International guests are welcome as long as you're able to travel to Toronto for TCAF and staff your table over the two days. TCAF's FAQ has some good travel information for out of town visitors.
Is there a table fee for confirmed applicants? Yes, but we are very flexible. For the first time in 7 years, we are charging a small fee of $30 per table and $10 for each piece of loaned equipment (computer and/or monitor) so the maximum ask won't be higher than $50 CAD. This money will go towards the wear-and-tear on our equipment, which is expensive to replace and difficult to fund through normal channels. However, you won't be penalized for waiving the fee – we want to keep things as accessible and inclusive as possible!
Can I sell merchandise for my game? Yes; in fact we encourage it! Banners, postcards, download codes, plushies, etc. are all fine. However first and foremost this is a games showcase so you need to have your game set up for people to play, and to please respect your neighbour's table space.
My game has nothing to do with comics, so can I still apply? Yes! While we are always excited to see game submissions with some connection to the world of comics, such as visual novels or interactive experiments that play with the concept of sequential art (or comic artists who are also making indie games), all are welcome to apply! Click here to see a list of previous exhibitors.
I don't have a game, but my comic is super relevant to games, can I exhibit at Comics x Games? Unless it's some form of interactive comic (like Meanwhile or Framed), probably not. Send us an email if you want to be put on a list and we'll let you know if extra space becomes available. Alternatively, you can let us know you are interested in being a speaker or a panellist, as we've had many guests such as Jason Shiga talk about their comics in an interdisciplinary context.
How do you decide which games get selected for the arcade? We get more and more submissions every year and only have enough table space to select about 30 games, so there are many factors that go into making the final selection. Once submissions close, the HES team sits down and plays through all of the games that were submitted. There is no main criteria that governs our choices, but we like to see a wide variety of types of games (multiplayer, story-driven, puzzle, experimental, even tabletop), as well as prioritizing games that demonstrate the independent creative spirit of TCAF. Some of the other things we look for are: Is the artist/studio from Toronto or the GTA? Are they a student or emerging artist who could use the exhibition experience? Are they from a marginalized or traditionally underrepresented background? Above all, balance is key!

Do I need to provide my own computer equipment? Yes, you should bring everything you need to showcase your game. However, you can rent a computer and/or monitor if you'd like (see the form). A small number of loaner set-ups will be available, although they are fairly underpowered and we will have to test your game on them to make sure they run properly. Priority will be given to guests coming from outside of Toronto/the GTA.
Will there be internet on site? Not particularly. While the library technically has free Wi-Fi, it's spotty at the best of times and borderline useless during TCAF. We strongly recommend having a build that is is playable offline.
I only want to showcase for one of the days, can I do that? Probably not. Priority will be given to exhibitors showing both days but you can send us an email with your preferred day if you want to be put on a list.
I exhibited in previous years and the space was kind of difficult to navigate. Will there be any changes this year? Unfortunately there is unlikely to be any changes to the physical area as long as TCAF remains in the Toronto Reference Library. The second floor space is what we've been given to work with, and the tables are bolted to the floor, which makes changing the layout basically impossible. We've flagged the risers as an accessibility issue, but until a solution is found, we will continue to do our best to make sure everyone's needs are met!
Question not on the list? Email cxg@handeyesociety.com
For more information about TCAF:
Website: www.torontocomics.com
Twitter: @Torontocomics
Facebook: www.facebook.com/TorontoComics
Tumblr: torontocomics.tumblr.com