17 Jul

Call for Games: Waterfront Arcade

Posted on Jul-17-2017

in

Event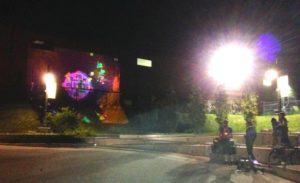 Remember last year when we had some fun in the park projecting games onto a big ol' sheet? We're doing it again this year, and we're levelling up thanks to the support of Waterfront Toronto. On the evening of August 18, we'll be at Sherbourne Common (right beside the George Brown / Corus building on Queen's Quay), with two huge projectors, playing videogames on the sides of buildings.
That means we're looking for games to play! Specifically we're looking for 4-5 works from GTA creators that are:
Games that work well in short play sessions.
Games that support a lot of players AND/OR are engaging for spectators to watch (this could include something story-based and cinematic!)
Games that are playable now, either as finished products or works-in-progress.
Games that don't actually require a screen — we've also got a big grassy area to play on!
Selected artists are required to attend the event, and will receive a $200 artist fee. Submit your game here by the end of August 1! (You can also submit someone else's game for consideration, if you think we should know about it.)
P.S. We're also looking for volunteers to help out at the event! If you're interested, contact amanda@handeyesociety.com.