20 Nov

Roguelikes: The Social

Posted on Nov-20-2012

in

Social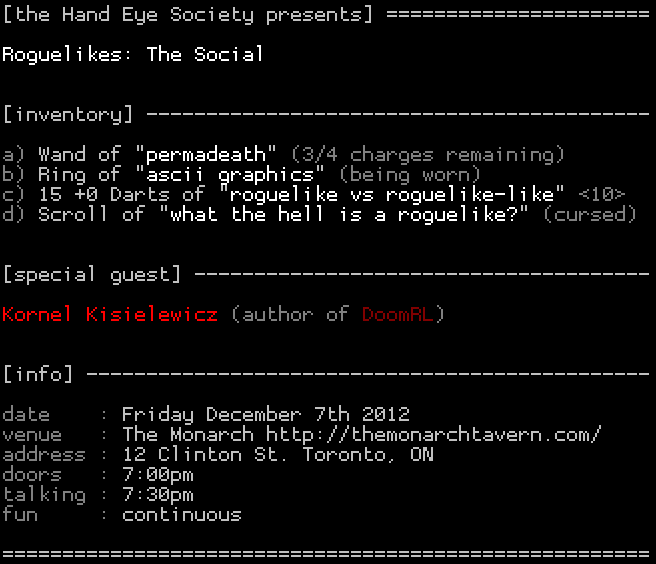 A decade ago, a guy handed me a 3.5″ floppy with NETHACK scrawled on it, muttering something about rogues. I never put that disc anywhere near my computer, and to this day I don't know if it would have sent me down an infinite rabbithole of frustration and despair or opened a portal of sublime wonder and adventure.
On Friday Dec. 7th at 7pm Raigan Burns from Metanet Software is going to solve this mystery for me (and YOU) at the next Hand Eye Social by answering the question: "What the Hell is a Roguelike?" Sure, you could just go and look it up, but would it be able to communicate what makes them so good with Raigan's trademark intensi-passion? How its minimalist proceduralism inspired indie hits like Spelunky? That it introduced the notion of permadeath as an antidote to the poisonous excess of infinite lives? I'll answer for you: No.
As if that wasn't enough, Metanet has also flown in Kornel Kisielewicz from Poland to speak about his roguelike DoomRL.
As always, there will be lots of time to drink and Socialize after the short talks in our sweet new digs at the Monarch Tavern (12 Clinton St., close enough to Little Italy to be convenient, but far enough from Little Italy to be tolerable).  The Monarch currently hosts the fabled Torontron Twinstick — excellent for dispelling moments of awkward standing around. It's free and open to the public.
UPDATE: We've put the first ten minutes of Raigan's talk and some links to the games he talked about here.
Further reading/playing:
roguelikes
DoomRL: http://doom.chaosforge.org/
Brogue: https://sites.google.com/site/broguegame/
ZapM: http://zapm.org/
POWDER: http://www.zincland.com/powder
roguelike-likes
Probability 0: http://www.droqen.com/probability0.html
Teleglitch: http://www.teleglitch.com
Red Rogue: http://www.redrogue.net/
Transcendence: http://neurohack.com/transcendence
Strange Adventures In Infinite Space: www.digital-eel.com/sais/
http://www.infinitespacegames.com/weirdworlds/
sites
Temple of the Roguelike (roguelike news and articles):
http://www.roguetemple.com/
Roguebasin (huge list of roguelikes, finished and in-dev):
http://roguebasin.roguelikedevelopment.org
7drl (annual game jam): http://7drl.org/
Roguelike Radio (podcast about roguelikes): http://www.roguelikeradio.com/
Unangband dev's blog: http://roguelikedeveloper.blogspot.com
Let's Play Nethack: http://www.youtube.com/watch?v=6weTaUGATkg
other interesting roguelikes and roguelike-likes:
ThiefRL: https://sites.google.com/site/mcneja/thiefrl
Zomband: http://zooptek.net/games/zomband
DiabloRL: http://diablo.chaosforge.org/
Zaga-33: http://mightyvision.blogspot.ca/2012/04/zaga-33.html
slashie.net is sadly down..
traditional roguelikes:
DCSS: http://crawl.develz.org/wordpress/
Nethack: http://www.nethack.org/
Angband: http://rephial.org/
ADOM: http://www.adom.de/
ToME: http://te4.org/