17 Feb

IMPORTANT: AGM Venue Change (and Two Awesome Events)

Hey everyone, hope you're all having a good Friday! We have an important announcement to make: Due to scheduling issues, we are moving our Annual General Meeting from Tract 9 to Electric Perfume. All other details are the same. Please update your calendars, and while you're at it, check out two more awesome events we've got going on next week: An alternative controller game for 5 players, and an encore performance of the sold-out Unity shaders workshop we ran last year! Click the event names for full details.
---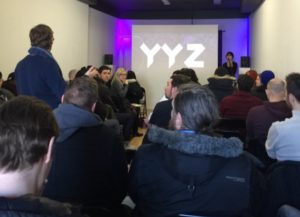 Come on out to learn more about the organization and our plans for 2017, register or renew your membership, meet cool people in the gaming arts, and check out another game-friendly tech space in Toronto! Snacks and coffee will be provided.
*** RSVP FORM ***
Electric Perfume – 805 Danforth Ave (short walk from Pape Station)
Saturday March 11
1 – 2:30 PUBLIC / 2:30 – 4 MEMBERS ONLY
---

Remixed Gravity Skeleton Party: DOBOTONE at May Cafe
Come join the Hand Eye Society for a fun, informal evening social as we welcome international game developers Videogamo (Máximo Balestrini and Hernán Sáez) to Toronto! Videogamo's DOBOTONE  (also on display at TIFF DigiPlayspace!) is an award-winning 5-player alternative controller arcade console specially designed for parties. Four players compete in a variety of built-in mini games using two-button controllers, while a fifth person takes on the role of a powerful Game Remixer who can change the variables of the game – including the camera zoom, speed, gravity, and even the amount of "glitch" – in real time through the console's special knobs and buttons. The results are baffling, chaotic and hilarious, no matter your familiarity with video games.
May Cafe – 876 Dundas Street West
7 PM – FREE!
---

Intro to Unity Shaders Workshop
Tired of everything in your games looking kind of the same? Amp up your style with shaders! These GPU marvels are at the heart of nearly all game visuals – from realistic lighting and shadows to stylized toon shading, natural foliage, water reflections and sci-fi forcefields and sorcery. Using the Unity game engine, we'll demystify how shaders work their magic, and try out recipes for common effects. Participants will leave with the building blocks to begin making and customizing their own shader creations.
*** Tickets on sale Saturday at 11 PM ***
 $45+HST for general, $30+HST for Hand Eye Society members. Not a member? Sign up here!
Electric Perfume, 805 Danforth Ave
Saturday Feb 25
1 – 4:30 PM
INSTRUCTOR: Douglas Gregory is a game designer at Ubisoft Toronto, teacher at Sheridan College, avid game jammer, and regular on GameDev.StackExchange. Ten years developing games for the Wii, PC, Xbox, PlayStation, and special exhibitions fostered his fascination with graphics technology and the weirdly wonderful ways shaders bring math to life. His latest game, Last One Standing, will be featured at this year's TIFF DigiPlayspace.