06 Feb

Annual General Meeting 2017 — Kicking It Off Fire Rooster Style

It's that time of the New Year: The Hand Eye Society Annual General Meeting is upon us! It's not exactly a phoenix, but a Fire Rooster is just as good a metaphor for rising from the still-cooling ashes of 2016 and beginning the cycle anew. Come on out to learn more about the organization and our plans for 2017, register or renew your membership, meet cool people in the gaming arts, and check out yet another game-friendly tech space in Toronto! Snacks and coffee will be provided.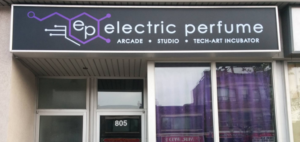 DETAILS
Electric Perfume
805 Danforth Ave (short walk from Pape Station)
Saturday March 11
1 – 2:30 PUBLIC
2:30 – 4 MEMBERS ONLY
We have a limited number of seats, so please RSVP using the above form to let us know you're coming. As always, while the first half is open to the public and a great way to find out more about what we do and how to get involved, the second half of the event is only open to official members. You can become a member and receive voting rights and more for $7/month by registering here. You may also qualify for membership if you have done 10 or more hours of volunteer time with any videogame arts and culture-related event in the city in 2016 — not just for HES! If you qualify, e-mail our volunteer coordinator Kai Winter at volunteer@handeyesociety.com with details. For both current and new members, when you arrive, please check in to receive your shiny new 2017 membership card.
WHAT'S ON THE AGENDA?
Introduction of coordinators, staff, the venue
Overview of past, present and future activities, including perennial favourites and new kids on the block
Proposals and ideas for upcoming workshops, events, community-building strategies, etc.
Voting-in policies and board member nominees (HES members only)
Agenda will be sent out 2 weeks before the AGM proper.
We did a lot in 2016 and have continued to expand while constantly thinking of the best ways to serve the gaming arts community here in Toronto. Our members have done so much to support our efforts, and now is a great chance to contribute to the direction and vision of the organization. We look forward to hearing you questions, suggestions and concerns!
ABOUT THE VENUE
Electric Perfume is a Toronto production studio and exhibition space for live gaming environments and immersive atmospheres. We aim to provide the community with access to a roster of fun and unique spatial and sensory experiences in the realms of gaming, art, entertainment, and learning. In addition, we work with creators and affiliated organizations to explore technology, innovation, and connect local networks through events, product demos, educational workshops, and talks by forward-thinking people.
---
For questions and concerns, please contact us at info@handeyesociety.com