09 Nov

Canzine Artcade 2009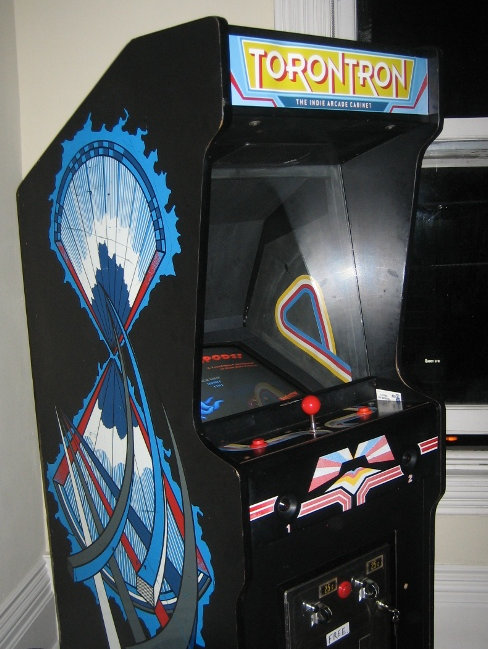 Pictures do not really do it justice. When you're standing in front of the TORONTRON with your hands on the classic joystick and button, you're wrapped in a cocoon of sound and light that is an experience more than the sum of its parts.
While the crown jewel at the event was undoubtedly the TORONTRON, we had a bunch of things going on in the Artcade. Here's Craig's quick vid sweep of the room.
We set up three stations for the game-curious to creatively engage with games. We had a couple hundred people through the room, and they really seemed to dig it. Craig and Karie sat down people in front of Scratch to mess around with a pre-existing game (Jori's freaky baby at the end of the vid was an example of this), Mark and Rose showed people the wild fun to be had attaching balloons to buses with Gary's Mod, and Davin invited people to draw their own videogame character which he then animated in front of their eyes.
You can check out all the characters that were created at Canzine including my crappy one — just click on my character and use the right and left arrow. But even more amazingly, if you have a webcam you can actually draw and animate your character from home.
Here's how:
1. Print out this PDF.
2. Draw your 4 frames (use colour if you want!)
3. Make sure your webcam is plugged in, go to this page and allow Flash to access it.
4. Put your page in front of the cam and line it up (you might want to try lighting it evenly if you have a desk lamp).
5. Click Grab, and then give it a one word character name. It'll save it to the server (note: there's no way to delete this at the moment).
6. Now you can go to the character viewer page and find your name in the list.
Kudos to Davin for making this for the Artcade! I think it'd be great for educators or anyone looking to involve visual artists in videogames. And thanks to the volunteers who made this room possible.