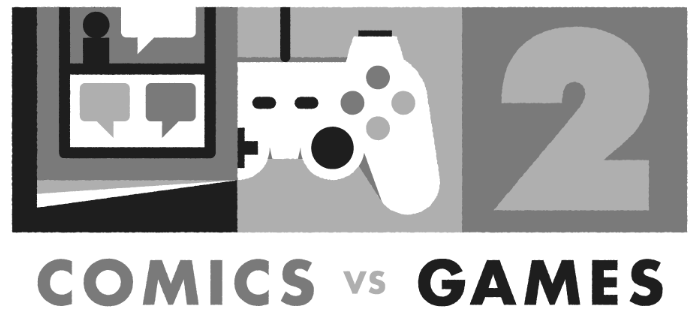 23 Apr

Comics vs. Games 2 Showcase at TCAF

Posted on Apr-23-2013

in

Event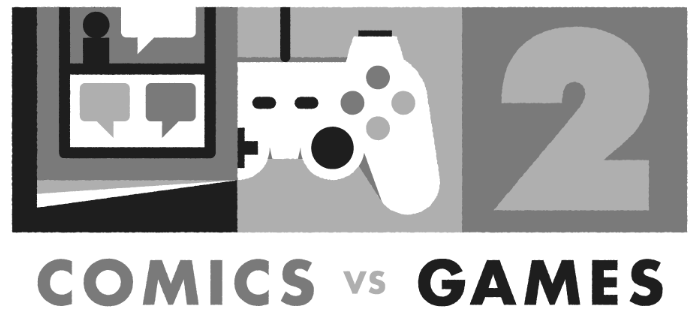 The Toronto Comic Arts Festival is fast approaching and with it our expanded Comics vs. Games 2 programming brought to you with the support of Bento Miso, who are sponsoring this year's events! Bento Miso have already announced their line-up of talented local game makers for Bit Bazaar and  Attract Mode are curating another Comics vs. Games Gallery full of amazing work by amazing illustrators. Rounding up this year's events the Hand Eye Society is now happy to announce:

The Comics vs. Games Showcase!
Where: TCAF – Toronto Reference Library – 789 Yonge Street
When: Sat May, 11 9am-5pm – Sun May 12, 11am-5pm
Last year the Hand Eye Society teamed up with TIFFnexus and paired indie comic and game makers to create five original games. This year we've curated four existing independent games from around the world that borrow structural elements from comics in their game design and presentation. Each of these games explores space, sequence and narrative in unique ways that show great things can happen when the two forms are combined!  All four Showcase games will be playable at the TCAF main location for the entire weekend.

Framed by Loveshack Entertainment – Australia
Framed is a novel, dramatic, panel-shifting game experience where every panel tugs on the outcome of the story. Presented as a storyboard each panel depicts an important action/event. Players must rearrange the order of the panels to change the delivery and outcome of the narrative. With each action framed by the last, context is everything.
Coming to multiple platforms in 2013 including PC, Mac, tablets and phones.

Where is My Heart by Die Gute Fabrik – Denmark / Germany
Where is My Heart is a 2D puzzle platforming game starring three monsters, each with unique abilities. It uses the Comic Panel Effect in which the screen has been fractured into panels and re-arranged to disorient the player.  With its charming art style, odd creatures and surreal internal logic Where is My Heart is evocative of comics like Ojingogo.
While Where is my Heart has been available for PSPmini for some time, TCAF will be a rare chance play the upcoming PC version!
Available now on the PSPmini (PSP, PS3 and PS Vita) coming soon to PC and Mac.


Storyteller by Daniel Benmergui – Argentina
Storyteller is a puzzle game where you build your own visual stories. Each level has a goal like "make a murder of jealousy" or "a tragedy of love". It's played by placing characters and props into a strip of frames like a comic, where actors react to each other. Many classic soap opera complications like amnesia, dark secrets and returns from death are part of the toolbox.
The IGF award winning Storyteller makes its second appearance at TCAF Comics vs Games. As a game still in development players will get a chance to play the newest build and see what's changed in a year!
Available late 2013 on PC, Mac and iOS.

Gorogoa by Jason Roberts – United States
Gorogoa is a lovingly hand-illustrated world suspended inside of a unique puzzle. To solve the puzzle, the player rearranges a few panels on a simple grid, placing them next to or on top of one another. But each panel is also a window into a different part of the game world–or perhaps into a different world–and each window plays like its own little game. Even so, the key to progressing never lies within one panel, but in the connections between panels.
Coming out late 2013/early 2014 for PC, Mac and subsequently on mobile platforms.

More info on TCAF Comics vs Games 2 programming coming soon!
Comics vs Games 2 is a Toronto Comics Arts Festival event sponsored by Bento Miso and co-organized with The Hand Eye Society and Attract Mode.