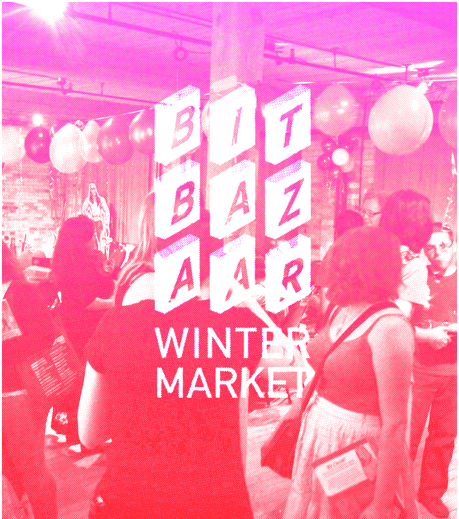 December's here, meaning it's the time for good friends, good fun, and lots of holiday cheer. So why not spend the cold winter month with your friends in the Toronto video game community?
Don't forget to check out the Toronto Gaming Calendar, that will be updated as more events become announced throughout the month. (Remember, the calendar can also be added to your googlecal.) Note only the events marked with an asterisk are Hand Eye events — for the rest, we're just signal boosting for this amazing community.
Toronto Games Events
Monday, December 2: Games With Friends #46
Friday, December 6: Bento Miso's Bit Bazaar Winter Market Opening Party, with a performance by the Cybertronic Spree
Saturday, December 7: Bento Miso's Bit Bazaar Winter Market
Wednesday, December 11: Game Design For Artists (Twine Workshop) w/ Daniel Murtha
Friday, December 13: Skillswap Holiday Bash
Friday, December 13: The Long Winter Year Two Volume Two, with games curated by DrinkBox Studios
Friday, December 13: DMG Talks #2: Feminist Game Salon
Monday, December 16: Games With Friends #47

Local Video Game Releases
David Fono released Jumpalot Junkbot on the iOS app store!
Chopsquares was released to lots of good fanfare.
Actual Sunlight is being re-released in 3D (and is available for free while it's waiting to be Greenlit).
The IndieGoGo campaign for Archive the Game went live.
From WordPlay's Twine workshop, we have Level Up by Matthew Kirshenblatt.
Toronto Games Folks In The Media
Actual Sunlight has been talked about on both Rock, Paper, Shotgun and Polygon.
Benjamin Rivers' horrifying Home was featured on Zero1Gaming.
Kaitlin Tremblay's body horror Twine, Stop Me If You've Heard This One Before was on IndieHaven.
Hand Eye Society's own WordPlay got pre-event coverage on BoingBoing, Canada.com, Torontoist, Open Book Toronto and Quill and Quire, and was blogged about after the fact on Untold Entertainment and Incubator Games.
Indiestatik came down with Chopsquares fever.
Asteroid Base chatted up the Guys With Pencils podcast.
Canadian Business illustrated how the Canadian indie video game scene is booming, with spotlights on Blot Interactive and Capy Games.
Cecily Carver talks about her experiences learning to code (in an inspiring and non-terrifying way) over at Medium.
The Long Dark was covered in a print version of Game Informer.
BlogTO says Bit Bazaar "might be the coolest holiday craft event of the season."
Calls For Submissions and Very Special Announcements
Vector's call is now LIVE, with a deadline of January 1st, so don't forget to submit your game art projects.
Registration is now open for the Toronto Global Game Jam 2014, and is live until January 17th, OR whenever tickets sell out, so get yours now!
TAG/Design and Computation Arts put out a call for a visiting game designer for Spring 2014!  This is a 8 week residency starting May 7, 2014 for an accomplished game designer to work at TAG's research centre, mentor and advise students and faculty and teach an undergraduate studio course in game design.
Call for submissions for the Wild Rumpus are also open, so submit your game!
Help Wanted/Offered
I have 3 years experiences in mobile gaming industry as a Lead Artist/Animator. 2 years experience in TV animation production as Layout and Key Animation Artist. 2 years as Pencil Artist in Comic industry, worked on title such as "Transformers" and "SandScape" from Dreamwave Comics…  
I'm  requiring an AI Programmer on StencylWorks 2.x.x. The studio's project is about 95% completed. Your role for this project would be to solve several issues about AI enemy with the melee combat for clarification enemies fighting with sword,hammers,club, etc …
We at Darned Sock Productions are looking for some coding help to finish up our first app. In the short term we're looking for someone to help bring our animations into the app–creating sprite sheets from PNG sequences, then coding them up with proper timing etc. Eventually we'll also need help building a few new features: a save game module, some text parsing functions etc…
I'm looking to join a solid team as an Artist. Mobile focused last 4 years. But have a lot of experience in many areas…  
That's all for now! If there's any January events or Toronto video games news, releases, and rad media coverage you want shared, don't hesitate to pass it along to Kaitlin via email or on Twitter.
Happy holidays, folks!