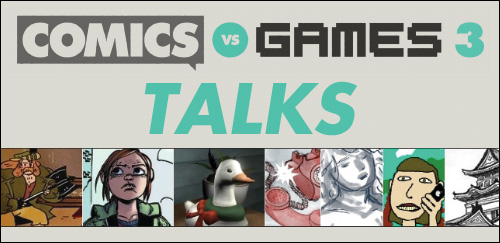 01 May

Full 'Comics vs Games Talks' Lineup!

Posted on May-01-2014

in

Event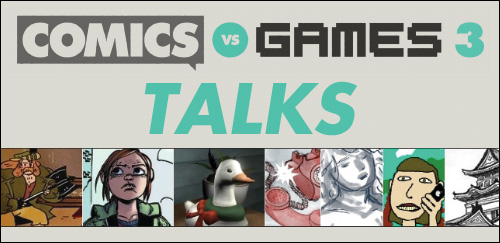 It's a little over a week till TCAF and all of this year's Comics vs Games programming!  We can now announce the full line up and schedule for Comics vs Games Talks, this year's expanded programming bringing together comic and game creators to talk about the two mediums.  It's all happening at Bento Miso (862 Richmond St W) right above Bit Bazaar, Saturday May 10th.
We are looking for volunteers to attend games, transport panellists and more. Email Alex for details if you're available on Saturday. 10 hours of volunteer time in 2014 make you eligible for Hand Eye Society membership in 2015.
Comics vs Games Talks Schedule
12pm-1pm: Surprise Guest (TBA) 
A  conversation on comics and interactivity with a surprise guest.  Sorry folks, we're keeping this one under-wraps till next week!
1pm – 2pm: The Last of Us – Making American Dreams
Faith Erin Hicks
Ignoring the usual cookie cutter approach to licensed videogame comics the The Last of Us's creative director Neil Druckman tapped comic creator Faith Erin Hicks to co-create their prequel comic "American Dreams". The characters and locations from the comic have gone on to influenced both the game and its DLC "Left Behind" in ways both subtle and significant. In this talk Faith Erin Hicks discusses this unique collaboration between an AAA game studio and independent comic creator.
2pm – 3pm: Play my Life – Autobiographical Comics and Games
David S Gallant, merritt kopas, Annie Mok, Kelly Phillips with moderator Soha Kareem
While comics have a long history of autobiographical work, this is an area that game creators have only recently started to explore, creating works ranging from the intensely personal to the intentionally banal. In this panel, creators from both mediums discuss the similarities and differences in how they approach real-life personal themes and narratives in their work.

3pm – 4pm: Putting Pixels on Paper – Game Zine Revolution
Elizabeth Simins, Ashley Davis, Mathew Kumar, Matt Hawkins with moderator Adam Hines
At the same time as traditional game magazines are dying off, the last few years have seen a videogame zine renaissance. Featuring critical and personal writing on games, fan comics and illustrations and taking forms ranging from hand bound silk screen art objects to glossy full colour magazines. Our panel of experts discuss their own zine work, the movement in general and why physical zines are important in a time when publishing online has never been easier.
 4pm-  5pm: Furnishing Gone Home – Creating a House That Tells a Story
Kate Craig
Comic creator and game artist Kate Craig talks through the creation of the mansion in the award-winning story exploration game Gone Home, revealing how she helped tell the game's central story of love and self discovery visually, through individually crafted environments and found objects.

5pm – 6pm: The Yawhg Post Mortem – Crafting A Multiplayer Choose Your Own Adventure.
Damian Sommer and Emily Carroll
Originally created as a jam game for the first year of Comics vs Games, the Yawhg went on to be developed into a full commercial release nominated for multiple Independent Games Festival awards. Game developer Damian Sommer and comic creator Emily Carroll discuss the creation of their darkly humorous multiplayer narrative game.
6pm-7pm: Out of Order – Playing with Sequential Art in Framed
Joshua Boggs
Will Eisner and Scott McCloud define comics as "Sequential Art", but what happens when you make a game around re-arranging that sequence? Josh discusses the effects of creating a "comic-book-game" that plays with the order of events, from both a game and narrative design standpoint.
Last Year's Comics vs Games Panel
For those who missed last year's Comics vs Games Panel here's the full video with panellists:
Scott Campbell (Doublefine, The Art of Brutal Legend)
Bryan Lee O'Malley (Scott Pilgrim)
Benjamin Rivers (Snow, Home)
Jim Zub (Skullkickers, Street Fighter HD Remix)
Moderated by Miguel Sternberg (They Bleed Pixels)
Here's the full video. If you just want to listen here's an MP3 of the audio.
In other Comics vs Games news…
Joshua Boggs of Love Shack Entertainment will be at the Comics vs Games Showcase (located on the second floor of TCAF) on Sunday!  He'll be showing off a new version of Framed, which you may remember as one of the interactive comic/game hybrids we featured last year.  He's visiting all the way from Australia so this is a rare chance to preview Framed and meet one of its creators!
Also a reminder that Thursday May 8th is the Comics vs Games 3D + VRcade Opening Party at Bento Miso!  Your first chance to see the amazing 3D artwork Attract Mode have curated for this year's gallery show. Plus games, music food and beer! Advance tickets and more info here:
https://bentomiso.com/events/comics-vs-games-3d-vrcade-party

More Comics vs Games news coming next week.  In the meantime you can get info on all the Comics vs Games events on the TCAF website.
Comics vs Games 3 is a Toronto Comics Arts Festival event sponsored by Bento Miso and co-organized with The Hand Eye Society and Attract Mode.