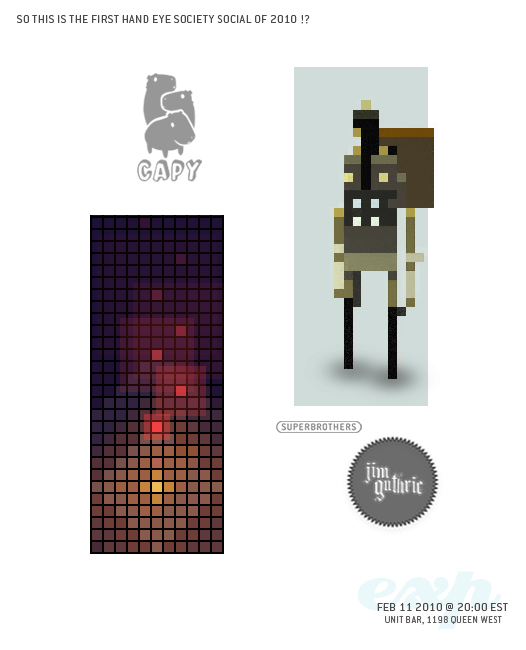 27 Jan

first social of 2010 is… Thursday Feb 11th***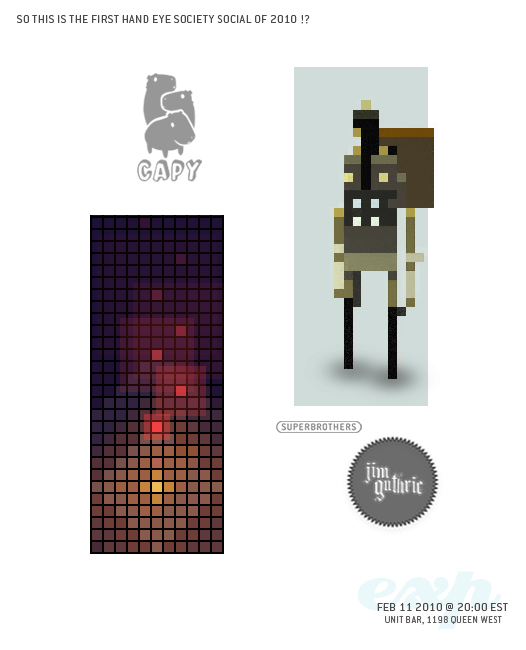 To the distinguished membership of the Hand Eye Society: apologies for this double-post (reason: it's complicated), please note that the corrected date for this event is Thursday, February 11th 2010. ***
For the fifth Hand Eye Society Social, the first of 2010, we are preparing a brief audiovisual presentation intended to thrill & amuse. Hosted by Mr. Nathan Vella of Toronto's own Capy, a studio that has recently released a couple of thingamjigs for Sony & Nintendo's machines, the presentation will include glimpses at two types of blinking lights offered by two dudes with beards:
Firstly, Mr. Kris Piotrowski, born in Poland & raised in Cuban Missile Ssauga, a former Ryerson film student and currently creative director at one of them independent videogame studios located here in Toronto, will be presenting for the first time a (hopefully) crazybananas Wiiware project called 'Heartbeat', while attempting to explain some learnings from its roundabout design process.
Secondly, Mr. Craig D. Adams, born on Canada's west coast & living in Toronto since the turn of this 21st century, will be presenting a three-way collaborative project named 'Superbrothers: Sword & Sworcery EP', described as a brave experiment in I/O cinema for Apple's touchtronic machines featuring 1) the remarkable pixel artwork of Superbrothers, an ambiguously pluralized & irritatingly cryptic art & design organization known for the occasional published pixel illustration & a few DIY videogame efforts at ToJam & with the AGI plus 2) the soulful soundz of Toronto's Jim Guthrie, the Juno nominated recording artist known for using a PSone as a drum machine & sequencer to make marvelous music 3) the engineering capabilities & videogame design prowess of the fine & noble folks at Capy.
These two projects, still deep in development and up until now all but unseen, will be making what is effectively their world premiere at this free presentation and social event at Unit Bar on Queen West in Toronto on February 11th. Doors will open & beers will be available from 19:00 EST and the half-hour presentation itself will begin at 20:00 EST (otherwise known as eight o'clock in the evening).
Afterwards the entire Heartbeat & S:S&S EP teams, including Mr.Jim Guthrie, will be on-hand for chit-chat, poutine or what-have-you.
*** It has been reported by members of the Hand Eye Society that, due to a rare bug with Safari, Mozilla & all internet browsers other than Netscape Explorer v1.7, the date of the next social was incorrectly displayed in a recently published post & in the promotional images on handeyesociety.com & everywhere else on the internet too.
The correct date for the next social is in fact Thursday February 11th 2010. For real. The 11th. ELEVEN. TEN PLUS ONE. (NOT THE FOURTH). We sincerely apologize for any inconvenience this confusion may have caused.