14 Nov

And the Finalists for the WordPlay 2017 Games Showcase are…

Posted on Nov-14-2017

in

Event
Thanks to everybody who submitted to be a Games Showcase finalist for WordPlay 2017! We received over 70 awesome submissions and thanks to our hardworking Games Showcase team, we have narrowed down that list to 25.
Games will be available to play throughout WordPlay 2017 on Saturday, November 18th, from 12pm-5pm at the Toronto Reference Library in Learning Centre 1 (far right back corner of the library).
Thanks again to Jo Summers as this year's Showcase Coordinator and thanks to our WordPlay Showcase Judges:
Mika Golubovsky, Arzamas.academy
Leonard Carpentier, Ocelot Society
Carlos Ramírez
Mauro Vanetti
Jeroen Janssen, Happy Volcano
Lucas J.W. Johnson
Pietro Righi Riva, Santa Ragione
S Friend, @isthisanart_
Chandler Groover
Cat Manning
George Batchelor
Gavin Inglis
Brendan Patrick Hennessy
Elizabeth LaPensée
The games are as follows: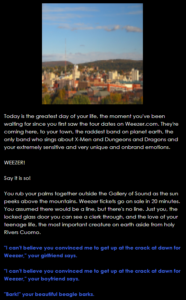 2001 Emo Kids Need Weezer Ozma Saves the Day Tix Plz
By Salvatore Pane (@salpane), St. Paul, Minnesota
A satirical interactive text game about 2001 post-punk emo music.
—

500 Apocalypses
By Phantom Williams (@phantomwilliams), New York City, New York
A digital memorial comprised of five hundred curated entries from the Encyclopedia Apocalyptica.
—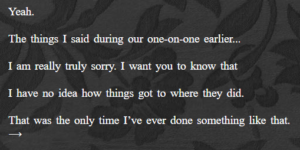 Apology Simulator
By Matthew Seiji Burns (@matthewseiji), Seattle, Washington
Apology Simulator places you on both sides of an apology for something terrible that is never made clear.
—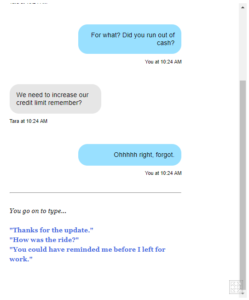 Autowrong
By Nuha Alkadi (@nuhanotnoah), Toronto, Ontario
While chatting via text, your phone's autocorrect feature starts to implement inappropriate words at the worst times.
—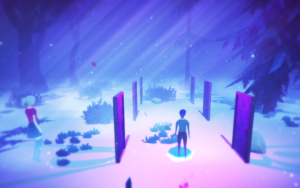 BestLuck
By Jae Hyun Yoo (@Fkkcloud), Los Angeles, California
In BestLuck, you play as a boy that sees the same girl in his dreams every night. She does not speak, but she is always pointing you into an infinite dream forest. Where is she leading you?
—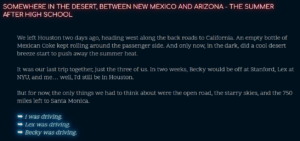 Cactus Blue Motel
By Astrid Dalmady (@dastridly), Los Angeles, California
Somewhere between New Mexico and Arizona, three friends were driving through a barren desert of red rocks, and wide empty skies. It was the end of summer, the end of high school, the end of so many things.
—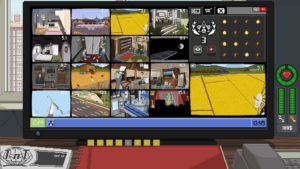 Do Not Feed the Monkeys
By Fictiorama Studios (@fictiorama), Madrid, Spain
Do Not Feed The Monkeys is a unique digital voyeur simulator.
—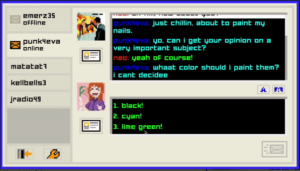 Emily is Away Too
By Kyle Seeley (@KyleSeeley23), Boston, Massachusetts
Message your friends, surf the web and choose your path through this brand new narrative.
—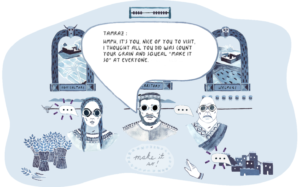 Hammurabi
By LabLabLab (@GlandeurLessard), Montreal, Canada
King Hammurabi, your advisors are your window to the world–but do they really care for Babylon's welfare… or yours?
—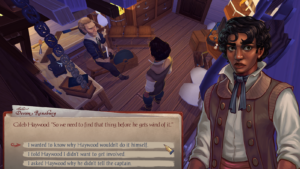 Herald: An Interactive Period Drama – Book I & II
By Wispfire (@wispfire), Utrecht, Netherlands
Herald is an interactive period drama about 19th century colonialism.
—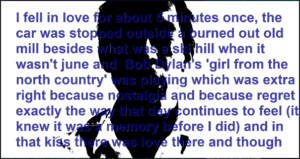 Hotwriting
By Todd Anderson (@toddwords), New York City, New York
A collection of 16 playable, media-rich poems about exploding bears, Steve Ballmer and alchemy.
—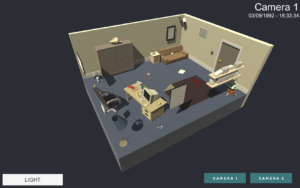 HR: Human Resource
By Group Effort (Ben McInnes, Adone Kitching, William Christian, Nina Lewis) (@BsMcInnes, @AdoneKitching, @NeensLewis), Cape Town, South Africa
HR: Human Resource is a 3D fact finding / explore the office / point and click / hidden object game that plays off in the bureaucratic hellscape that is Parasol Corp.
—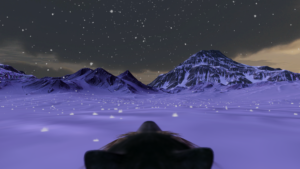 Hundvän
By John Vanderhoef (@johnvanderhoef), Long Beach, California
A lone wolf-hound must brave the frozen wilderness to find a lost hunter.
—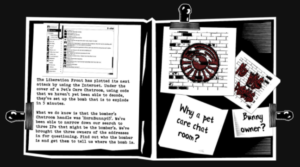 Interrogation
By Critique Gaming (@critique_gaming), Bucharest, Romania
A noire conversational – puzzler in which you play an interrogator tasked with emotionally manipulating terrorism suspects.
—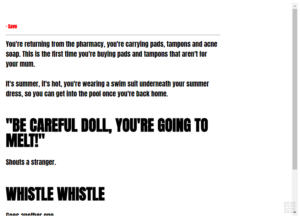 Like Civilized People
By Florencia Rumpel Rodriguez (@Rumpelcita), Buenos Aires, Argentina
A Twine about being a woman and dealing with sexism.
—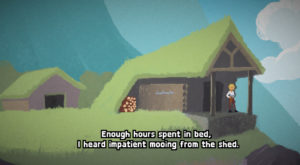 Milkmaid of the Milky Way
By Machineboy (@machineboyCom), Oslo, Norway
A rhyming point and click adventure where a young milkmaid in 1920's Norway must save her cows from aliens.
—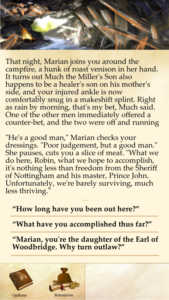 Nocked! True Tales of Robin Hood
By Andrew G. Schneider (@ManOfNottingham), Silver Spring, Maryland
Become Robin Hood and defeat the Sheriff of Nottingham in this text-driven RPG.
—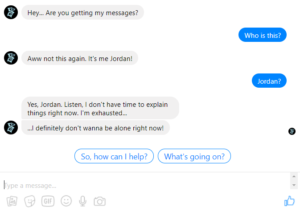 Shadowcast
By Paul Alex Gray (@paulalexgray), Waterloo, Ontario
Help Shadowcaster Jordan explore the deadly void to find the seventh door and a way to defeat the Red Wraiths.
—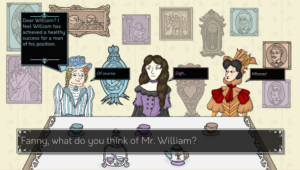 Subject and Subjectivity
By Ben Kybartas (@bkybartas), Montreal, Canada
An experimental conversational game where players match their friends with one of three available bachelors.
—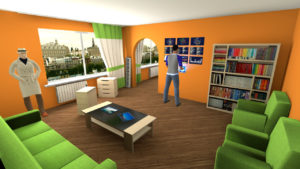 Supposedly Wonderful Future
By Dmitry Zagumennov (@lifeplushq), Samara, Russia
A science fiction story about screens, small rooms, and existential dread told through a series of RPG-style dialogues.
—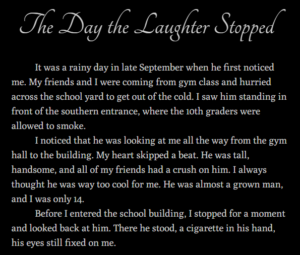 The Day the Laughter Stopped
By Hannes Flor (@elCrabman), Germany
The Day the Laughter Stopped is dealing with choice and blame in cases of sexual assault.
—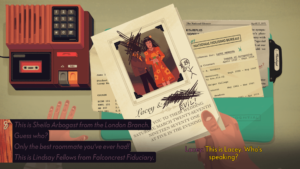 The Low Road
By XGen Studios (@XGenStudios), Edmonton, Alberta
Lie, blackmail, and steal your way down The Low Road.
—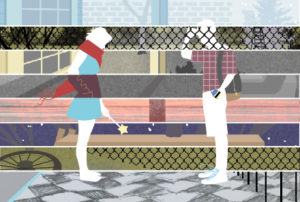 This is My Memory of First Heartbreak, Which I Can't Quite Piece Back Together
By Jenny Goldstick (@jennyGstick), Brooklyn, New York
A choose-your-own-adventure-style heartbreak that ends the same way every time.
—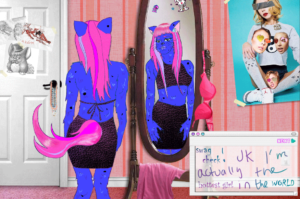 Viral
By Lena NW & Costcodreamgurl (@FellatiaGeisha, @costcodreamgurl), Los Angeles, California
A game about identity, ethics, deviance, exploitation and self commodification on the Internet.
—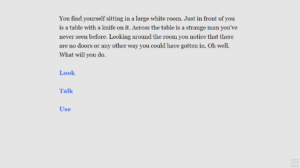 You, A Man, and A Knife
By Michael Arcadi (@LikeArcade), Toronto, Ontario
A comical game that subverts as well as meets expectations.