Sat. Nov. 18th, 2017, 12-5pm
Toronto Reference Library
789 Yonge St. (Bloor-Yonge subway)
Free!
WordPlay is our free one-day festival celebrating the most interesting uses of writing and words in contemporary games. Back in Toronto for our fifth year, we will once again host a curated game showcase, talks by creators about their craft, and ways for the public to try their hand at making games.
Jump to:
Special Thanks to…
Venue: Toronto Public Library

Sponsors: Bloom Digital & Talespinners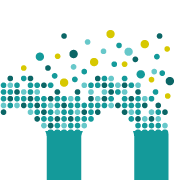 Community Partner: Cococucumber
---
Schedule
---
Speakers, Panelists, and Workshop Instructors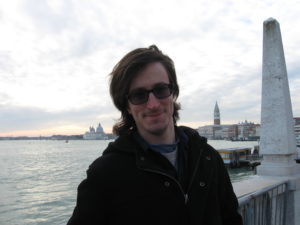 Andrew G. Schneider  always wanted to be a wizard when he grew up; now he makes magic with words. He's a card-carrying member of the SFWA, the author of two novels of
modern fairy-tales and one on swashbuckling cyborg sky pirates; a contributor to Dungeon and Dragon magazines; and the mad bard behind Nocked!, an IF game on Robin Hood. He believes in unicorns, and is married to a wonderful woman who believes in him.
Talk: No Dead Ends: Open stories, closed systems, and the development of real choice in Nocked! True Tales of Robin Hood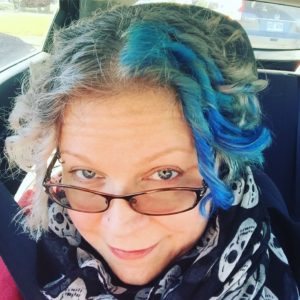 If you listen to her co-workers, Ann Lemay is a fire Pokémon by day; by night, she fights crime with her cats. As part of her civilian cover, Ann is a 20-year veteran of the videogame industry. Born in Montreal, she has been reading, watching, and living all things science fiction and fantasy for as long as she can remember. She's written for many games, including Naruto: Rise of a Ninja, Mass Effect 3, Mass Effect: Andromeda, Assassin's Creed: Origins, Discovery Tour by Assassin's Creed: Ancient Egypt and more. Ann is currently working as a full-time senior writer at Ubisoft Montréal. Available on Amazon, The Game Narrative Toolbox, a book Ann co-authored with Jennifer Branders Hepler, Toiya Kristen Finley and Tobias Heussner was published by Focal Press in June, 2015.
Panel: Panel Title: AAA Game Writers ❤ Indie Narrative Games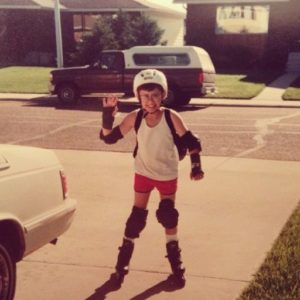 Ben Gelinas makes video games and sometimes other word stuff. For a handful of years, he was an editor and writer at BioWare in Edmonton, where he worked on quests and characters in Dragon Age: Inquisition, Mass Effect 3, and Mass Effect: Andromeda, as well as the Knights of the Eternal Throne expansion for Star Wars: The Old Republic. He also created two lore books for the Dragon Age universe: The World of Thedas Vol. I and II. Now he's gone rogue, making a weird little game called Speed Dating for Ghosts and helping Dark Horse bring The Legend of Zelda Encyclopedia to English language audiences.
Panel: Panel Title: AAA Game Writers ❤ Indie Narrative Games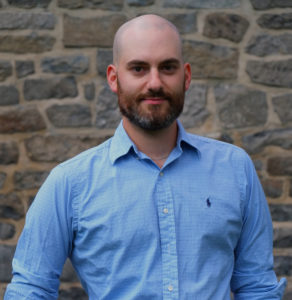 C.J. Kershner writes, runs Polyhedron Productions, likes adventure, and hates social media.
Talk: Steal From The Past
Panel: Panel Title: AAA Game Writers ❤ Indie Narrative Games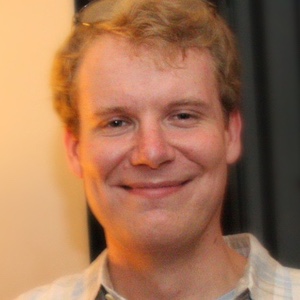 Chris Klimas created Twine, an open-source tool for interactive text-based storytelling, in 2009 and continues to lead the project. He's also the author of several IF works, including the award-winning Blue Chairs, and is a principal at Unmapped Path.
Talk: The Why of Twine
Workshop: Advanced Twine Workshop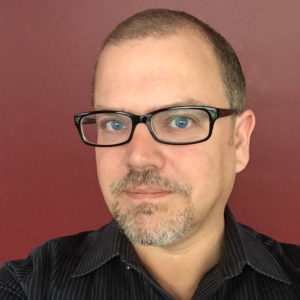 Fergus Heywood is an award winning producer, writer, and director who has spent the last two decades creating and producing immersive experiences, real-world games, and other online and offline weirdness that merges technology, story, and design. He has, at one time or another, taught interactive design, nonlinear narrative, and video and audio production. He's currently Executive Producer of Video Content & Platforms at CBC, overseeing the content side of the network's OTT products and services.
Talk: The 7 Habits of Highly Effective Immersive Game Designers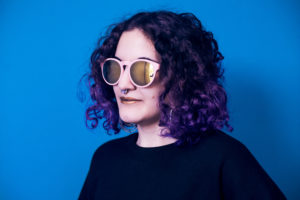 Gabriela Aveiro-Ojeda is an artist, speaker, and gamemaker. She currently resides in Toronto, Canada, where she creates art based around expressions of latinidad, witchcraft, and ancestral traditions. Her latest project, DON'T WAKE THE NIGHT, is a 2D point-and-click game funded by the Ontario Art Council's Emerging Media Artist grant.
Talk: Conveying Culture through an Honest Conversation in DON'T WAKE THE NIGHT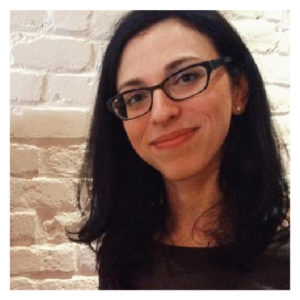 Jenny Goldstick is a Brooklyn-based artist, designer, and educator. She is the creator of the acclaimed interactive graphic memoir, This is My Memory of First Heartbreak, Which I Can't Quite Piece Back Together. In addition to creating information graphics for a wide variety of clients, including Penguin Books, the NYC Mayor's office, and the Environmental Defense Fund, she is an MFA instructor at School of Visual Arts. In her spare time, Jenny is a hackathon enthusiast with an affinity for interdisciplinary collaboration in the name of non-linear narrative. She is currently working on her next experiment in the non-linear, which "zooms" through layers of subtext in a conversation between two old friends.
Workshop: Baking a Poem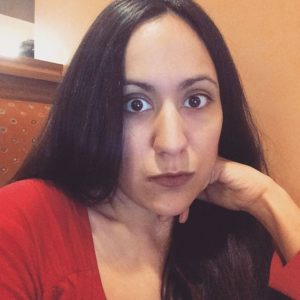 Katherine Morayati is an IF author whose recent works include "Take" and "Laid Off from the Synesthesia Factory," which won the XYZZY Awards for Best Writing in 2016 and 2015 respectively. Current projects include opera sorcerers, post-teenage detectives, and human errors. She also writes about music at times.
Workshop: Infinite Storytelling: Experimental Parser IF in the 21st Century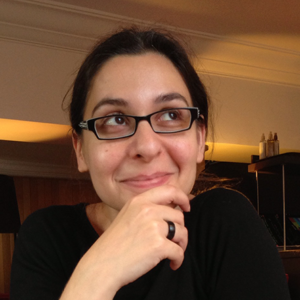 Game Designer who's been trying to merge her two interests – narrative and systems – into one person.
Panel: Panel Title: AAA Game Writers ❤ Indie Narrative Games

Miriam Verburg is a seasoned game designer and interactive producer with over 10 years experience in Montreal and Toronto working with non-profits, cultural organizations and broadcasters. Her work in the non-profit sector, particularly that with young people and communities with specialized needs, has given her a nuanced understanding of the realities of user experience and design for healthy outcomes. She has led hands-on workshops in a variety of technology areas, and her practical, stepped approach to teaching complex subject matters helps students achieve goals and master new skills with confidence. She is a member of the women's gaming collective DMG-TO, Interactive Ontario, and a member of the Humber College School of Media Studies and Information Technology.
Talk: What do Fans DO?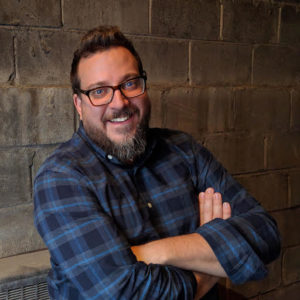 As an award-winning creative thinker with over twenty years of combined experience across film & television entertainment, games, and digital media, Stefan Grambart has worked on a wide range of interactive projects – both for clients and as original properties. With a background with the Canadian Improv Games and a life-long passion for tabletop games, Stefan has combined these experiences into a unique approach to narrative and collaborative storytelling. Stefan was the creative lead on the Emmy® award-winning Sleepy Hollow VR experience, and was the creator and conceptual lead of Halcyon, a groundbreaking hybrid VR series launched in 80 territories and multiple languages. Halcyon was nominated for a 2017 Rose d'Or in the inaugural virtual reality category. He has also been honoured with multiple CSA and FITC awards, and had his work featured on Engadget, Mashable, The Verge, A.V. Club, as well as in the Hollywood Reporter and Forbes magazines.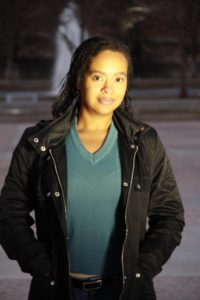 Nashville native Toiya Kristen Finley is a writer, editor, game designer, and narrative designer/game writer. She holds a Ph.D. in literature and creative writing from Binghamton University. With nearly 70 published works, she has 20 years of experience writing in a range of genres, tones, styles, and voices. In 2011, she co-founded the Game Writing Tutorial at GDC Online with Tobias Heussner and served as an instructor in 2011 and 2012.
In videogames, she has worked as a game designer, narrative designer, game writer, and editor (or some combination of the four) on several unreleased and in-production indie, social, and mobile games for children and general audiences. Some of these projects shall stay locked away in dungeons for eternity (hey, that's the game industry for ya). Some published games include Academagia: The Making of Mages (Black Chicken Studios), Wooli: Return to Ploppington (CrowdCell), Fat Chicken (Relevant Games), and Peregrin (Domino Digital Limited). She co-authored The Game Narrative Toolbox (Focal Press, 2015), a book on narrative design, with Jennifer Brandes Hepler, Ann Lemay, and Tobias Heussner. She is a member of the IGDA Game Writing Special Interest Group's Executive Board. Her current projects include a book on narrative design and game writing for mobile/social games (CRC Press, 2018) and narrative design and game design on projects for a VR start-up.
Talk: Bringing Personal Experience into the Narrative Design of Games
---
WordPlay 2017 Programming
Keynote: The Why of Twine
Speaker: Chris Klimas
Time: 12:00PM-1:00PM
Where: Main Stage (Atrium)
Twine creator Chris Klimas talks about the influences and development history behind Twine, one of the most popular open-source tools for interactive storytelling, and the lessons its success can offer to other creative coding tools.
Bringing Personal Experience into the Narrative Design of Games
Speaker: Toiya Kristen Finley
Time: 1:00PM-2:00PM
Where: Main Stage (Atrium)
Games like Papo & Yo; That Dragon, Cancer; and Night in the Woods use personal experience in their design. The events of our lives have the potential to inspire gameplay, mechanics, and narrative design. This talk explores how we can use our personal and autobiographical experiences, whether we're in a team or working alone.
Panel: AAA Game Writers ❤ Indie Narrative Games
Speakers: Ben Gelinas, Ann Lemay, C.J. Kershner, Andrea Schmoll
Time: 2:00PM-3:00PM
Where: Main Stage (Atrium)
In game development, AAA and indie game creators often feel like they're from vastly different worlds, ones that rarely if ever come together. In reality, it's rare to find an AAA dev who doesn't play or outright love the heck out of indie games. Come hear a panel of Ubisoft, Eidos, BioWare, and tabletop vets discuss some of their favourites, as well as the most innovative, influential, and inspiring work emerging from indie spaces.
What do Fans DO?
Speaker: Miriam Verburg
Time: 3:00PM-4:00PM
Where: Main Stage (Atrium)
Fans are a major creative force in the development of narrative games. Aside from the obvious marketing support of a fan base like word of mouth, positive ratings, reviews and sales, a passionate fan base brings a bunch of other impacts to your creative property, some of which can challenge the power balance between the creative and consumer. In this talk Miriam Verburg will discuss how a dialogue with the fan base for Bloom Digital Media's award-winning dating sim LongStory has changed the game for the better, and taught the team several valuable lessons about user-centric game design.
Microtalks
Time: 4:00PM-5:00PM
Where: Main Stage (Atrium)
Conveying Culture through an Honest Conversation in DON'T WAKE THE NIGHT
Speaker: Gabriela Aveiro-Ojeda
This talk will give insights on how character-to-character conversations further elevate a narrative-driven game.
The 7 Habits of Highly Effective Immersive Game Designers
Speaker: Fergus Heywood
Drawing on case studies from pervasive games, ARGs, interactive narrative experiences created for TV and film, and escape games, this microtalk will explore player psychology, effective (and ineffective) experience design, behavioural analytics & testing, how to craft a story that works, the illusion of choice in nonlinear narrative, when (and when not) to kill your darlings, and gameplay mechanics.
Steal From The Past
Speaker: C.J. Kershner
It seems like an overwhelming number of mainstream games fall into a narrow set of genres, like fantasy, sci-fi, military thriller, or pulp adventure. But who needs dragons when our own history offers a rich selection of scenarios and characters? Journey back in time to explore how some of these amazing figures and events can influence our current creative endeavors.
What We Can Learn From Dungeons & Dragons
Speaker: Stefan Grambart
You stand at the edge of a great underground chasm, the final obstacle of this treacherous dungeon. Across the divide you can see your goal; the entrance to a vast treasure chamber and your destiny! What do you do? With the advent of virtual reality, putting the audience into the middle of a story is now possible. But with that presence comes the need for more player agency. While digital gameplay has become more sophisticated, interactive stories remain ruled by limited options and predestined outcomes. Remarkably, we still haven't matched the tabletop role-playing experience in this regard. The collaborative storytelling techniques found in the real world might just help us tell better stories in the virtual one.
No Dead Ends: Open stories, closed systems, and the development of real choice in Nocked! True Tales of Robin Hood
Speaker: Andrew G. Schneider
Author and game designer Andrew G. Schneider discusses the tensions between story arcs and game structures in IF, using his game, Nocked! True Tales of Robin Hood as a case study. He looks at the problems of telegraphing risk, building character investiture, and keeping it all from collapsing under its own weight while holding to one simple precept: never say no.
Workshops
Infinite Storytelling: Experimental Parser IF in the 21st Century
Instructor: Katherine Morayati
Time: 1:00PM-2:00PM
Where: Learning Centre 2 (Workshop Space)
Some of the most innovative, literary and acclaimed works of IF in recent years take the oldest of forms: the parser. But these new pieces have more in common with poetry, flash fiction, or traditional hypertext than the medium's notorious repetitive mazes, stock puzzles, cardboard characters and player frustration. Discover works of experimental parser IF through the years, hack Inform toward your storytelling aims, chisel your prose in new ways, and try your hand at creating your own.
Please sign up for this workshop here.
Advanced Twine Workshop
Instructor: Chris Klimas
Time: 2:00PM-3:00PM
Where: Learning Centre 2 (Workshop Space)
If you can build it on the web, you can build it with Twine. This workshop will show how to use web technologies like JavaScript and CSS in conjunction with Snowman, one of Twine 2's built-in story formats, to add rich interactivity to a Twine story. Programming experience not required!

Please sign up for this workshop here. 
Baking a Poem
Instructor: Jenny Goldstick
Time: 3:00PM-4:00PM
Where: Learning Centre 2 (Workshop Space)
In this workshop, we will perform a hypertext-inspired writing exercise, where we use a core piece of writing as a springboard into each of our own thoughts and stories. Together, we will re-create and illuminate the experience of reading the OG piece of content by infusing it with each of our own unique perspectives!
Please sign up for this workshop here.
---
Game Showcase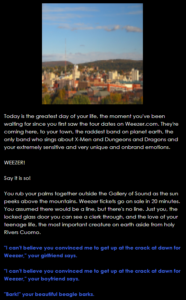 2001 Emo Kids Need Weezer Ozma Saves the Day Tix Plz
By Salvatore Pane (@salpane), St. Paul, Minnesota
A satirical interactive text game about 2001 post-punk emo music.
—

500 Apocalypses
By Phantom Williams (@phantomwilliams), New York City, New York
A digital memorial comprised of five hundred curated entries from the Encyclopedia Apocalyptica.
—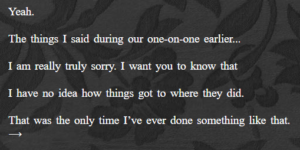 Apology Simulator
By Matthew Seiji Burns (@matthewseiji), Seattle, Washington
Apology Simulator places you on both sides of an apology for something terrible that is never made clear.
—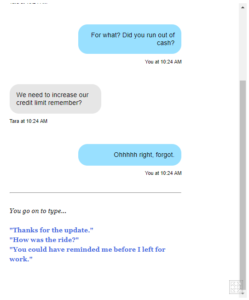 Autowrong
By Nuha Alkadi (@nuhanotnoah), Toronto, Ontario
While chatting via text, your phone's autocorrect feature starts to implement inappropriate words at the worst times.
—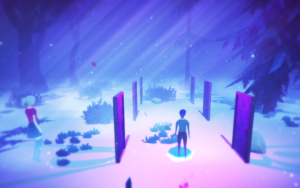 BestLuck
By Jae Hyun Yoo (@Fkkcloud), Los Angeles, California
In BestLuck, you play as a boy that sees the same girl in his dreams every night. She does not speak, but she is always pointing you into an infinite dream forest. Where is she leading you?
—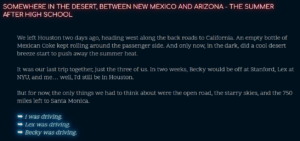 Cactus Blue Motel
By Astrid Dalmady (@dastridly), Los Angeles, California
Somewhere between New Mexico and Arizona, three friends were driving through a barren desert of red rocks, and wide empty skies. It was the end of summer, the end of high school, the end of so many things.
—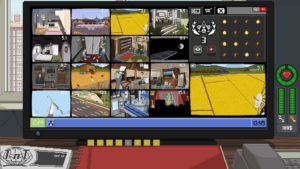 Do Not Feed the Monkeys
By Fictiorama Studios (@fictiorama), Madrid, Spain
Do Not Feed The Monkeys is a unique digital voyeur simulator.
—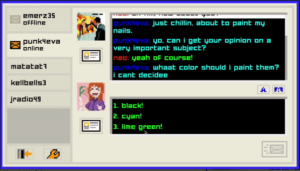 Emily is Away Too
By Kyle Seeley (@KyleSeeley23), Boston, Massachusetts
Message your friends, surf the web and choose your path through this brand new narrative.
—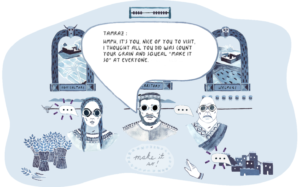 Hammurabi
By LabLabLab (@GlandeurLessard), Montreal, Canada
King Hammurabi, your advisors are your window to the world–but do they really care for Babylon's welfare… or yours?
—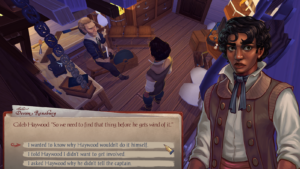 Herald: An Interactive Period Drama – Book I & II
By Wispfire (@wispfire), Utrecht, Netherlands
Herald is an interactive period drama about 19th century colonialism.
—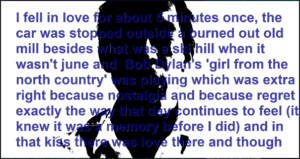 Hotwriting
By Todd Anderson (@toddwords), New York City, New York
A collection of 16 playable, media-rich poems about exploding bears, Steve Ballmer and alchemy.
—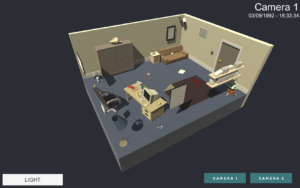 HR: Human Resource
By Group Effort (Ben McInnes, Adone Kitching, William Christian, Nina Lewis) (@BsMcInnes, @AdoneKitching, @NeensLewis), Cape Town, South Africa
HR: Human Resource is a 3D fact finding / explore the office / point and click / hidden object game that plays off in the bureaucratic hellscape that is Parasol Corp.
—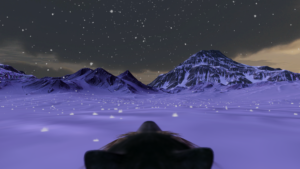 Hundvän
By John Vanderhoef (@johnvanderhoef), Long Beach, California
A lone wolf-hound must brave the frozen wilderness to find a lost hunter.
—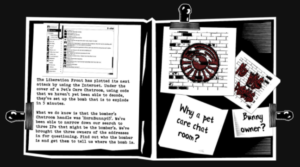 Interrogation
By Critique Gaming (@critique_gaming), Bucharest, Romania
A noire conversational – puzzler in which you play an interrogator tasked with emotionally manipulating terrorism suspects.
—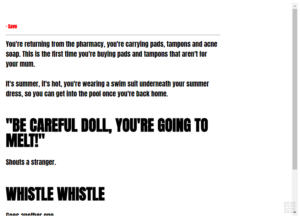 Like Civilized People
By Florencia Rumpel Rodriguez (@Rumpelcita), Buenos Aires, Argentina
A Twine about being a woman and dealing with sexism.
—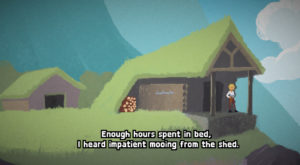 Milkmaid of the Milky Way
By Machineboy (@machineboyCom), Oslo, Norway
A rhyming point and click adventure where a young milkmaid in 1920's Norway must save her cows from aliens.
—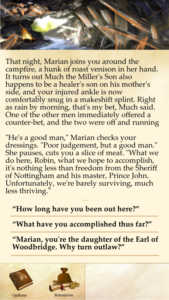 Nocked! True Tales of Robin Hood
By Andrew G. Schneider (@ManOfNottingham), Silver Spring, Maryland
Become Robin Hood and defeat the Sheriff of Nottingham in this text-driven RPG.
—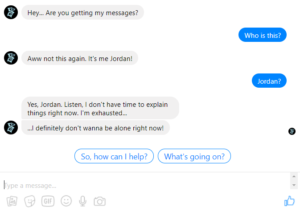 Shadowcast
By Paul Alex Gray (@paulalexgray), Waterloo, Ontario
Help Shadowcaster Jordan explore the deadly void to find the seventh door and a way to defeat the Red Wraiths.
—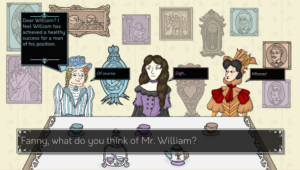 Subject and Subjectivity
By Ben Kybartas (@bkybartas), Montreal, Canada
An experimental conversational game where players match their friends with one of three available bachelors.
—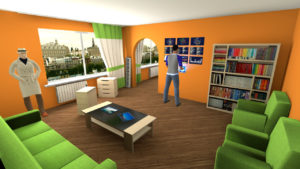 Supposedly Wonderful Future
By Dmitry Zagumennov (@lifeplushq), Samara, Russia
A science fiction story about screens, small rooms, and existential dread told through a series of RPG-style dialogues.
—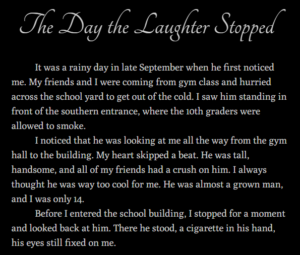 The Day the Laughter Stopped
By Hannes Flor (@elCrabman), Germany
The Day the Laughter Stopped is dealing with choice and blame in cases of sexual assault.
—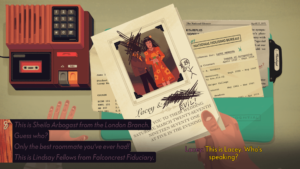 The Low Road
By XGen Studios (@XGenStudios), Edmonton, Alberta
Lie, blackmail, and steal your way down The Low Road.
—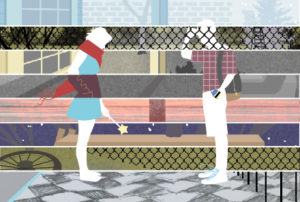 This is My Memory of First Heartbreak, Which I Can't Quite Piece Back Together
By Jenny Goldstick (@jennyGstick), Brooklyn, New York
A choose-your-own-adventure-style heartbreak that ends the same way every time.
—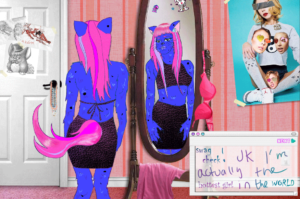 Viral
By Lena NW & Costcodreamgurl (@FellatiaGeisha, @costcodreamgurl), Los Angeles, California
A game about identity, ethics, deviance, exploitation and self commodification on the Internet.
—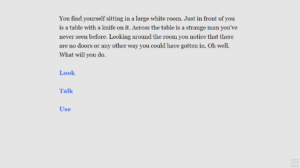 You, A Man, and A Knife
By Michael Arcadi (@LikeArcade), Toronto, Ontario
A comical game that subverts as well as meets expectations.
Thanks to this year's WordPlay Showcase Judges:
Mika Golubovsky, Arzamas.academy
Leonard Carpentier, Ocelot Society
Carlos Ramírez
Mauro Vanetti
Jeroen Janssen, Happy Volcano
Lucas J.W. Johnson
Pietro Righi Riva, Santa Ragione
S Friend, @isthisanart_
Chandler Groover
Cat Manning
George Batchelor
Gavin Inglis
Brendan Patrick Hennessy
Elizabeth LaPensée
---
Credits
Festival Director: Chris Tihor – @ironiciconic
Showcase Coordinator: Jo Summers
WordPlay 2017 Logo: Jaden Taylor
Sponsors: Talespinners, Bloom Digital Media
Venue: Toronto Reference Library
Community Partner: Cococucumber
WordPlay Initial Planning Committee
Benjamin Rivers
Kaitlin Tremblay
Natalie Zina Walschots
John Rathignathan
Daniel Harley
Kelsi Morris
Brendan Patrick Hennessy
Hand Eye Society Staff
Sagan Yee: Executive Director
Amanda Wong: Director of Operations
Ken Cho: Director of Technology
Al Donato: Community Manager
Kadeem Dunn: Coordinator
Kai Winter: Volunteer Coordinator
Jim Munroe: Funding and Sponsorships