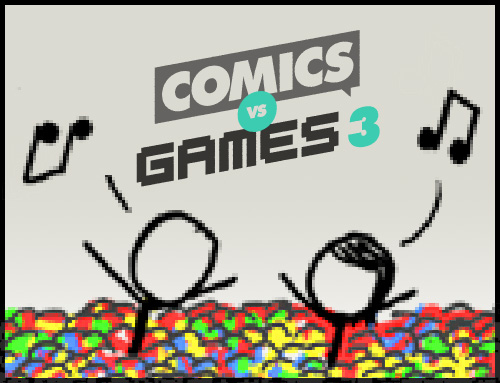 08 May

Final Comics vs Games 3 Announcement!

Posted on May-08-2014

in

Event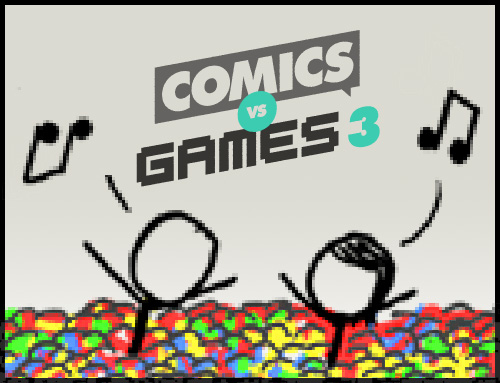 Today (Thursday May 8th) is the Comics vs Games 3D + VRcade opening party, Saturday is the main event. SO CLOSE! Close enough that we can finally announce our surprise guest for Comics vs Games Talks.   XKCD's Randall Munroe! Here's the full description:
Comics and Crowds: The Experimental, Massively Multiplayer Comics of XKCD
A Conversation With Randall Munroe

12 pm – 1pm – Saturday May 10th
Bento Miso, #300 – 862 Richmond Street West, Toronto

Randall Munroe with interviewer Miguel Sternberg
Whether it's a single comic that tells a story over four months or one who's contents change based on live donations to wikipedia, XKCD has a long history of experimental comics that could only work with a large, highly engaged fanbase. In this conversation with creator Randall Munroe we'll discuss these unusual comics, their similarity to ARGs and other mass participation games, and the general role of playfulness in his work.
My interview with Randall will be kicking off the talks. Come early as seating is limited and we're expecting a crowd!
Download the Comics vs Games Talks guide!
You can now download the full schedule of talks in our PDF  Comics vs Games Talks Programing Guide 2014 which is full of information on the entire lineup of speakers as well as their games and comics. It also includes some fetching Interstellar Selfie Station photos!
Comics vs Games Showcase Full Lineup!
Sat May, 10 9am-5pm – Sun May 11, 11am-5pm
Toronto Reference Library, 789 Yonge St, Toronto
As we mentioned previously this year we're bringing back a selection of favourites from the original Comics vs Games. These are the original games created by indie comic artists and game makers specifically for the TIFFnexus Comics vs Games project. Also making their Canadian debut will be several games from ARTXGAME, the Attract Mode project that originally inspired Comics vs Games. It's a groundbreaking collaboration between Attract Mode and Giant Robot featuring games created by illustrators and game makers. http://artxgame.com/
All the games will be playable at the MeetUp, the island of space age furniture on the second floor of the reference library.
Comics vs Games
Black Church Brigandage – Miguel Sternberg & Andy Belanger
Cumulo Nimblers – John Martz & Farbs
We're no Angels – Steve Manale & Jamie Fristrom
The Yawhg – Emily Carroll & Damian Sommer
ARTXGAME
Calvin and Hellen's Bogus Journey – Hellen Jo X Derek Yu
Jottobots – J. Otto Seibold X Kyle Pulver
Untitled – Deth P Sun X Cactus
Untitled – Souther Salazar X Petri Purho
Return of the Quack – Matt Furie X Chevy Ray Johnston
Catburger – Beau Blyth X Jeni Yang
Special Guest (Sunday only):
Framed – with developer Joshua Boggs from Love Shack Entertainment
Be sure to check out all the Comics vs Games events happening at Bento Miso and the TCAF Library locations. Here's a handy list of all the events compiled on the TCAF Website: http://torontocomics.com/comics-vs-games-3/
Comics vs Games 3 is a Toronto Comics Arts Festival event sponsored by Bento Miso and co-organized with The Hand Eye Society and Attract Mode.