07 Feb

FebMoVid #3: More Than A Movie, Not Just A Game!

Posted on Feb-07-2018

in

Event

Once again, videogames and movies collide as The Hand Eye Society joins forces with The Laser Blast Film Society and Tough Guy Mountain for the third annual FebMoVid (February Motion Video)! This time we celebrate the bizarre era of interactive cinema and Full Motion Video (FMV) games with a two-part extravaganza:

FMV Unity Workshop + Director's Chair Live Play
Sunday Feb 25
The Brandscape, 1136 Dupont Street
6 PM – FMV Unity Workshop
7:30 PM – Steven Spielberg's Director's Chair

RSVP on the Facebook Event
PWYC – All proceeds go to Tough Guy Mountain
Hand Eye Society director Sagan Yee shows you how to make your very own cheesy FMV game using video techniques in Unity! Create branching video narratives with clickable hotspots, using footage from previous FebMoVid experiments as practice. Bring your own laptop with Unity pre-installed, or a USB key if you just want a copy of the framework to play with at home. For examples of what kinds of things you can make, check out the FMV games she made for FebMoVid 2016 and Fantastic Fest with Laser Blast's Justin Decloux and Peter Kuplowsky.
Disclaimer: Unity recently updated the way their video player works, so these techniques might be outdated… We're going to try our best to explore all the options anyway. That's why this workshop is practically free!!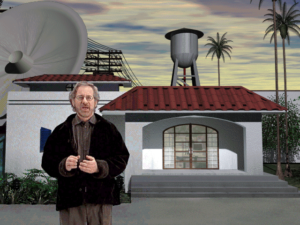 Continuing the theme of making stuff, Derek Quenneville will lead us on a live playthrough of Steven Spielberg's Director's Chair (1996). Before digital video editing software became accessible and ubiquitous, Director's Chair allowed players to simulate the magic of Hollywood movie-making from the comfort of their own home. Starring the likes of Quentin Tarantino, Penn & Teller, and a bewildered Jennifer Aniston, not to mention cameos by Spielberg himself, this game could be considered ahead of its time — at least, technically speaking.
And that's not all!
---

FMV Pre-Show + FORTRESS (1992)
Wednesday Feb 28
Royal Cinema
7:30 PM – FMV Pre-Show
8 PM – Fortress screening
More details on the Facebook Event
Hand Eye Society members get a discount through our co-presentation of FORTRESS (1992) on 35 mm. The film is preceded by a brand-new epic FMV clip-show mash-up by The Laser Blast Film Society, which will explore how the film and computer game industry desperately tried to convince consumers that the lines of fantasy and reality had been shattered!
While FORTRESS doesn't have a clear connection to FMV gaming, the futuristic-prison-breakout film (from the director of RE-ANIMATOR) was certainly drinking from the same aesthetic well as many video games of the era, and its narrative structure. Plus, this Christopher Lambert epic is chock-full of campy prognostication of future-tech, from elaborate holograms and dream-jacking VR headsets.
Watch the trailer here!
THE LASER BLAST FILM SOCIETY is a misfit gang of oddball academics, filmmakers and cineastes that champion cinematic eccentricity, insanity and sincerity each and every month at the Royal Cinema.
Check out the Laser Blast Film Society, Facebook group and Royal Cinema event listings for more screenings!
---

WHAT IS FULL MOTION VIDEO?
In 1983, when advances in digital memory storage permitted developers to incorporate pre-recorded video assets into interactive media, the result was a wave of wonderfully grotesque chimeras incorporating the technological DNA of both cinema and videogames. Born of a combination of Hollywood hubris, misguided vision, and market forces in an ambitiously awkward attempt to create the perfect medium, these games proliferated in the 80's and 90's with only a handful of titles still remembered today (Night Trap, anyone?). They became prevalent not just in arcades and on home-consoles like the SEGA-CD, but also in movie theatres, where filmmakers like Bob Gale (BACK TO THE FUTURE) experimented with creating theatrical choose-your-own-adventure experiences.
Held annually every February, FebMoVid is an homage to a period so fleetingly bizarre that critics haven't even come up with a singular name for the artifacts it left behind: Full Motion Video? Interactive cinema? Well-intentioned yet woefully misguided cash-grabs disguised as the birth of a new art form? All of the above? You be the judge!
Check out previous FebMoVids from 2016 and 2017, and hit up info@handeyesociety.com with questions or suggestions for the next one!