20 Jan

FebMoVid: Full Motion Video Tribute + Captain Power Screening

Posted on Jan-20-2016

in

Event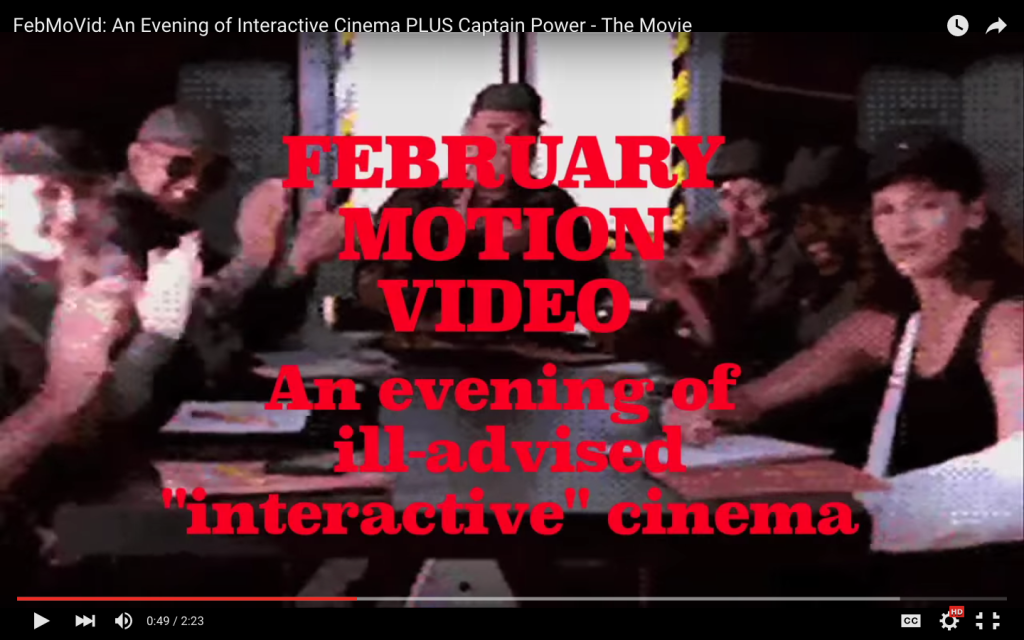 This February, videogames and movies collide as The Hand Eye Society joins forces with The Laser Blast Film Society for the first time ever! Together, we will celebrate the poorly compressed, scan line-ridden era of Full Motion Video (FMV) games with a presentation of some of the strangest and funniest forays into "interactive cinema" never meant for the big screen- and even some that were. Scroll down past the Captain Power screenshot for a more in-depth explanation of FMV and what we have in store , and mega thanks to the Royal and LBFS for letting us help take over their usual Wednesday screening slot with this retrospective.
DETAILS:
Wednesday Feb 17
The Royal Cinema, 608 College St.
7:30 PM – FULL MOTION VIDEO TRIBUTE PANEL
9:00 PM – CAPTAIN POWER AND THE SOLDIERS OF THE FUTURE: THE MOVIE
Updates posted on the Facebook event page
One ticket gets you both events!

THE LASER BLAST FILM SOCIETY is a misfit gang of oddball academics, filmmakers and cineastes that champion cinematic eccentricity, insanity and sincerity each and every month at the Royal Cinema.
Check out the Laser Blast blog and Facebook group for more screenings
Royal Cinema event listings
---
What is Full Motion Video?
In 1983, when advances in digital memory storage permitted developers to incorporate pre-recorded video assets into interactive media, the result was a wave of wonderfully grotesque chimeras incorporating the technological DNA of both cinema and videogames. Born of a combination of Hollywood hubris, misguided vision, and market forces in an ambitiously awkward attempt to create the perfect medium, these games became prevalent not just in arcades and on home-consoles like the SEGA-CD, but also in movie theatres, where filmmakers like Bob Gale (BACK TO THE FUTURE) experimented with creating theatrical choose-your-own-adventure experiences. Peppered with baffling cameos by the likes of Quentin Tarantino, Christopher Walken, and a dazed-looking Jennifer Aniston amidst the contrived plots and low-budget production values, this presentation is an homage to a period so fleetingly bizarre that critics haven't even come up with a singular name for the artifacts it left behind: Full Motion Video? Interactive cinema? Well-intentioned yet woefully misguided cash-grabs disguised as the birth of a new art form? All of the above?
A panel of FMV aficionados and enthusiasts (TBA) will be on hand to contextualize this hysterical history, all the while presenting jaw-dropping clips, both infamous and obscure.
BUT THAT'S NOT ALL!
In keeping with the theme of interactive cinema, at 9:00 PM, the Laser Blast Film Society will also be screening a rare feature-length version of the cult sci-fi television series Captain Power & The Soldiers of The Future. Created by Gary Goddard (MASTERS OF THE UNIVERSE), written largely by J. Michael Straczynski (BABYLYON 5) and Larry DiTillo (BEAST WARS) and shot in and around Toronto, the series boasted impressive special effects, a compelling story, and a unique interactive feature whereby viewers could buy a toy light gun that would respond to signals from the television during an episode of the show.
Interactive gimmicks aside, the show nonetheless made for stellar sci-fi action as it spun its adventures of rebels battling evil robots in a post-apocalyptic dystopia with surprising emotional heft and weighty themes for what was originally intended to be a children's programme. The show routinely dealt with subjects like PTSD and genocide, and its larger story arcs overtly allegorized Nazism in a cyberpunk context; you know, for kids!
Fortunately, such gloom and doom is offset with an infectious adventurous levity, thanks to the earnest and charismatic cast, and the copious amount of thrilling pyrotechnics and ground-breaking digital effects, including fully CGI characters courtesy of the pioneering artists at Toronto's own Arcca Animation!
Don't miss this rare & exclusive Laser Blast presentation of the original telefilm version of the series, complete with newly restored picture, and sound, as well as vintage commercial breaks.