26 Jun

Curious Cabinets: Arcade Exhibit Launch!

Posted on Jun-26-2017

in

Event
Curious Cabinets is a free 1-month exhibit devoted to the exploration of video game arcade hardware and public play.  A collaboration between the Hand Eye Society, Electric Perfume, and Spritebox Arcade with funding from the Toronto Arts Council, the exhibit will feature seven games created for two custom arcade machines — the One-Button Torontron and the SpriteBox.
The exhibit will kick off with an all-ages launch event which will feature presentations by the game artists about their creative process, a peek inside the technical aspects of both machines, and the chance to interact and play the featured games. Also, remember to bring a small trinket, memento, candy, or other curiosity to activate the SpriteBox: It has been modified to accept any small object (max 2 inches) instead of quarters!
LAUNCH PARTY INFO
Sunday July 9
1 to 4 PM
Electric Perfume (805 Danforth Ave., steps away from Pape Station)
Facebook Event RSVP
Free/PWYC. All ages. Light food.
Big thanks to TOJam, Vector Festival and Maker Festival for cross-promoting this event! Please check out our community partners for more maker and media arts of all kinds.

---
The Machines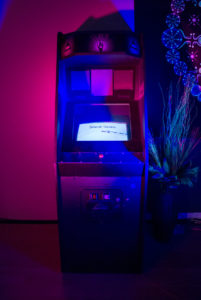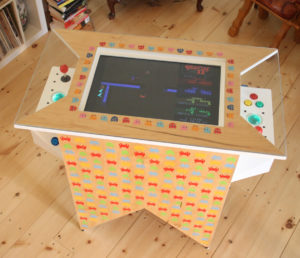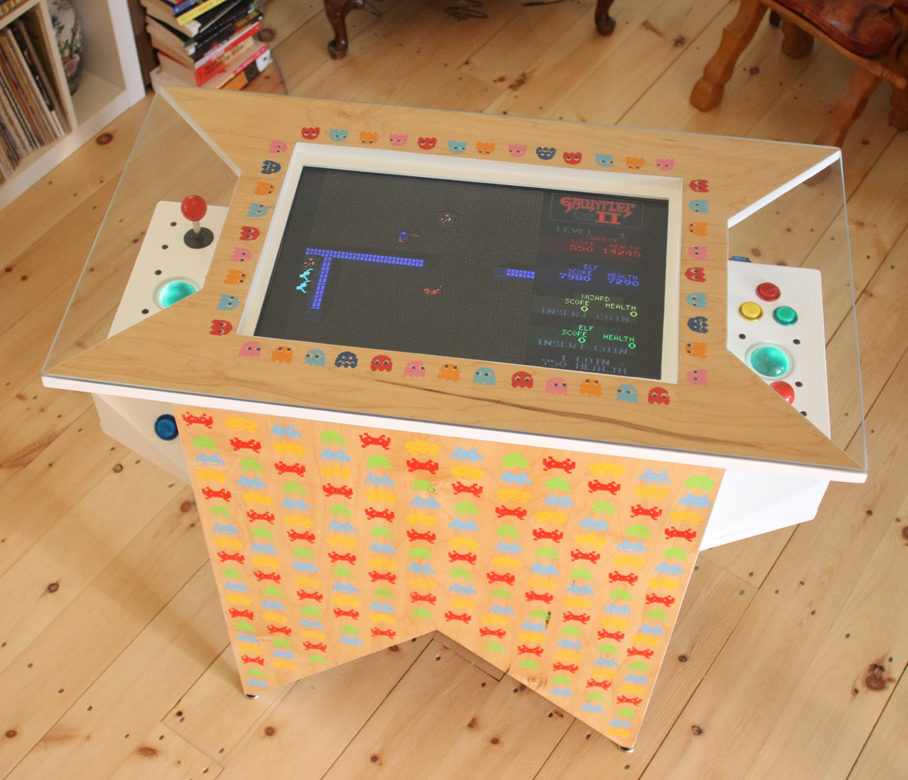 These arcade cabinets have been uniquely designed to encourage new ways of considering game design and the concept of public play. True to its name, the One-Button Torontron — one of several Torontrons, — has only a single button, leading to elegantly minimalist gameplay that is more accessible to people from diverse levels of gaming experience and physical ability. The SpriteBox is a horizontal "cocktail" style arcade cabinet for two players seated across from each other, presenting an interesting opportunity for games that utilize face-to-face interactions.
The Curious Cabinets version of the SpriteBox will feature a physical modification that transforms it from a commercialized object into an interactive installation: Instead of dropping in quarters to activate a game, the cabinet has been outfitted with a modified receptacle that is large enough to deposit a small item (which serves the same technical function as a coin). In order to play one of the installed games, players can insert a note, confession, poem, or trinket; perhaps even written comments about the games themselves. Disclaimer: The objects will not be returned to their owners, as we will be sharing them periodically on social media (see below).
Every week, Electric Perfume and the Hand Eye Society will use social media (Twitter, Facebook, Instagram) to post photographs of the recovered items to be shared as part of an online extension of the gallery exhibit using the hashtag #CuriousCabinets. Follow us on Twitter at @HandEyeSociety / @ElectricPerfume / @SpriteBoxArcade
See this blog post for more info about the cabinets!
---
SpriteBox Games
Vicious Circles (Nick Fox-Gieg, Meagan Williams)
A lightning-fast split-screen 3D retro arcade game.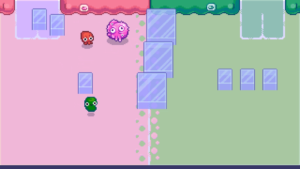 Blobber Basher (Spooky Squid Games, Mac Calarco)
A local multiplayer alien sports game where the ball is alive, and the field changes every round! Created for the 12th TOJam by the team at Spooky Squid Games.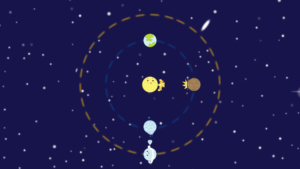 Planted Galaxy (Eli Eliz, Mark Sparling, James Brownlee)
Work together with a friend to grow plants across the galaxy. Players control the sun and rain to carefully balance the needs of plants and help them grow from seedlings to galaxy spanning mega plants.
---
One-Button Games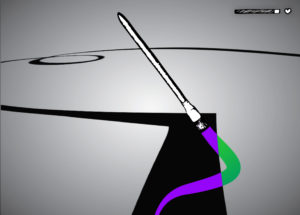 Brush'd (Amy Lee, Ryan Kelln)
Brushd is a tracer game: a mix of drawing and racing time trials. To master Brush'd you must focus and calm yourself, becoming one with the sublime line, while making split-second decisions to balance accuracy and speed.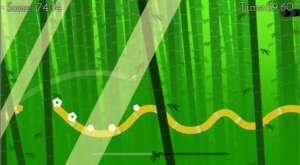 Johnny Woop (Adam Stockermans)
A fast-paced, side-scrolling, runner where the only control the player has is how quickly the character falls. Use this to your advantage to build momentum and leap across treacherous terrain. See how far you can run and jump across three hilly landscapes before the time runs out!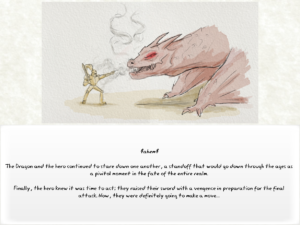 Prepare For Adventure (Eleanor Chan, Jesse Sponder, Daylan Rogan, Devon Wiersma)
Prepare for the Adventure of your life as you live a tale of adventure and dragons through this interactive narrative of epic fantasy! Featuring a variety of endings by a fully voiced storyteller who seeks to guide you to fame and fortune (so long as you play nicely, of course).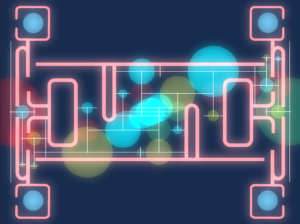 Rai (Carl Spidla)
Rai asks players to navigate increasingly complex environments by manipulating a geometric lattice of lines that constantly grows bigger, triggering combinations of colour, shape and sound that are unique to every gameplay experience.
---
Credits
Nik and Megan Stewart – SpriteBox Arcade
Ken Cho  and Sagan Yee – Hand Eye Society
Kyle Duffield and Daniele Hopkins – Electric Perfume
Jessie Sheng – SpriteBox menu design
TOJam12 – Additional outreach
---
Code of Conduct: The Hand Eye Society is committed to providing an inclusive environment where people of diverse backgrounds and levels of gaming experience can be free to play, learn and have fun without fear of harassment or ignorance. Please read our Safer Spaces Policy for a definition of what we mean by harassment, and contact info@handeyesociety.com if you have any questions or concerns.
Wheelchair Accessibility: Electric Perfume is located on the ground floor; however, the bathroom is located down a flight of stairs.