04 May

Comics vs Games Talks at Toronto Comic Arts Festival

Posted on May-04-2015

in

Event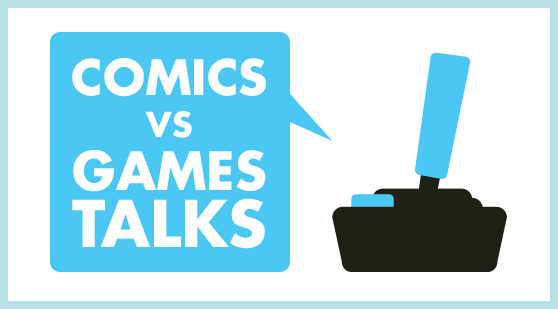 The Toronto Comic Arts Festival (TCAF) is this weekend! We've already talked about the 30+ games being shown at the Comics vs Games Showcase all weekend, but we have something extra planned for Sunday: two hours of Comics vs Games Talks packed with comic and game making speakers!
COMICS VS GAMES TALKS – May 10th – 2pm-4pm
Toronto Reference Library (789 Yonge St.) in the Learning centre (1st floor)
2pm – 3pm – Comics vs Games Microtalks
David Calvo (Kwaan), Alfe Clemencio (Fading Hearts), AM Cosmos (otome.sexy), David Hellman (Second Quest, Braid), Andrew Hlynka (Drew and the Floating Labyrinth), Kim Hoang (Love Love Hill, Mouffe), Rachel Kahn (By Crom!),  Xin Ran Liu (Moon Hunters, Shattered Planet), Matthew Ritter (Nova Phase, Boon Hill),  Jason Shiga (Demon, Meanwhile), Miguel Sternberg (Comics vs Games, They Bleed Pixels)
Eleven speakers, eleven super short microtalks relating art, storytelling and comics to the world of games. In one hour you'll learn about: painterly pixel art, the RPG influence in comics, Japanese dating sims, tombstone storytelling, deconstructing Zelda, what it's like working with one foot in both mediums and more!

3pm – 4pm – Introduction to Game Making For Artists
Chris De Castro (Wizards of Trinity Bellwoods, CFC:BODY/MIND/CHANGE), Paloma Dawkins (Gardenarium, Dream Warrior), Matt Hammill (Lovers in a Dangerous Spacetime, Gesundheit!), Kim Hoang (Love Love Hill, Mouffe), Archie Wisco (The Floor Is Lava), Sagan Yee (Pollyanna: An Animated Earthbound Tribute, Punk Prism Power)
Ever wanted to make your own game but didn't know where to start? Intimidated by code? Meet six artists who've taken the plunge into game making. Learn about the software they use, their experience learning to program and how to start developing your own games using beginner friendly game making tools including Construct 2, GameMaker, Stencyl, Ren'Py and Unity.
Find more info on TCAF 2015 at torontocomics.com
Find out about past Comics vs Games events
Reminder that TCAF 2015 and all the Comics vs Games programming are completely FREE!