21 Apr

Full line up for TCAF 2015's Comics vs Games Showcase!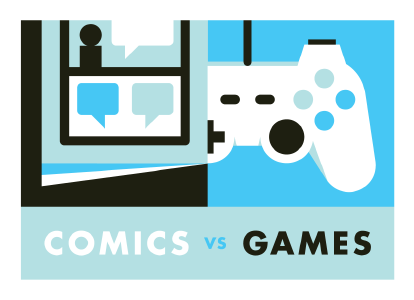 The Toronto Comic Arts Festival (TCAF) is only a few weeks away so it's time to start announcing this year's Comics vs Games programming!  This year we've expanded into a larger space on the second floor of the library and we're filling it with over 30 local and international games covering a huge breadth of genres and styles! Come out to TCAF, meet the game developers and…  defuse a bomb in VR… find love at a cat cafe…   learn about a town through its tombstones… throw shit at a bear… rock out against alien invaders… adventure through ancient Mesopotamia with your friends… collect cans… play with letters…  wander a psychedelic garden… experience life as a dog in first person… explore an alien ocean… shoot all manner of things in the face… and more!
With so many developers coming in from out of town this will be a great chance to meet them in person and play their games before release!
Along with all these digital games we will also have two comic related board games at the show. You can read more about Mangaka: The Fast & Furious Game of Drawing Comics and Kill Shakespeare: The Board Game in this TCAF announcement.
Stay tuned for info on our Comics vs Games Talks programming soon!
TCAF 2015 is happening May 9 (9am-5pm) & May 10 (11am-5pm) at the Toronto Reference Library 789 Yonge Street. 
More info at torontocomics.com
Find out about past Comics vs Games events
Full list of all the games!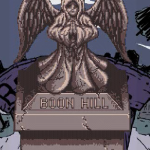 Boon Hill (Windows, TBA)
By 14 Hours Productions
14hoursproductions.com
Boon Hill is about epitaphs. It's a… graveyard simulator. You walk through the graveyard and look at the graves. It's a massive graveyard of over 1,000 graves and slowly by doing this, you get a feel for the town that this graveyard is in.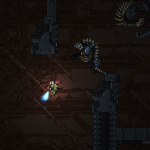 Cryptark  (Windows, TBA)
By Alientrap
www.alientrap.org/cryptark
Cryptark is a 2D sci-fi shooter that challenges players with boarding and neutralizing procedurally generated alien starships to earn income for their Privateering enterprise.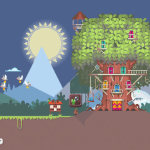 Kwaan (Windows, Mac, Linux, TBA)
By Ankama Canada
www.kwaan.org
KWAAN is part RPG, part adventure game, part pixel editor. All online.
KWAAN is a land made of tiny poetic systems, all interacting with each others to create an ever evolving organism, a persistent cocoon. As keepers of all things beautiful, players have to work together toward a common goal, ultimately blurring the boundaries between the intimate and the collective.
KWAAN is a fragment of creative imagination adrift in virtuality. It is the song of every pixel, as they reach out for harmony.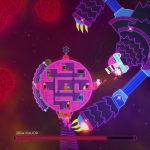 Lovers in a Dangerous Spacetime (Xbox One, Windows, Mac)
By Asteroid Base Inc.
www.asteroidbase.com
Lovers in a Dangerous Spacetime is a frantic 1- or 2-player couch co-op action game coming to Xbox One and Steam (PC + Mac). Explore a colourful galaxy in a massive neon battleship that you control together by manning turrets, lasers, shields and thrusters. Only through teamwork can you triumph over evil robots, rescue kidnapped space bunnies, and avoid a vacuumy demise. Deep space is a dangerous place, but you don't have to face it alone!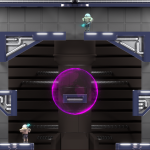 SHNIPERS (Windows, Mac, TBA)
By Brenden Cameron
www.shnipers.com
SHNIPERS is a competitive arena game for 2-4 players, that might best be described as "Combat Pong". In the game, players fire bullets that never stop bouncing, resulting in an increasingly congested level. The game can be played in a number of different modes, from a basic "Last Bot Standing", to the more hectic "Zone Control" and "Hold the Flag".
The game utilizes pre-rendered 3D models, which results in a very fluid, detailed, and unique appearance.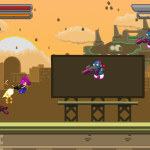 Bleed 2 (PC, Mac, Linux)
By Bootdisk Revolution
bootdiskrevolution.com
Bleed 2 is an action-platformer focused on intense boss fights, acrobatic dodging and stylish gunplay. A unique, minimal control scheme allows simultaneous 360-degree air-dashing and shooting, as well as slow-time, bullet reflection and more. You use these abilities to help a young girl named Wryn defeat the Greatest Villains of All Time and save the world!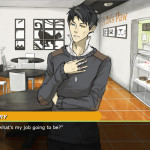 Hustle Cat (Web: PC, Mac, Linux, iOS, Android)
By Date Nighto
www.hustlecatgame.com
"There's something strange about this cat cafe…" As Avery Grey, the newest hire at A Cat's Paw cafe, you'll make new friends, solve a mystery, and maybe find true love along the way!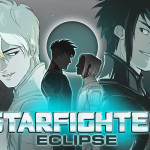 Starfighter: Eclipse (Web: PC, Mac, Linux, iOS, Android)
By Date Nighto
datenighto.com/game/starfighter-eclipse
Based on Hamlet Machine's popular webcomic, Starfighter: Eclipse puts you in control of a sci-fi action adventure! Join Abel, Cain, and some sexy new faces on an all-new Starfighter story.
Severed (PlayStation Vita)
By DrinkBox Studios
severedgame.com
In Severed you take control of a one-armed heroine wielding a living sword as she knits together pieces of her story from both the past and the future.
Severed is a first-person dungeon crawler with combat resembling elements from Fruit Ninja and Punch Out. Summer 2015 launch.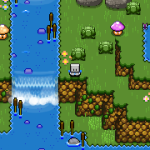 Blossom Tales (Windows, Mac, Linux, iOS)
By Castle Pixel
castlepixel.com/blossomtales
Drawing inspiration from the beloved top-down adventure games we grew up with, Blossom Tales is a refreshing combination of classic Action-RPG gameplay and modern design. The day has come when our heroic young warrior finally becomes one of the esteemed Knights of the Rose. However, that same day the evil wizard Crocus places the King into an everlasting sleep, forcing Lily to go on a grand adventure in search of a remedy.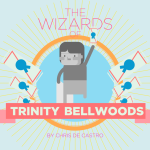 The Wizards of Trinity Bellwoods (iOS, Android, web)
By Chris de Castro
www.thewizardsoftrinitybellwoods.com
Play as a can collector (aka "wizard") in Trinity Bellwoods Park waiting for hipsters to finish their drinks, collect their cans and return them for money to improve your life. This unlocks more people in the park, following the gentrification curve of the city from 2003 till now. Explore a central urban park and all the aspects floating around that space (gentrification, immigration, emergent economies, creative class, public space,…) from a different viewpoint.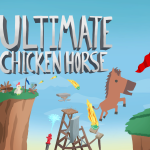 Ultimate Chicken Horse (Windows, Mac, Linux, TBA)
By Clever Endeavour Games
www.cleverendeavourgames.com
Ultimate Chicken Horse is a 2D platformer where you build the level as you play. The game switches between the strategic placement of blocks, hazards, projectile shooters, and all sorts of other platforms, and the fast paced platforming mechanics you might expect from a traditional platformer.
Adopted (Windows, Mac, TBA)
By Clockwork Demon
adoptedgame.com
Adopted is a single-player, first-person exploration game. You play as Luchador, a recently rescued Boston Terrier thrust into a world of complex human problems. You must sniff to discover clues and then bark, chew, and fetch to manipulate your humans' choices. The game takes place on an eventful night in the lives of your three owners, where the decisions they make may change their lives forever. Your actions will have real-time consequences that affect both future gameplay and storyline.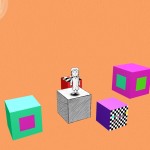 Drew and the Floating Labyrinth (Windows, Mac, Linux)
By Dust Scratch Games
drew.fromdustscratch.com
A hand-drawn 3D third-person puzzle-platformer. Control Drew, a lost young girl trying to find her way back home, through a series of abstract levels requiring you to use clues in the environment to find invisible paths, gaining color to her black-and-white character as you progress.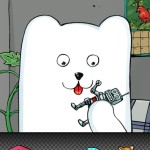 In The Face (iOS, Android)
By Elsewhere Media
thebearstories.com
The Bear's a real prick, and is hard to please. Give him stuff (in the face) and try to make him happy!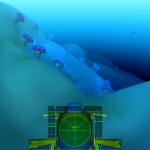 Tachyon Reef (Windows, Mac, Linux)
By Five Archers Corporation
www.tachyonreef.com
Tachyon Reef is a game of underwater exploration. Explore a stylized alien ocean in your submersible. Receive rewards for your discoveries which can be used to purchase new submersibles. Will you be able to discover a way back to Earth?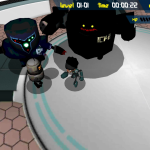 Gladiotron (Android, iOS, TBA)
By Full Circle CS Inc.
plus.google.com/u/0/118366851217776390019
Gladiotron is a dual analog 3rd person shooter with a few twists. It is a tongue in cheek homage to Smash TV from the Snes days. The game consists of blasting through overwhelming hoards of oncoming robots in an outer space gladiator style arena. The main character, Commander Bean, has several weapons, each of which affect the robots differently. You also have the ability to dash with a finger swipe on the screen and to use rocket boots to hover above the fray when things get tense.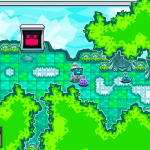 The Great Emoticon (Windows, Mac, TBA)
By Hit That Switch
www.thegreatemoticon.com
The Great Emotion is a top down action adventure game set in a charming post-apocalyptic future.
Powered by the three prime emotional energies — glad, mad and sad — play the last Science Knight of an oddball world ruled by the nefarious & passive aggressive King of the Emoticons.
Use a battery powered sword, and switch between the 3 emotional energies, to defeat all sorts of emotionally volatile enemies including: Flutterbots, Glitchbugs, Liquid Emotion, and the Undeleted.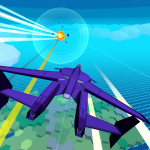 Sky Rogue (Windows, Mac, Linux)
By Kenny Backus
nihilocrat.itch.io/sky-rogue
A simple, accessible-yet-difficult, fwooshy, "feel good" arcade flight simulator. Blow things up over land, sea, and air, on an infinite number of procedurally-generated islands. Choose one of a diverse set of aeros and kit it out with a dizzying array of weaponry. Go toe-to-toe with enemy aces or assault giant floating aircraft carriers and battleships, but watch out for volleys of missiles; when you die, you're dead.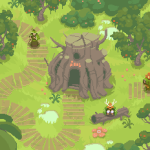 Moon Hunters (Windows, Mac, TBA)
By Kitfox Games
www.moonhuntersgame.com
Moon Hunters is a 1-4 player RPG about building your hero's mythology. Adventure through a fantastical ancient Mesopotamian world to find what's happened to the missing moon, showing your personality and creating a reputation that becomes your legend.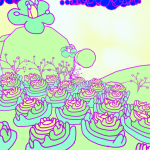 Gardenarium (Windows, Mac)
By KO-OP Mode
www.ko-opmode.com/gardenarium
Paloma Dawkins has created a trippy, first-person cloud-hopping romp through psychedelic flower beds and "fractal cabbage patches," built around a singular mission inspired by Kafka's The Castle. The vibrant, dancing wildlife that surrounds you and the 2D characters that dot the environment look inviting, and slightly resemble Yellow Submarine's bubbly hills. The game's soundtrack was done by Jeunesse Cosmique member YlangYlang.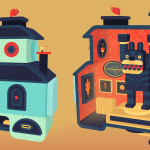 GNOG (Windows, Mac, Linux, TBA)
By KO-OP Mode
www.gnoggame.com
GNOG is a game about exploring giant monster heads, and the worlds inside of them. It's equal parts toy, puzzle, and whimsical joy machine inspired by children's toys like Polly Pocket, Mighty Max, and Rubik's Cubes.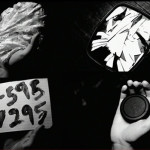 Final Cut (Windows, Mac)
By M Addaway, Lindsay Mikula, Thadchayani Kupendiran
www.finalcutgame.com
Final Cut is a pixel noir narrative game that daringly obscures the boundary between film and video games with this 16bit, 16mm take on early Hollywood hardboiled detective dramas. The game mechanic is comprised of investigative and interactive pieces, blending game play with filmic cut scenes and clues.
C-Wars (Windows, Xbox One, Android)
By Onipunks Studio Inc.
www.onipunks.com
C-Wars is Rogue-like tactic game. It's like Mega Man Battle Network meets Knights of the round. If you enjoy roguelike such as FTL then that's totally your game. The game will be released on Steam Early Access shortly.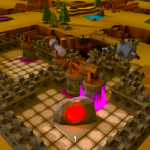 Monsters At Our Door (Windows, TBA)
By Oooweeooo
www.oooweeooo.com
Monsters At Our Door is a co-operative arcade style game that alternates between day and night. During the day, players can build walls and towers with a variety of abilities and specializations. At night, monsters attack in waves attempting to break through the players' defenses and reach the door. Towers can be controlled to focus damage on an area of the map or on a specific monster. Day and night alternate until the campaign is complete or the monsters successfully breach the player defenses.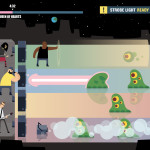 LOUD on Planet X (iOS, Android, TBA)
By Pop Sandbox
www.LOUDonPlanetX.com
LOUD on Planet X is like a strange love child of Rock Band and Plants vs Zombies. Choose from a cross-section of top established and emerging musical acts including Austra, F*cked Up, July Talk, METZ, Tegan and Sara, and many more (more artists TBA in our April Kickstarter). Then defend your stage from hordes of quirky aliens by tapping to the music and using a fun assortment of makeshift weapons such as speakers, strobe lights, fog machines, amplifiers, bouncers and even your fans.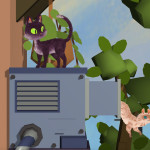 Kitty Disastrous (Windows, TBA)
kittydisastrous.com
By Rocket 5 Studios
Kitty Disastrous is a puzzle-platform/adventure game about a cat in a world filled with love, adventure and calamity. As a sleek back cat living life on the streets, Kitty often goes unnoticed by the humans who pass her by, blissfully unaware that their lives are intertwined with hers. Kitty's adventure begins when she meets a ferret named Ferris whose penchant for getting into trouble reveals her dark, destructive nature as a cat who would willingly destroy the world to rescue her friend.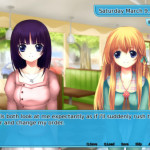 Fading Hearts (Windows, Mac, Linux)
By Sakura River Interactive
www.sakurariver.ca/fading-hearts
An interactive story/game where you play the role of Ryou, a seemingly normal high school student in the land of Sorayama. Solve the mysteries that surround him while maintaining his friendships and saving Claire. Remain ignorant of the secrets and live a normal life or choose to learn the truth. Be careful where you put your priorities for it may prove fatal.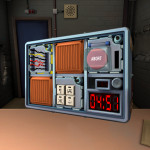 Keep Talking and Nobody Explodes (GearVR, PC, PS4 + Morpheus)
By Steel Crate Games, Inc.
www.keeptalkinggame.com
Strap on a virtual reality headset and find yourself trapped in a room with a ticking time bomb! Your friends in the real world have the manual to defuse it, but they can't see the bomb so you're going to have to talk it out – fast!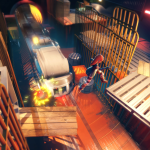 Subaeria (Windows)
By Studios illogika
www.subaeria.com
Subaeria is a story-driven roguelite set in an underwater dystopia. The player follows the lives of 4 characters whose destinies interweave, each of them trying to survive in a world controlled by robots. Through innovative dual analog stick controls, players can manipulate both their character and a hovering companion, their Drone, to trick and influence enemies into defeating each other. Along the way, they'll find many skills to upgrade their Drone and give them an edge needed to survive.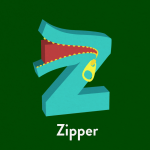 Metamorphabet (Windows, Mac, iOS)
By Vectorpark
metamorphabet.com
Metamorphabet is a playful, interactive alphabet for all ages.