03 Aug

August's Adjective-laden Adventures: Event Roundup

Oh my god, I can't believe you've torn yourself away long enough from Pokemon Go to read this. Well done, you. Hope you've been busying yourself this summer with music festivals that play songs you used to need parental discretion labels for and sending Taylor Swift snake memes to all your bewildered loved ones. If not, there's still plenty of time for shenanigans before the indignity of September business sets in. Try something unlike yourself while you can. Maybe spend an exorbitant amount of time in line for a dessert, take an Instagram pic, and then pass along to those still waiting, allowing them to also glorify their social media feeds. Write a letter back to that masked bride. 

And consider chatting with your fellow Uber pool rider Google Calendar. She's super late for work and doesn't have time for small talk, but she  will update you on events as they are announced.

WHERE TO JAUNT – TORONTO GAME EVENTS
Tuesday, August 2
!!! The east-end gets its monthly fill of retro goodness with the 2-Bit Game Club's monthly meeting. August's discussion group will be all about the beloved Metal Gear Solid, of which Liam Gallagher has graciously posted a primer for. Pay-what-you-can to attend, but it costs absolutely nothing to grab a cardboard box from Food Basics and sneak in wearing your newfound disguise. You decide, boss. At Electric Perfume, starting at 6:30 p.m.  
Thursday, August 4
Need some lo-fi beats for your game? InterAccess is holding a DIY Atari punk console workshop, where you'll learn how to scoop up some basic circuitry skills as you construct your simple noise-making baby. Two workshops will be held in the evening, material and workshop fee required.
Saturday, August 6 to Sunday August 7
Games! Games! Games! With this summer battle cry, come out and play free physical games down at the Harbourfront during the Beats, Breaks & Culture Festival, courtesy the Hand Eye Society! Our very own David Fono will lead participants of all ages in new and unique games such as Ninja (a theatrical turn-based combat party game), Johann Sebastian Joust (a music game played with Playstation Move controllers), Turtle Wushu, and Beat the Heat (a back-stabbing water war).
Saturday, August 6
Technically this doesn't fall within the physical boundaries of Toronto, but anywhere with a plague of raccoons is close enough for us! Game collective Babycastles would like to invite any nearby Torontonians to represent our fair city at Super Hot Ronnys Rumble, a one-day game tournament in New York. The competitive event features prizes, victory, disappointment, a character redemption arc where the worst person there joins your team, VIDEOGAMES, a robot beauty pageant, and many more occurrences happening that will require willing participants and somewhat interested onlookers. Did we mention the winner gets to ride a helicopter around New York? Because that's a thing. For more information and tickets, check out their Facebook event.
Thursday, August 11
If you recently survived puberty or know someone who has, enroll them into our one-day game workshop for teenagers! Our very own Ken Cho will be introducing teens to alternative game controllers at North York's Fairview Library.
Thursday August 18 to Saturday August 20
The third and last of TIFF's VR exhibits wraps this month! TIFF POP 03 will show some of the best, and get into the conversation about what's next. What are the possibilities for creating new worlds, warping people's perceptions, and using technology to potentially change what we mean by "art" and "story"?
Saturday, August 20
Sick of useful inventions that better humanity? Make something ridiculous at Ridi6ulous Summer Hackathon, a one-day Stupid Hackathon inventing jam.
Tuesday, Aug 23
The Hand Eye Society's semi-monthly Game Dialogues speaker series is back with Spatial Design in Architecture & Videogames! What can the Pantheon, Resident Evil, Frank Lloyd Wright, and Zelda: Ocarina of Time learn from each other another? More than you may think. Thoughtful and carefully crafted spatial design can affect everything from player experience to navigation to gameplay itself. This presentation by architect and Game Curious MAKE survivor Ksenia Eic will give a brief overview of architectural design considerations and strategies which can be used to inform game and level design (and vice versa) with both real world and game examples. Doors open 7 PM at new co-working space Tract 9 at Queen and Dufferin.
Monday, August 22 to Friday, August 26
The Hand Eye Society is running a FREE Game Design Summer Camp at the Fairview Public Library in North York: a one-week, full day camp for kids aged 8-12 to learn a number of unconventional ways to make games. It will take place Aug. 22-26th (M-F). Drop off is 9 a.m., pickup is 3:30 p.m. Mornings will be spent indoors using presentations and computers, teaching them to use a number of point-and-click game making tools. Because these tools do not require coding, most of the instructions can be focused on design principles like game mechanics or game feel and help move past technical hurdles. There is no cost to this program, but parents must pack a nut-free lunch and two snacks for their child.
Stay tuned for more information and how to register!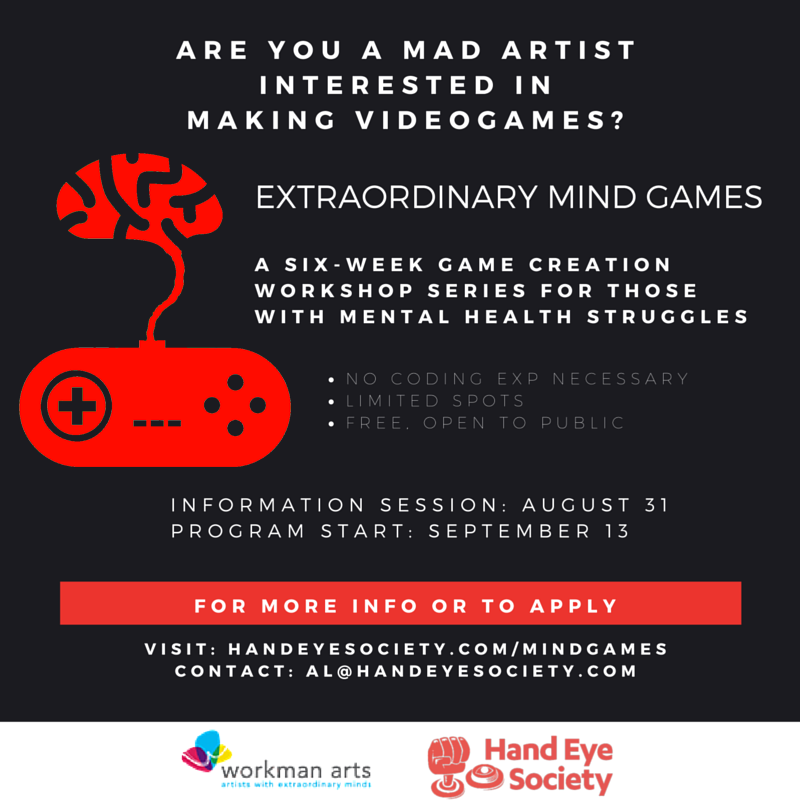 Wednesday, August 31
Together with Workman Arts, we are proud to present Extraordinary Mind Games — a game-making workshop series for those who identify as Mad or having experienced mental health struggles. Similar to our Game Curious workshops, this free incubator will run for six weeks, starting Tuesday, September 13. Finished games will be showcased at the Rendezvous with Madness Festival, a long-running event featuring intersections between film and cinema in November. If you would like to learn more, we are holding a 1-hour information session mandatory for all applicants on Wednesday, August 31 at Workman Arts, 6 PM. Applicants will be reviewed over the week, with the deadline to submit on Friday, September 2.  If you or anyone you know are interested in applying, head over to http://handeyesociety.com/mindgames for all the details.
WHERE TO HAUNT – TORONTO GAME SOCIALS

Friday, August 5
If you're free on Friday night, this free networking event is here for everyone who wants to empower the next generation (no, not Degrassi). To celebrate Interwebz's successful coding workshop, we're partnering with them to hold Next Gen Showcase, a free and open-to-the-public party for indie game students, developers, and teachers. Tickets available on Eventbrite. The bash will be at Tract 9, a new co-working club on the block, starts at 5 p.m. THERE WILL BE A CANDY BAR.
Monday, August 8
Make Games With Friends, Gamma Space's monthly game development hangout approacheth! As the summer's last inclusive game-making event open to everyone, why not max the opportunity out? Attending might serve as that kick in the butt to finally finish a project, or get advice on that one weird glitch that's latched onto your game like a bad flea.
Mondays: August 8, 15, 22, 29
Ryerson's Gamemakers' Union continues their weekly meetups on Mondays this summer, to keep budding student developers productive before Fall semester. If you aren't a Ryerson student, you're still welcome to drop by. At 245 Church St. in Room 202, starts at 6 p.m.
Wednesday, August 31
Drink up while you can, this is the last monthly Torontaru social of the summer ;_; At Get Well, starts at 8 p.m.

#ICYMI
#BuyThis: The rad lads at Toronto Game Devs have a store now! You can purvey their fine selection of T-shirts, sweaters, and phone cases.
#GameDevDrinks: If you ever want to make the trek to the Hammer, there's a new monthly meetup called Game Dev Drinks. In July, they hosted Toronto developer and Hand Eye co-founder Miguel Sternberg.
#GabbyTweets: Play Dead podcast host and developer Gabby DaRienzo has been tweeting updates from Laundry Bear's upcoming death-positive game "Mortuary Simulator." The protagonist has been serving looks to us all July.
#GameCurious: Our awesome Game Curious MAKE participants were in a showcase we did at Ryerson University's Launch Zone. Expect a recap post very soon. Until then, here's some photos by superstar photographer Archie. And high fives for reading this far!
#ParkProjections: Last month we gave folks yet another opportunity to play videogames outside, other than, y'know, that other game that rhymes with "Okaymon Snow"; check out some photos of giant glowing beach balls, newly invented Playstation Move physical games, and N++ on a giant bedsheet!
#LongApple: The iOS store put Long Story episode 6, which dropped on July 24, on its Featured front page. The episodic queer and trans-friendly mobile dating simulator was also given some love on Queerly Represent Me, a handy database of queer-positive videogames.
#TOTwitchers: Local game devs Miguel Sternberg of Spooky Squid Games (They Bleed Pixels) and Christine Love of Love Conquers All Games have been Twitching up a storm every Sunday at 7 PM; over the long weekend, they covered Seaman, SOS and Zelda BS for the Satellaview (and you thought the CD-i was the last word on weird obscure Zelda games…) Follow Spooky Squid on Twitch and expect game dev talk, quirky/old/interesting game streams with fellow game makers, and some solo pixel art creative streams.

PAPER TRAILS – GAMING IN THE MEDIA
Canadian long-form publication Ook Pixels released two features in July. One was on "Hope Was The Last Thing In The Box," a Terry Fox game. Another covered "We Happy Few," that game that's probably been popping all over your Facebook feed. As a new outlet, it's commendable that they've recently been named Good Games Writing's indie publication of 2015.
Kait Tremblay is in the latest Unwinnable Magazine. She wrote about designing body horror games coming from the intersections of mental health and healing.
Our own co-founder Jim Munroe's new interactive fiction tool Texture got a write-up from Killscreen! No coding necessary, Texture has already caught the attention of writers: a library of games has sprouted on Texture's website, including a grimdark read that will surely become Pokemon Go's successor.
Unreal Engine announced that the 2017 UX Summit will be hosted by Ubisoft Toronto!
On Toronto Game Devs' podcast, they talked about Pokemon Go and Household Games, chatted with Gabby DaRienzo about Pokemon Go some more and her game "Mortuary Simulator," and then went through some staff overhaul/underhaul/rehaul shenanigans without any Poketangents. Impressive!
Our comrades at Lab TO Co-working have posted a snippet from our last Game Dialogues, where Ryerson Game Makers' Union founder and Game Curious mentor Victor Nguyen shared his dev journey.
And of course, every Canuck outlet has noticed "Death Road to Canada," a zombie road trip RPG where you bash undead skulls trying to get from Florida to Canada. In a CBC interview, Kitchener-based co-creator Paul Pridham said the Oregon Trail from hell was inspired by how Americans view Canadians. You can nab "Death Road to Canada" on Steam.
Oh yeah, I wrote about "Zine Lady" for Broken Pencil Magazine, a twine game by Morgan Sea where you navigate the problematic perils of a zine fair as a trans woman.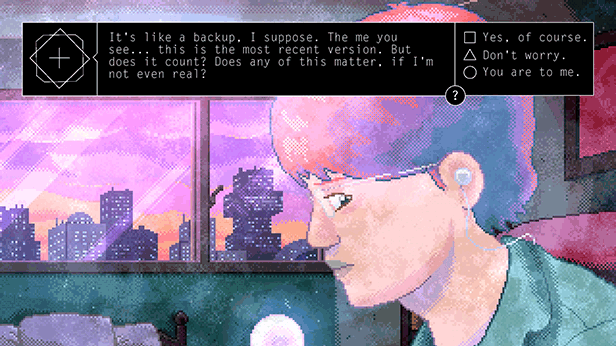 COMING AND GOING ATTRACTIONS
Re-enacting the construction process of the world's greatest wonders just got incredibly inaccurate. "Monumental Failure" has been greenlit on Steam, an upcoming game by new Toronto studio Scary Wizard. You can play the demo on Itch.io.
"Project Solace" has finally posted page one of what will surely be a wild ride. Led by developer Leisha Riddel, the graphic novel is bound to hold many of the inspirations that informed her game-making.
A mysterious game called "Ritual of the Moon" has been pestering our windows at night, cajoling us into wild unseen dances in those forests along the Gardiner. Made by a team of women and non-binary game makers in Toronto and Montreal, it's slated for release this year.
Benjamin Rivers' narrative sci-fi romance "Alone With You" hits PlayStation 4 and Vita on Monday, August 22! Go Ben!!
13AM Games' fast-paced 9-player extravaganza Runbow celebrates its one-year anniversary on August 27! Happy Birthday to one of our most popular games from last year's Hand Eye Society Ball.

MVP
This month's MVP is Kara Stone, an artist, designer, and suspected techno mystic yoga instructor at large. YYZ Gameshow viewers might know her from episode 2 (you know, the one where she gets a tattoo.). Her work includes a game where you sext a robot, another that makes you meditate to medicate, and an exhibit where she grew plants in script bottles. When asked to share a weird fact that people might not know about her, Stone says, "I think I'm really normal."
"Almost all my videogames are to do with emotions and well-being, how we process experiences and represent our feelings through and with technology, and the way technology and feelings become gendered," Stone writes to us, from an undisclosed location at an unknown time and dimension.
She's waving Toronto a fond farewell this fall, before apparating to Santa Cruz and starting her PhD. Stone plans to study Film and Digital Media, with a heavy focus on Feminist Studies, at the University of California. Safe travels! Before then, you catch her chatting with Aliya Pabani in a live recording of Canadaland's Imposter. It will be available online shortly! 
A BREADWINNER IS YOU – JOBS, GIGS, AND OPPORTUNITIES
The Montreal Independent Games Festival (MIGF) is looking for indie games to showcase on Wednesday, September 17. Participants will be eligible to win a snazzy MIGF award, joining the ranks of TalkSick Games' "Proximity" and KitFox Games' "Moon Hunters." Submissions accepted until Saturday, September 3.
Submissions have opened for Independent Games Festival 2017 in San Francisco. Some new rules have been laid out by chairperson Kelly Wallick regarding preexisting awards, so might be good to give that a lookover.
If you have a kid who loves to fiddle with "Minecraft" or spends hours building houses in "Sims," University of Toronto researchers would like to recruit them to make videogames. Really. These game-making focus groups are running until September, email playingatmaking@utoronto.ca for more information.  
ReFiG has launched and is in its 2nd year. Dedicated to supporting work that promotes diversity, inclusion and equity in games across the sectors of formal education, informal learning, the game industry and games/cultures, they are inviting paper proposals for presentation at their conference to be held in Montreal from October 27-29, 2016. Deadline is August 15!
HAND EYE SOCIETY SPECIAL NOTICES
If you dropped by any of this year's Game Curious workshops, we'd love to hear your feedback! Filling out our exit survey helps us improve our programming and report back to folks who help us fund these free events.
Also, we'll be contacting volunteers for key roles for the upcoming Hand Eye Society Ball on Sept 24 in the next few weeks, so please sign up and keep sending us those party game submissions (we've already got some great ones lined up)!
Finally, once again, thanks to all our lovely volunteers and paying members who make it all possible. We've been working up to getting more workshops on the go for 2017, but we'll hopefully have some more coming up for the remainder of the year, so feel free to let us know what kind of activities you'd like to see more of at info@handeyesociety.com!