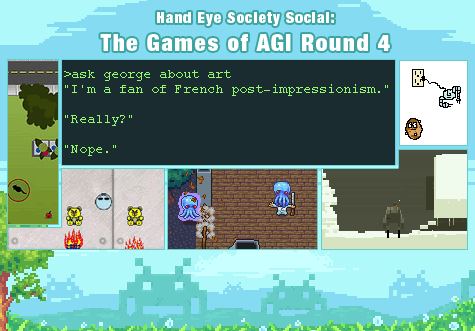 16 Jun

The 3rd Social: "The Games of AGI Round 4" Thursday June 25th

Posted on Jun-16-2009

in

Social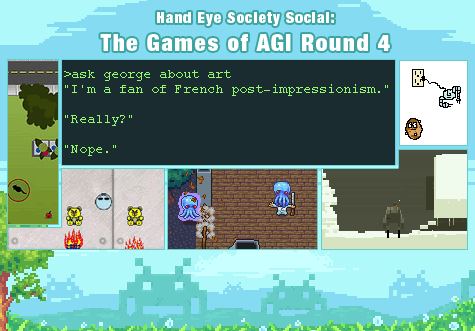 The Hand Eye Society is happy to announce "The Games of AGI Round 4"
(our third social), for videogame makers and enthusiasts Thursday, June
25th, 7-10pm. It's once again at the bar Unit (1198 Queen Street W.) in
Parkdale and it's free. Meet some great people, have a few drinks,
play some indie games, and catch what local game makers are up
to.  You don't need to be a member, everyone is welcome!
"The Games of AGI round 4"
At 7:30 we'll introduce the Artsy Games Incubator round 4 games* which
will then be playable for the rest of the night! Come enjoy games
featuring: squidy things, raccoons, Luddite potatoes, criminally
awkward breakfast conversation, stylish mountain climbing, and
applying for arts grants!
Started by Hand Eye Society member Jim Munroe the Artsy Games
Incubator is a multi-week workshop where artists, writers and other
creative types learn how to make their own games. You can read about
the AGI and play games from previous rounds on the AGI Blog.
*Time permitting round 4 AGI organizer Miguel Sternberg may also give
a short demonstration of his current work in progress Guerrilla
Gardening: Seeds of Revolution.