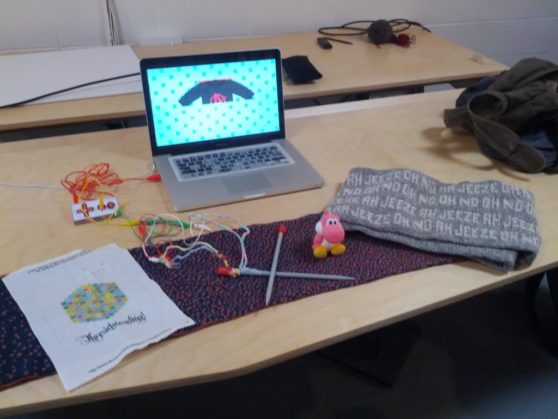 17 Aug

Videogames Unraveled: A Knitting Circle Mini-Arcade [Video]

Missed our Videogames Unraveled event in April? Want to relive it, if only to see the screaming face sweater again? You're in luck, because YYZ Gameshow was there! Featuring the incomparable knitting talents of Brenna MacDonald from Yarns Untangled, the anxiety scarves of Tom Hobson, a virtual Knitting Simulator by Kara Stone and Gabby DaRienzo, and much more.

From the event invite: "Do you like videogames? Do you like knitting? At long last, here's an event where you can combine both activities and/or learn more about them! VIDEOGAMES UNRAVELED is a unique one-time celebration of yarn and textile-based videogames that's part knitting circle, part interdisciplinary exploration of two art forms which are connected by more than just a thread. NO EXPERIENCE IN EITHER KNITTING OR VIDEOGAMES NECESSARY! We're all here to learn from each other, and everyone is welcome."

The new episode of YYZ Gameshow, which documents Toronto's amazing game community, is available today on Bell Fibe! Episode 3 also features local dev and Dames Making Games member Gabby DaRienzo, a Game Curious Villaways report, and Vagabond Dog!