The long, lazy summer marches on, and that same debate you've had since childhood continues: go outside and play, or stay in and log some serious game time. No matter your choice, with plenty of Toronto events and new indie releases, we've got you covered.
Don't forget to check out the Toronto Gaming Calendar, which will be updated as more events become announced throughout the month. (Remember, the calendar can also be added to your googlecal.) Note only the events marked with an asterisk are Hand Eye events — for the rest, we're just signal boosting for this amazing community.

Toronto Game Events
Wednesday, Jul 2: Body Games: Wearable Electronics
Thursday, July 3: Learn to Program Video Games with Stencyl
Saturday, July 5-Sunday, July 6: Julivewire! A Hardware Game Jam
Saturday, July 19: DMG Speakers Social
Wednesday, July 30: Torontaru (turned 1 year old last month!)
Thursday, July 31, 2014: Introduction to Game Making Tools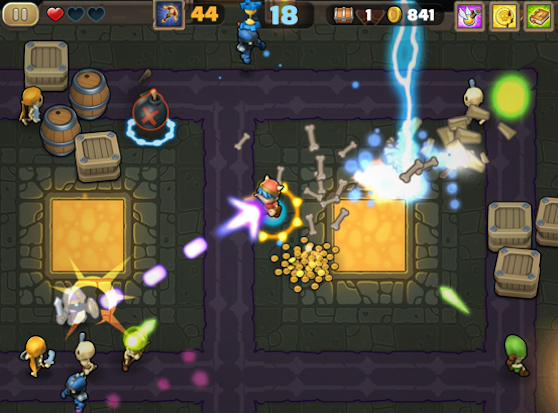 Local Game Releases
Lightbound, an arcade multiplayer shooter (or "tactical light show" in the words of the creators) is now on Steam Greenlight. Promote it here!
Get Set Games's dungeon crawler Storm Casters is out on iTunes. (pictured above)
Also released was a collaborative science fiction romance Twine game, You Were Made For Loneliness, featuring work from Kaitlin Tremblay.
Toronto Folks In The Media
The Toronto Star's coverage of E3 had a local twist, featuring Below, N++, Lovers in a Dangerous Spacetime, and Knight & Damsel. Lovers also showed up on Paste, as one of their Top 10 Favourite Games of E3.
It's a good month for coverage in the papers, as the National Post has gotten in on it too, with coverage of Boss Level, featuring work from Kara Stone and Golden Gear Games's new release, Fate Tectonics.
Will O'Neill's Actual Sunlight has recieved an extremely thoughtful, philosophical analysis on Pixels or Death.
TOJam 9's coverage on DorkShelf continues with an interview with Kim Koronya, a member of Team Fembots, about motherhood and Game Jams.
Meanwhile, DorkShelf has also interviewed merritt kopas about her newest creation, SPACE/OFF. You can also check her out on Tech Girls Canada's Portraits of Strength.
Storm Casters can be found on Touch Arcade, also!
Want to hear more from Retro Runner: Princess Power? Check them out on Retro Yak, Episode 5 of Grab It Magazine, and on their Greenlight page.
Special Announcements
Mark Chandler says: "Toronto is filled with gamers like you. We deserve a dedicated PC & Video Game Expo. Together we can make it happen!" You can support the GamesCon Kickstarter here.
Gamemaking Help Offered/Wanted
Illustrator for your digital and board games! I have experience with both, but I'm looking to get some more. Find my art in my website. Or on Tumblr. Contact Katherine Verhoeven.
I am interested in making games, but I don't have any working experience, just examples from classes I've taken. I have my bachelors in computer science, and I have some computer science graduate credits as well, including classes in game AI, android games, and game theory. Here is my linked in page for more details here.
I am not currently in the Toronto area but looking to move there once I find employment. Anyone looking for a student willing to learn new things, or just help out with random coding projects on the side, you can email me here (please put something about the HES in the subject so I know its not spam).
That's all for now! If there's any July events or Toronto video games news, releases, and rad media coverage you want shared, don't hesitate to pass it along to Kaitlin via email or on Twitter. Thanks to Anthony Geremia for help this month.