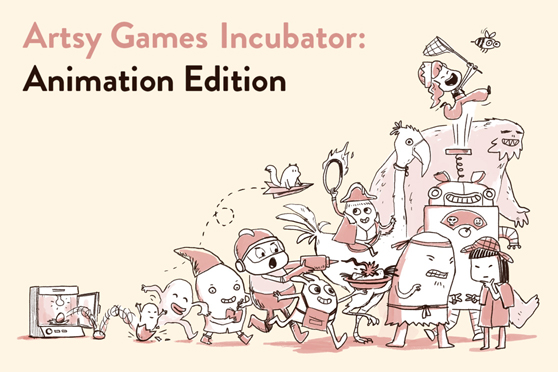 The Artsy Games Incubator: Animation Edition is a 6-week game making workshop for animators! The program is focused on artists with animation backgrounds who are interested in the creative possibilities of videogames, but who have little to no experience with programming or game making software. Participants will each make their own game, while being introduced to tools, guest mentors, and community resources that will further their exploration of the interactive medium. At the end of the program, they will also have the opportunity to showcase their work at TAAFI (Toronto Animation Arts Festival International) in June 2014. By making videogame creation more accessible to a wider variety of artistic practices, AGI: Animation Edition hopes to continue the exploration of game art beyond 8-bit pixels and ultra-realistic CGI, into more diverse and expressionistic territory.
PROGRAM DETAILS
Number of participants: 6
Cost: FREE!
Toronto Animated Image Society
1411 Dufferin St, Unit B (just north of Dupont)
Runs every Thursday from APRIL 3 to MAY 8 (6 sessions)
6:30 – 9:30 pm
Coordinators: Matt Hammill (Asteroid Base) and Sagan Yee (Hand Eye Society)
Contact: sagan@handeyesociety.com
Please fill out this form by March 26.  We will select and inform our 6 applicants in the last week of March, before the first session on April 3.
No programming experience is needed, although some familiarity with computers and digital art-making software such as Adobe Photoshop may help. We are primarily looking for applicants with prior experience in animation and basic knowledge of its fundamentals, though there are no restrictions on the visual styles and techniques practiced. If you have any questions, please contact program coordinator Sagan Yee at sagan@handeyesociety.com.
Historical Note: While the original Artsy Games Incubators (2007-2009) involved any kind of artists, this new AGI series will focus on specific artforms. Animation is the first, and a writing-focused incubator will follow in the fall. Subscribe to the HES mailing list if you'd like updates or hear how to apply.
This program was made possible by a grant from the Ontario Arts Council. The artwork above was created by Matt Hammill.