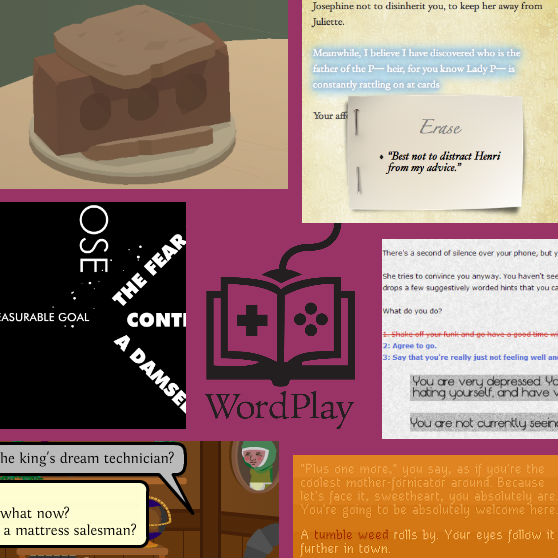 07 Nov

WordPlay Schedule, Announcements, a Brick Sandwich

Posted on Nov-07-2013

in

Event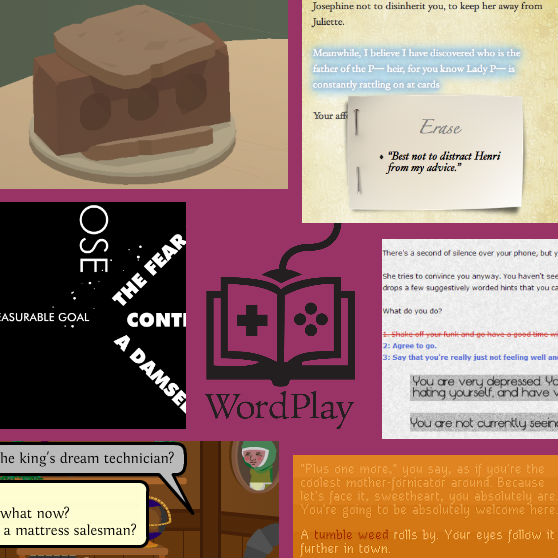 Coincidentally, WordPlay is happening the day after the Playstation 4 release. Unlike the latest-and-greatest console, our festival of writerly games features more polysyllables than polygons.
We have recently confirmed that Miguel Sternberg will be hosting the in-discussion-with portion of the festival, as well as that we will have the world première of the latest Kentucky Route Zero release: the intermission between Acts 2 and 3, entitled "The Entertainment." It will be available to experience via the Oculus Rift virtual reality goggles during the festival, and prominently features (spoiler alert!) a brick sandwich.
Saturday, Nov. 16th from 12-5pm
Toronto Reference Library
789 Yonge St. at Bloor
Free

12-3:30pm
Writerly Games Showcase
20+ games will be available for the public to play exploring a broader range of human experience than most think possible in games. Some games made by many people, and some by a single person; classic parser text games, hypertext multimedia pieces, and those using new interactive fiction techniques; games made by local people (some attending their games) and games made by exotic international creators.
12:30-1:30pm
Panel: Where Prose Meets Play
A panel investigating the intersection between books and games, by people who have one foot in both worlds: webcomic writer Ryan North (To Be or Not to Be, Dinosaur Comics), Hugo-award winner Peter Watts (Crysis 2 novelization), game & comic creator Rachel Kahn (By Crom!), and author/illustrator/game maker Matt Hammill (Sir Reginald's Logbook, Lovers in a Dangerous Spacetime). Moderated by novelist and game maker Jim Munroe.
2-3pm
Discussion: Kentucky Route Zero
Hand Eye Society co-founder Miguel Sternberg (They Bleed Pixels) sits down with the Chicago-based creators of Kentucky Route Zero, a magical realist point-and-click adventure game with Flannery O'Connor influences that's charmed the festival circuit (Independent Games Festival, Indiecade). Miguel will be asking Jake and Tamas thoughtful questions posed by the community.
3:45-4:45
Workshop: Make Interactive Fiction with Twine
Toronto game developer Christine Love (Analogue: A Hate Story, Hate Plus) will be leading a workshop for beginners to learn how to use Twine. This easy-to-use tool allows people to make games that work in the browser without using code, and has opened up game making for a larger, more diverse community. Many of our Showcase games this year were made with Twine — give them a try, then give Twine a try yourself!
Presented by:


Produced with the support of the City of Toronto through the Toronto Arts Council. Thanks to Bento Miso for providing the Oculus Rift.
We are looking for volunteers to help attendees with the games, and for someone to document the event via photo or video. Get in touch for details!