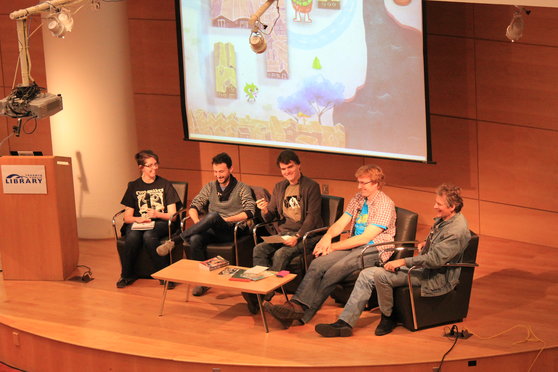 18 Nov

WordPlay Fest Pics and Showcase Links

Posted on Nov-18-2013

in

Event

On Saturday we had over 200 people attend the inaugural WordPlay Festival of Writerly Games.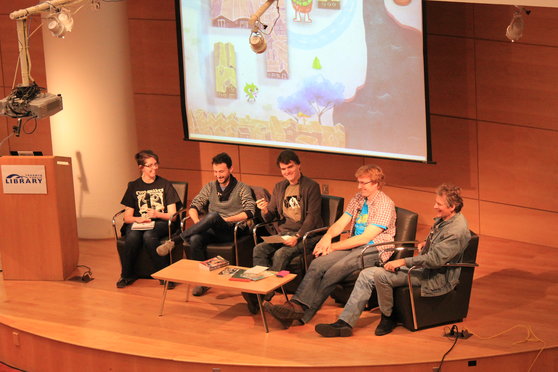 The Toronto Reference Library was an amazing venue — where better to celebrate games with a strong writing component than the country's largest public reference library?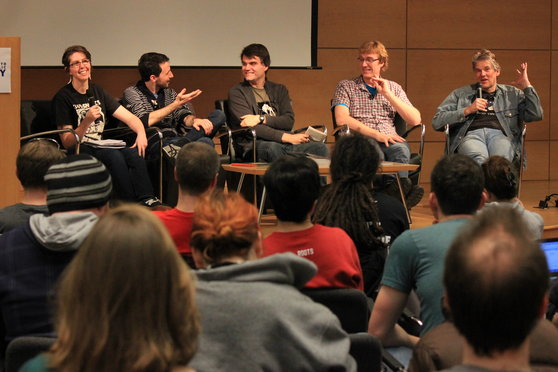 The "Where Prose Meets Play" panelists (l-r: Rachel Kahn, Matt Hammill, moderator Jim Munroe, Ryan North, Peter Watts) had a great time discussing the intersections between books and games….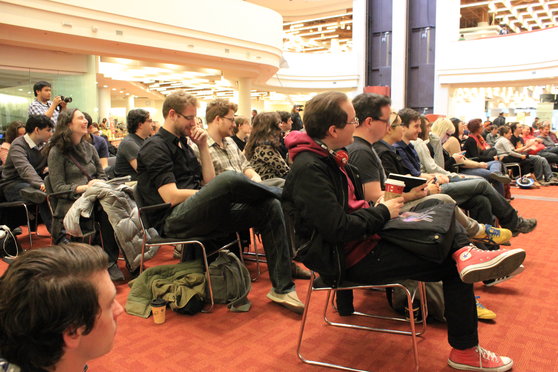 …and the audience also enjoyed themselves.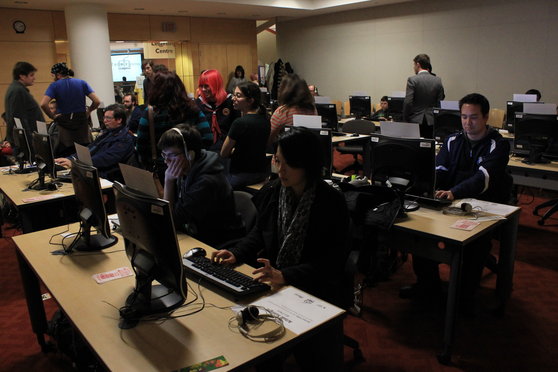 The WordPlay Showcase (listed below) made 20+ writerly games available for public play. A half-dozen game makers were in attendance.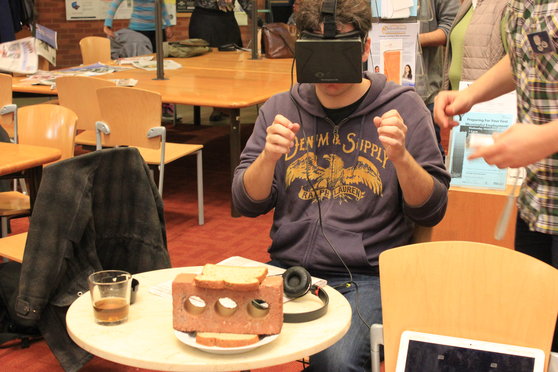 We were honoured to premiere the new Kentucky Route Zero intermission, "The Entertainment". Note the brick sandwich, mirrored in the game world via the Oculus Rift.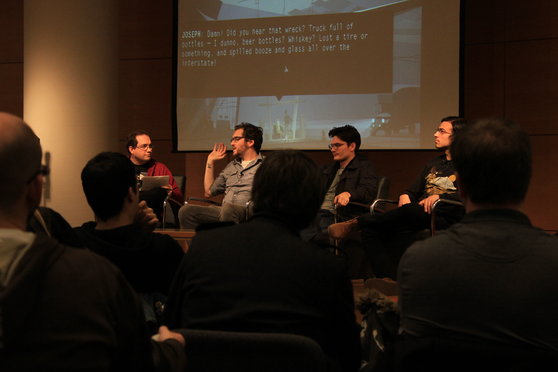 Miguel did an in-depth interview with the Kentucky Route Zero creators (l-r: Miguel Sternberg, Jake Elliott, Tamas Kemenczy, and Ben Babbitt) with questions contributed by the community.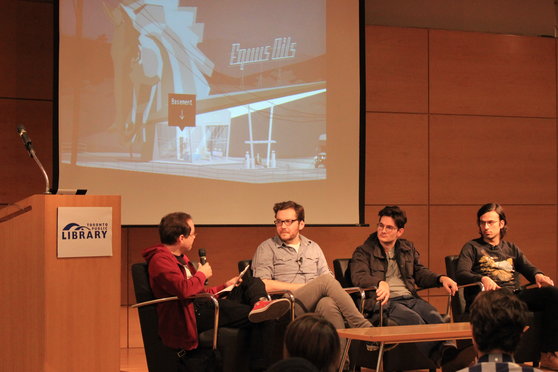 The Chicago game makers spoke about their aesthetic and creative motivations. (The video of both the interview and the panel will be posted soon.)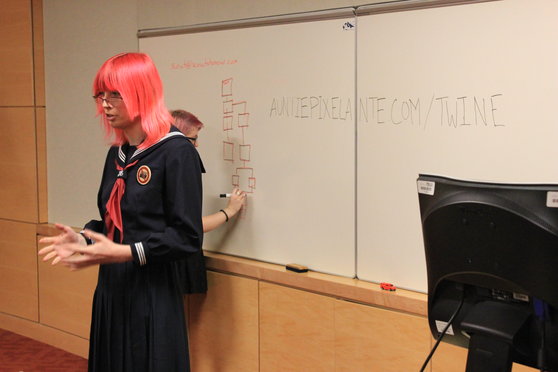 Local writerly game maker Christine Love led a workshop on Twine, the text-based game making tool.
The one-hour workshop had 30+ people giving Twine a twirl.
Photos: Stephen Reese.
What was your WordPlay experience like? Feel free to sent comments/pictures to jim@handeyesociety.com.
WordPlay Showcase
These were the games chosen by the WordPlay Showcase jury (Cecily Carver, Liam O'Donnell, Sagan Yee).
About 2/3s of these games are free, but remember you can always support the game makers by following them, writing about them, or emailing them thoughtful feedback.
Actual Sunlight & Actual Sunlight 3D (Will O'Neill)
Aisle (Sam Barlow)
And the Robot Horse You Rode in On (Anna Anthropy)
Cart Life (Richard Hofmeier)
Conversations With My Mother (merritt kopas)
Counterfeit Monkey (Emily Short)
Cry$tal Warrior Ke$ha (Porpentine)
Depression Quest (Zoe Quinn, Patrick Lindsey, & Isaac Schankler)
Ergon / Logos (Molleindustria)
Even Cowgirls Bleed (Christine Love)
First Draft of the Revolution (Emily Short, Liza Daly, & inkle)
Forumwarz (Crotch Zombie Productions)
HIGH END CUSTOMIZABLE SAUNA EXPERIENCE (Porpentine)
LongStory (The LongStory Team)
Lost Pig: And Place Under Ground (Admiral Jota)
Negative Space (Maddox Pratt)
SAVE MERLIN THE PIG! (Leigh Alexander)
Spellirium (Untold Entertainment)
The Gostak (Carl Muckenhoupt)
The Yawhg (Emily Carroll & Damian Sommer)
TRUNKED (Ian Daffern)
Violet (Jeremy Freese)
We Are the Firewall (Alan DeNiro)
Word Realms (Asymmetric)