12 May

Your Weekend Guide to Comics x Games at TCAF!

Posted on May-12-2017

in

Event

The Toronto Comic Arts Festival is upon us!! Lost and/or confused? Consult this handy guide to help you navigate your way around the library, as well as discover your next favourite game in the Comics x Games arcade! We've broken them up loosely by theme to give you a sense of what's out there, and we'll likely have an exhibitors map by Saturday morning as well (one never knows what will happen during Friday setup…) Don't forget to bring your cash, as many artists will be hauling prints, pins, and other merch with them. We have a lot of folks showcasing from the States this year, so come play their games and make some new friends!

TTC SUBWAY ALERT: For those of you travelling by public transit, Line 2 (the main East-West green line) will be CLOSED on Saturday May 13 from St. George to Broadview. Unfortunately this affects the station closest to the Toronto Reference Library, Bloor-Yonge Station, so give yourself plenty of time as the shuttle buses aren't quite as fast and a lot of other TCAF-goers may be using them as well. Click here for more info.

Find us on social media:
Twitter: @HandEyeSociety
#TCAF / Comics x Games / CxG
Facebook group
CxG Panels: 1st Floor, Learning Centre 1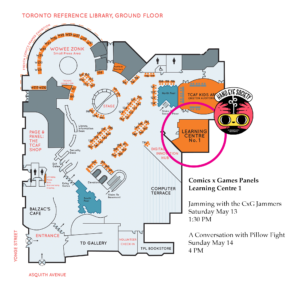 PANEL 1: JAMMING WITH THE COMICS X GAMES JAMMERS
For artists looking to get into making games, or anyone who likes comics, games, or both!
Saturday, May 13
1:30 PM
PANEL 2: DETECTIVES, DEVILS AND DATE NIGHTS: A CONVERSATION WITH PILLOW FIGHT
For anyone interested in visual novels, narrative or character-driven storytelling in games, and making a living from your art!
Sunday, May 14
4:00 PM

Arcade Exhibit: 2nd Floor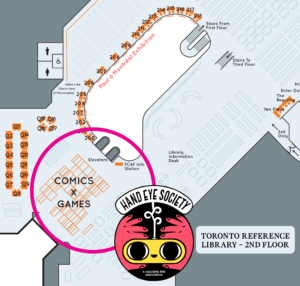 Exhibitor Game Guide
JAM GAMES: A grocery shopping adventure gone awry, a VR spirit surgery sim, and a 2-player battle for zine supremacy! Check out the Comic x Game Jam games at the arcade, and meet the artists at their panel on Saturday at 1:30 PM.
HEY GRAB ME SOME- • Dispirited • Battle Zine Turbo V
VISUAL NOVELS: Get your noir on with a couple of detective-themed tales, flirt with a slime girl, hack the enemy, and learn about the business and pleasure of North American visual novels with Pillow Fight (We Know the Devil, Rose of Winter) at their panel on Sunday at 4 PM!
Rose of Winter • Monster Girls Gaynerations: Ghoulfriends For Life • Code Romantic • PURITY & DECAY • Detective Madson in Drop Dead Gorgeous
TABLETOP: Craving some cardboard? We've got Earthbound-meets-Smash Bros. and Veronica Mars-meets-the Apocalypse in tabletop game form!
Tiny Swords SMAAASH! • We Used To Be Friends
MULTIPLAYER: Brawl, solve puzzles, shoot arrows, get hats, and make a really bad version of Stonehenge with this colourful party platter of multiplayer games.
Arrow Heads • King of the Hat • Monumental Failure • Dead Winter • Runbow • Riverbond
SOLO: A wonderful variety pack of gameplay and art styles, from pixel-perfect arcade games and hand-drawn street dance, to the art of Pascal Campion as a mobile jigsaw puzzle app.
Pirate Pop Plus • Fish Fly Fever • Russian Subway Dogs • Tram-Panic! • Floor Kids • Jigsaw Story
AUTOBIO: Get personal with two autobiographical games exploring — respectively — a job, a relationship, and how sometimes these things come to an end.

I Get This Call Every Day • This is My Memory of First Heartbreak, Which I Can't Quite Piece Back Together
STRANGE WORLDS: Mystery awaits you here, whether exploring haunted cybernetic realms, human sacrifice, a labyrinth of disembodied hands, or just hanging out with a blind bear in the forest.

Forgotten • GEMETON • Holoscope • The Shrouded Isle • Unspokin • Palmystery
---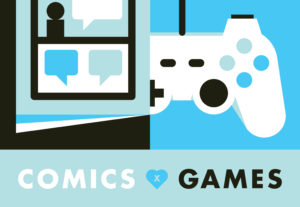 Click here to see the full description of panelists and exhibitors!
ARCADE/TCAF HOURS:
Saturday, May 13th, 9am-5pm
Sunday May 14th, 10am-5pm
If you have any questions, please contact cxg@handeyesociety.com (all e-mail will be forwarded to the CxG/HES Logistics team: Alicia Contestabile, Ken Cho, and Sagan Yee). This event was co-organized with TCAF, sponsored by the OMDC.