17 Oct

Toronto After Darkcade: Selections & Volunteer Opportunity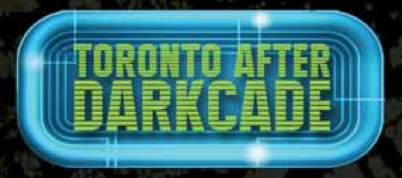 Toronto After Dark is proud to announce the complete schedule for the first annual Darkcade, which starts tomorrow. We were blown away by the innovation and talent on display in all the submissions we received, but after some heated debate (and some intense nights of gaming), we have selected 18 unique games to showcase each and every night for free at the Pub After Dark socials on the second floor of Paupers Pub (539 Bloor Street West) that follow the Toronto After Dark feature presentations at the Bloor Hot Docs Cinema.
Please find the complete schedule of Darkcade games below and see the volunteer opportunity at the bottom. 
THURSDAY 18
Drinkbox Studios
Tales from Space: Mutant Blobs Attack is a side-scrolling puzzle-platformer about a grumpy mutant Blob that escapes into the world and starts eating everything around him.
Matt Hammill, Jamie Tucker
Lovers in a Dangerous Spacetime is a 2-player co-op mini platformer within a pink Death Star which is under attack. Players need to run back and forth between ship control rooms to fight off hordes of space baddies.
FRIDAY 19
Dennaton Games
A top-down mayhem filled hyper-speed semi-stealth '80s styled game of madness and murder.
Zaratustra Productions
The Princess of the Flower Kingdom was taken by the Ghulibas of the north, and it is up to brave Zee Tee to rescue her and discover the hidden lands behind the peaceful kingdom.
SATURDAY 20
Spooky Squid Games
They Bleed Pixels is a fast-paced, gothic lo-fi, platforming beat'em up that drips, gushes and flows.
ERT forces players to question their place in the world, and where to go next. Also, it gives them another reason to push their friends.
SUNDAY 21
Damian Sommer, Emily Carroll
Sebastien Benard
A violent story about social evolution, revenge, money and kittens. Don't mess with Johnny Cash.
MONDAY 22
Phantomize ghosts as you are led by the beating sound of your terror filled heart.
Droqen
Probability 0 is a brutal platformer with rogue-like elements that is constantly trying to kill you and all too happy to tell you as it is doing so.
TUESDAY 23
Benjamin Rivers
Awakened by an oncoming storm, you open your eyes to discover yourself in a strange, dark room—tucked away in a house that's not yours. As you play the game, it changes—subtly, almost imperceptibly—to reflect your perspective.
DigiPen Team Pig Trigger
A young man leaves home gifted with the extraordinary ability to lock space and wrap around it in this deceptively simple and brilliant platformer.
WEDNESDAY 24
DigiPen Team Wired Productions
Redemption is a co-op multiplayer FPS in which the player plays as a robot sent to destroy a menacing goo monster, "Sample 17," a man-made experiment gone wrong that has already destroyed the entirety of humanity.
Noah Sasso
An oddly meditative mutiplayer bout of keep-up that's part-Super Smash Brothers, part martial art ballet.
THURSDAY 25
DigiPen Team Mike's Plumbing and Tile: Media Arts Division
With the collective might of the world's armed forced against you, what is a guy named Man Lee Gunns to do? Explode everything in this exceedingly silly side-scrolling shooter that has you literally leaping from ship to ship in a testosterone-fueled reverie of cartoon violence.
Sos
In this hilarious retro parody of MacGyver, players are thrown a barrage of bomb-defusal scenarios with only twenty seconds to either disarm them or piss all over them… literally.
FRIDAY 26
DigiPen Team Nitronic
The player is thrust in the neon-encrusted driver's seat of a tricked out car worthy of SPEED RACER. Boost, jump and even fly across the race-track in this deliriously kinetic and almost balletic experimental survival racer.
DigiPen Team Awesome Shark Volcano
Just who are you, anyway? Nous will tell you. The computer analysis machine, Nous takes you on a journey into your own mind. Your responses shape the experience as the game world changes to suit your playstyle.