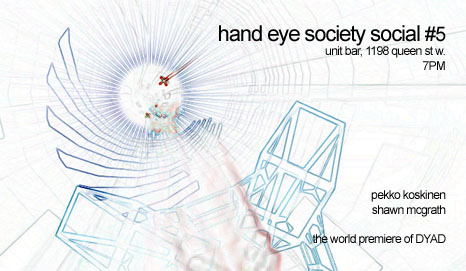 At:
the Unit Bar
1198 Queen St W.
MAP
the unlabelled bar next to the pawnshop, which is next to the Gladstone
On:
November 26th, 2009.
7PM
Let's:
Smash talk the trash and video games what?
Seriously:
Pekko Koskinen,
from FINLAND, designer of two IGF award winning games Dragonfly Variations and Spawns of Deflebub, as well as co-creator of TOJam game Flowers of Error
and Shawn McGrath,
from EVERYWHERE, creator of Chain3 for iPhone, as well as ToJam favourites Xiq and A Game About Bouncing
Together they secretly collaborate on an unannounced project, Dyad, making this social the WORLD PREMIERE of their new game.  Watch a demonstration of the game and then a break down of design concepts showing an evolution from THIS to THIS.  Afterwards, ask Pekko how he choregraped a dance using shoot-em-up game rules, and ask Shawn about how awesome it was to have Tetsuya Mizuguchi (producer of Rez, Lumines, Space Channel 5) play his game.
As coleslaw, or corn-bread, but ultimately depending on blood sugar levels, Jon Mak (Everyday Shooter guy) may present old, abandoned prototypes of games he and Shawhan (I Am Robot and Proud guy) worked on.
COME and BRING ALL FRIENDS.