14 Oct

Hand Eye Society Ball 2016 – Photos, Video and Recap! ミ☆

Posted on Oct-14-2016

in

Event

 From the shadows, you emerge. The ritual commences. We scan your barcode. Check your coats. Mark your hands and wrists in red. beckon you forward. You are compelled to follow, under the pretense of fulfilling a yearly, terrifying obligation: Tearing up the dance floor at a fancy videogame party.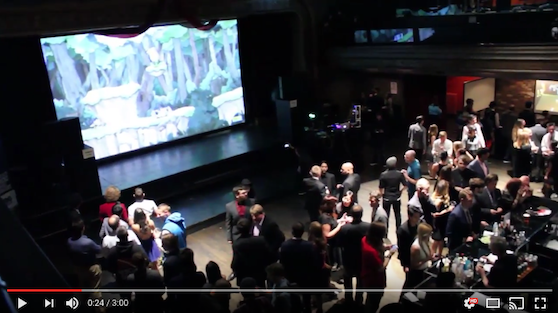 Video by Brian Bernard. Click to play!
For the second year in a row, the Hand Eye Society and friends gathered en masse at the Masonic Temple for our third annual Hand Eye Society Ball, the biggest nightclub/LAN party hybrid this side of the GO train tracks. A historical local establishment rarely open to the public, the Temple was once home to orders of the most profane, like the Freemasons and MTV.
But gone are the mysterious shadowy organizations of our elders! Now is the time for mysterious shadowy organizations devoted to the independent videogame arts!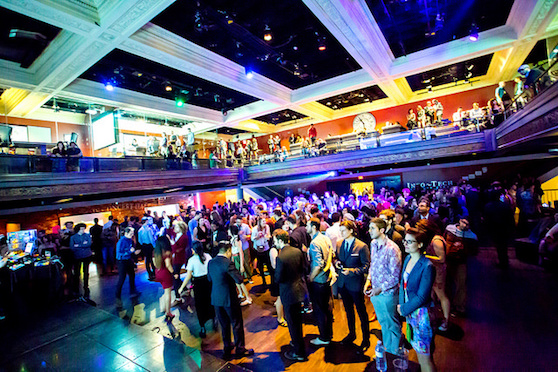 Thanks to suggestions based on last year's Society Ball, we made a ton of improvements to how the party was run. An island bar run by the venue, safer space policies plastered everywhere, all-gender washrooms, and an expertly coordinated volunteer army were some things we hope everyone who attended felt made the space safer and inclusive. We were also pleased to welcome Death In Venice Gelato, who provided party attendees with a steady flow of delightful ice-cream flavours like strawberry/basil and brie/pear as well as pizza and paninis! They sold out a few hours into the festivities thanks to almost the nearly 800 attendees who streamed through the Temple doors.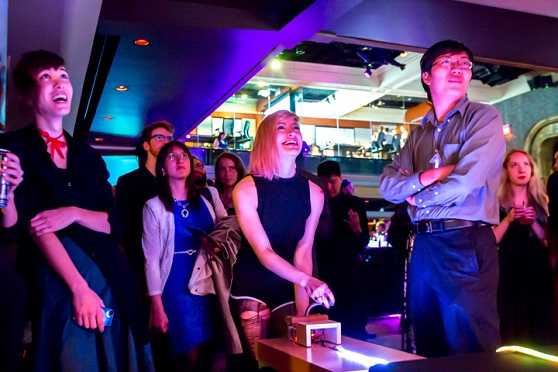 Taking over the main floor were indie games from the world over. Players jiggled their way to illuminated victory with Line Wobbler, an eye-catching alternative controller game that was last glimpsed earlier this year at TIFF digiPlaySpace. The photogenic, old-timey devilish romp Cuphead overtook the big screen, whose constant lineup enjoyed a high turnover rate thanks to the punishing rule of "If you both run out of lives, pass the controller to the next pair in line!" Friends turned on each other for domino domination in Last One Standing, video format enthusiasts duked it out in VHS vs BETAMAX, and Multibowl had players competing in retro minigame mayhem with two borrowed fightsticks.
Meanwhile, patrons trapped in glass rooms on the second floor had no choice but to have the time of their lives playing games like Pico Park, which united up to 10 friends and strangers in some of the most hilarious, frustrating, and triumphant moments of the night. Nothing Good Can Come Of This ruined some relationships, Criquette could be seen confounding people no matter where you were standing, and Brolly Folly delighted with daring aerial deeds. On the sidelines, players chilled with an assorted classic arcade games on cocktail cabinets. Above it all, party goers on the fifth floor made virtual art out of pure light with Tilt Brush Pictionary, resulting in much hilarity as players attempted to decipher the various 3D scribbles increasingly filling the air.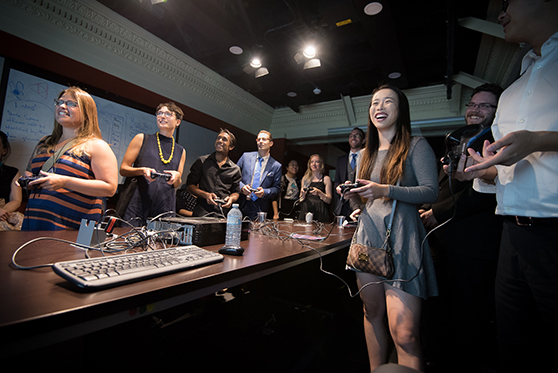 Every hour on the hour, those of you chosen to become Red Room initiates arranged yourselves around a giant table for Little Dada, Alanna Predko and Anthony Swan's Annual General Mischief, and collectively held four-way debates on unspeakable decisions to change the very course of humanity. You were sworn to eternal secrecy, a secrecy broken only by a hundred Tweets or so. Leaked minutes from the AGM indicate that Society Members voted that owls are indeed real, that the water of Niagara Falls should be replaced with the cheapest of rosé wine, that we should "make Goat Island great again", and that — most importantly — in the ending to the 1997 film Titanic, there was in fact room on that piece of debris for a headphone jack.
Back on the dance floor, folks tore it up (or at least bobbed appreciatively, Toronto-style) to the musical talents of Scarlet Spades, Ryan Henwood, and Coins. We were also treated to a double-dose of zaniness with C418 and dualryan's novelty set, which involved 30 minutes of nostalgia-inducing tunes like the Pokemon anime theme song, sweet picks from ye olde Sonic the Hedgehog games, the Donkey Kong rap, and, uh, Darude's Sandstorm (which has not to our knowledge ever been used as part of a videogame soundtrack, but maybe that should be a thing) peppered liberally with air horn blasts and sound effects from Super Mario.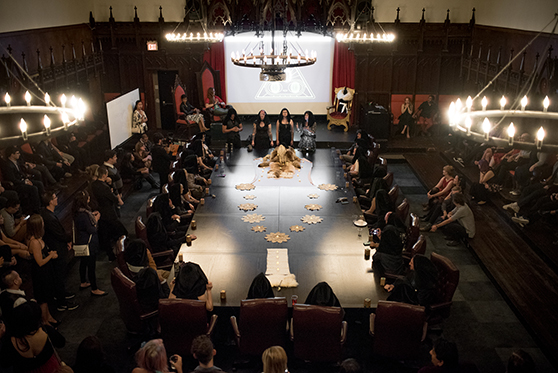 Other great touches that lit up the night included the colour-coded LED bowties and custom occult background for Last One Standing, the laser-cut triangular amulets featuring the HES logo by Josh Holinaty, and propaganda posters scattered around all 5 floors of the building from the AGM's four political factions. Thanks to Little Dada and Douglas Gregory for making this fancy videogame party even fancier!
More pics, cos it did happen
This is just a small sample: Check out the full photoset on our shiny new Flickr account! Thanks to our photogs Dean Tomlinson and Paul Hillier for the memories.

Photos: Dean Tomlinson
Photos: Paul Hillier
Trending: #HESBall16
Our hashtag lives on — if there are any photos, video, Vines or GIFs from the night you wanna dig up, you can let us know by tagging or tweeting us at @handeyesociety. Here are just a few of our fave Tweets from the night!

Chatting with @1337kitty and @nihilocrat about game development and geek culture here in Toronto #hesball16 pic.twitter.com/nH75ZBSFKO

— Geektropolis (@gktrpls) September 25, 2016
video games, drinks, fancy dressing, AND the pokemon theme song????!! IT'S PERFECT #HESBall16 pic.twitter.com/3EcKW9L0ei

— Keana (@KishiFishy) September 25, 2016
I only managed to play one game at #HESBall16, and I'm so glad it was Pico Park! The best energy of all of game rooms. pic.twitter.com/ewJEkTJlUR

— T R A C Y // (@TLT_sammich) September 25, 2016
A little Pictionary VR last night at #HESBall16 – Clearly it's a glue stick, design credit to the talented @SamMeGeee 😂🎨 @HandEyeSociety pic.twitter.com/EMye9JaAMh

— Jenn Krpan (@ilu_jennay) September 25, 2016
At #HESBall16 — just discovered Cuphead, which feels like Steamboat Willie Contra. Very fun. Hey @StudioMDHR let me VO your next game pic.twitter.com/pHZl2HUK9U

— Arda Ocal (@ArdaOcalTV) September 25, 2016
Folks seem to be enjoying my domino game Last One Standing at #HESBall16!

Thank you to everyone playing, and to @HandEyeSociety+volunteers! pic.twitter.com/D2dcjbEnDJ

— Douglas GreGORY (@D_M_Gregory) September 25, 2016
Media Shoutouts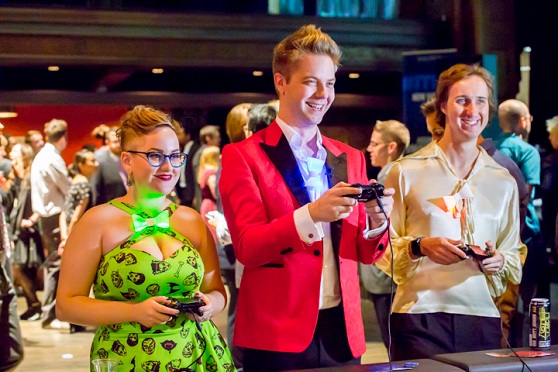 Dig this piece by Zack Kotzer for Toronto Life on the fancy looks y'all were serving up (check out that Majora's Mask dress!!) as well as this touching commemoration by Dork Shelf's Eric Weiss. Indie Game Reviewer also did a recap including the ultra-secretive hourly meetings taking place in the Red Room on the fifth floor. Finally, here's a neat video on Space.ca with Innerspace's Ajay Fry interviewing local luminaries like Douglas Gregory and losing to his wife in Multibowl.
All of the Games
For summaries and more information about each game, check out our lead-up announcements here and here!
Main Floor
Second Floor
We Plead The Fifth Floor

Eternal Kudos
The Masonic Temple and its benevolent caretakers Info-Tech Research Group hosted our sold-out bash; sold-out thanks to you, dear players! The third Hand Eye Society Ball was made possible by the following (mostly) harmless horde:
HES Organizers and Curators: Sagan Yee & Jim Munroe
Masonic Temple Organizer: Wanda Yuen
Tech Director: Ken Cho
Volunteer Coordinator: Kai Winter
Volunteer Assistant: John Rathigathan
Artist Liaison: Alicia Contestabile
Poster Art: Roman Arabia
Booklet Design: Crystal Chow
Gear Transport: Nawaf Bahadur, Ken Cho
Social Media: Al Donato
Food and Treats: Death In Venice Gelato Co.
Music: Scarlet Spades / C418 / dualryan / Ryan Henwood / Coins
Security: STAR Security
Community Partners: The Beguiling / Exclaim! / Reelworld Film Festival / Geektropolis
Event Consultation: Marie Bédard, Bibi Poon
Hand Eye Society Board: Cindy Poremba, Shaun Hatton, Chris Gehman, Chris De Castro, Adam Axbey, Sara Grimes
Volunteer Army:
Joshua P'ng, Yusef Dualeh, Brendan Lehman, Shankar Maharaj, Jason Bond, Marco Piccolo, Nelly Hamid, Ashley Allen, James Brownlee, Jesse Gazic, Chris Davies, Victoria Johnston, Hayley Hart, Chris Donnelly, Samaa Ahmed, Michael Le, Julie D. C., Michael Arcadi, Nick Shopian, Liesl A., Michael Truong, Daud Nazari, Kimberly Koronya, Sam Pollock, Benjamin Feuerstein, Sifton Anipare, Jillian Wakarchuk, Colin Sanders, Ksenia Eic. Nawaf Bahadur, Jesse Sheng, Ashley Yip, Al Donato, Luke Black, Melanie Wilmink, David Kua, Douglas Russell, Krystle MacKenzie, Rodrigo Toromoreno, Dwight Broderick, Mesmond who lent us the fightsticks
Game Suggestions:
Kitty (BROEIKAS, Utrecht), Pietro (Milano Game Festival), Jonatan (GDC Europe's Innovative Games Showcase), Carolyn (Mount Royal Game Society), Lorenzo (A MAZE Berlin), Tanya (Pixelles, Montreal), Ben (Glitch City, LA), Annie (Game Developers Association of Australia), Louis (SK Games, Perth), Chad (Freeplay / Hovergarden, Melbourne), Holly and Jo (Now Play This, London), Lujan (Game on! El arte en juego, Buenos Aires), Robert (No Quarter, NYC), Heather (Kokoromi), Paolo (Molleindustria, Pittsburgh), Patrick (Vector Park, Brooklyn), Doug (Die Gute Fabrik, NYC), & Saleem (KOOP Mode, Montreal), Jim McG (Hand Eye Society, Toronto)
Huge thanks to you all, and please get in touch if we missed you or anyone else!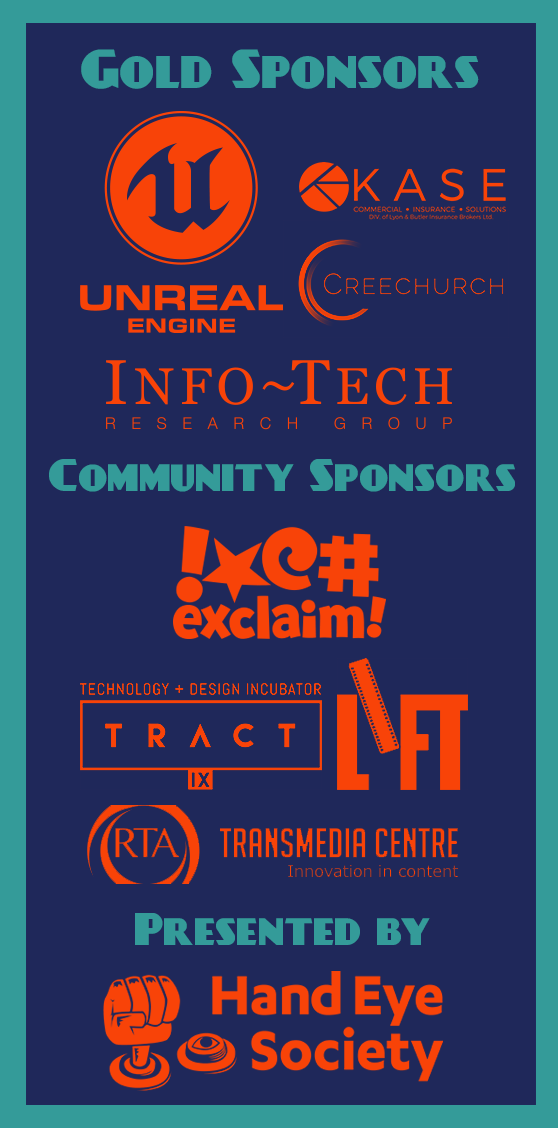 Let's keep in touch…
Missed the Ball this year and don't want to make the same mistake twice? Looking for more local videogame arts and culture events to get involved with? Want to stay updated on other Hand Eye Society activities all year round?  Looking for more ways to support a Toronto videogame arts non-profit?
That's a wrap!
Good Game, everyone!
Thanks for making #HESBall16 spectacular! pic.twitter.com/YspCMaAfQF

— Douglas GreGORY (@D_M_Gregory) September 25, 2016