18 May

Game Curious at the Toronto Reference Library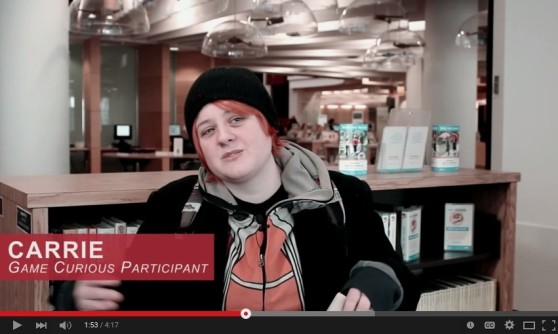 Game Curious is our game literacy program devoted to the exploration and discussion of video games as an artform, for people of all ages and backgrounds. Program coordinator Sagan Yee gives a summary of the program that ran from September 13 – Dec 6, for a total of 12 weeks, and at one point involved forcing Russians to be vegetarians. We are currently running the program at Glendower neighbourhood in Scarborough.
Last fall, the Hand Eye Society partnered with the Digital Innovation Hub at the Toronto Reference Library to bring the second run of Game Curious to the world! We were very excited to introduce a six week game-making workshop in addition to the original programming, for a grand total of twelve weeks of gaming and discussion. For a write-up of the MAKE session workshops, please refer to Ab Velasco's post here.
The first six sessions, which we are now calling the PLAY sessions, consisted of 2-hour weekly gatherings in the Browsery area on the library's first floor. We set up six computer stations (we really like the number 6, apparently) installed with a number of games based on a certain theme, and a large TV hooked up to whatever console suited our needs at the time. The first hour was "free play" time, where participants could walk around, try the games, and ask questions. The second hour was devoted to presentations and group discussion, where we would examine each game showcased on that day and talk about the observations and experiences people had while playing them.
During these sessions, anyone who wanted to present a game was welcome to do so, and we got a wide variety of volunteers bringing their favourite games to showcase for the other participants. As no registration was necessary and we were situated in a very public area of the library, there were many people who were simply browsing or wandering through who were eventually drawn in by the spirited gameplay and discussion. Everyone from parents and their children to couples to youth to curious folk of all backgrounds- anyone who happened to be in the library that day was welcome to join in, and quite frequently they did! (We also got a few noise complaints, but that's inevitable when you introduce Nidhogg to a library…) There was a lot of opportunity to engage with people in discussion about their interest in games and field any questions they had about the medium.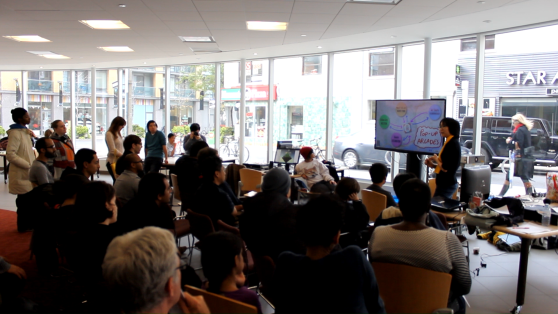 Here's a breakdown of each PLAY session with game titles and discussion highlights. NOTE: If you were a participant or volunteer at Game Curious and would like to contribute any impressions, corrections or additions, please contact me at <sagan@handeyesociety.com> and I will be happy to update the post!
1. PLAYED IN TORONTO
We looked at games set in Toronto or made by local developers! I decided to lead with this topic as it's a good way to immediately draw people in with a familiar setting, while introducing the idea that game design and narrative can be inspired by personal experience and one's own environment. Whether wandering a Queen Street West of the near-past in Benjamin Rivers's Snow, dodging TTC logos in Alex Leitch's Psychlepath, or noting the Brutalist aesthetic link between the Robarts Library and N+, playing these titles provided plenty of opportunities to look at games outside of the usual fantasy/sci-fi setting. It was also a good way to showcase the work of local studios such as Spooky Squid, Metanet, Capybara, Drinkbox and others.
As this was 2014, we also looked at a number of games inspired by a certain infamous mayor. These included City Council Chaos (Julia Alexander, Kimberly Koronya, Tanner Rogalsky), Stay Mayor (Extra! Extra! Games) and a Civilization V mod in which Rob Ford joins the ranks of Genghis Khan and George Washington as a playable world leader.
GAMES: Snow (Benjamin River), Scott Pilgrim VS the World, Psychlepath (Alex Leitch), Sissy's Magical Ponycorn Adventure, City Council Chaos, Rob Ford Civ V mod, Stay Mayor, Guacamelee, N+, They Bleed Pixels, The Yawhg, Superbrothers Sword and Sworcery EP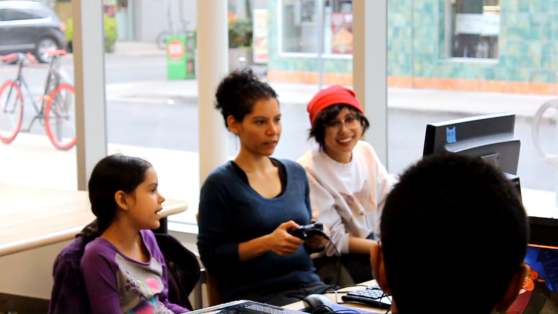 2. LOVE, LIFE, AND RELATIONSHIPS
This was a very broad theme and does not include nearly as many titles as I could probably come up with, but I think it's a pretty respectable selection. The goal of this session was to provide examples of the emotional and thematic range of games, and the ways in which the medium is able to tell stories that are distinct from film and novels. These games represent a variety of narratives drawn from their creators' personal experiences or desire to explore the depth of their fictional creations. Many of the games dealt with topics like child abuse, dysfunctional families, mental health, social anxiety, aging, and other everyday struggles not often represented in more mainstream titles. Others were simply well-told stories with engaging characters. It's pretty exciting that there were so many titles to choose from that I couldn't fit them all in one session; however, suggestions are always welcome!
GAMES: Dys4ia, Papers Please, Home (Increpare), Lim, Depression Quest, Gamer Mom, Everybody Dies, Cart Life, Gone Home, Passage/Gravitation, To The Moon, Journey, Papa & Yo
PRESENTATION: Krystle Mackenzie,  a long-time volunteer since Game Curious' first run at the Academy of the Impossible in 2013, presented Persona 4. The complex social system within the game made a good fit for the session theme.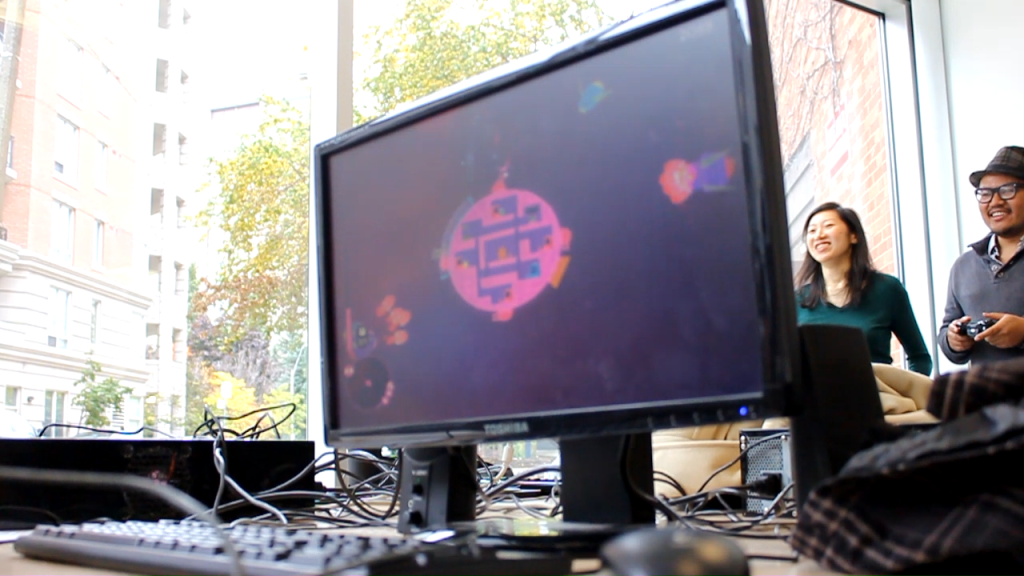 3. INNER AND OUTER WORLDS
This was a really fun and diverse session as it was basically a catch-all for the many weird and experimental titles out there. Shadow of the Colossus, Fez, and Jazzpunk were very popular with the participants, and there was a lively response to a reading of a humorous review of David O'Reilly's "anti-game" Mountain. This also turned out to be the ideal session to field questions about video game addiction, as many of these games are quite brief and provide a counterpoint to time-sucking ventures like Bejewelled and World of Warcraft.
GAMES: Shadow of the Colossus, Jazzpunk, Mountain (David O'Reilly), Paradis Perdus, Fez, Kentucky Route Zero, Katamari Forever, Dyad, Goblet Grotto, Aisle
PRESENTATION: Miguel Sternberg of Spooky Squid Games (They Bleed Pixels) did a great live demo of an obscure Playstation rhythm game called Vib Ribbon that was released only in Japan. Krystle Mackenzie presented Chrono Trigger as one of her favourite games and an exemplary example of pixel art. It was a good tie-in as Miguel also noted that Chrono Trigger was one of his inspirations as a pixel artist. Finally, Dave Murphy presented some video clips showing a variety of site-specific game installations, including projects by Babycastles, Toca Loca's Halo Ballet, and Dancingularity.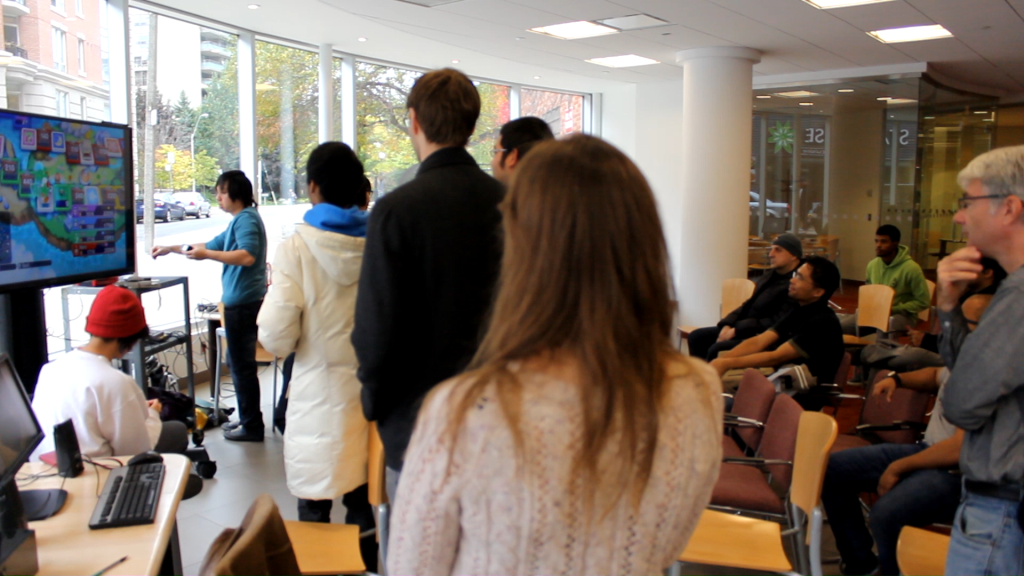 4. MAKING GAMES
In this session we focused on free game-making programs such as Stencyl, GameMaker Studio, Twine and Unity, as well as stories about game development and the creative process. We looked at Portal's origins in the oddly-named student project Narbacular Drop, as well as how thatgamecompany's Flower has design echoes its early prototype Cloud. Games like Cave Story, I Wanna Be the Guy, and the results of game jams show what kind of projects can result from individual developers or small teams.
GAMES: Cave Story, Narbacular Drop, Portal 1+2, Cloud, Flower, I Wanna Be the Guy, games from the Artsy Games Incubator: Animation Edition
PROGRAMS: Construct 2, Stencyl, GameMaker Studio, Twine, RPG Maker, Unity
PRESENTATION: Yifat Shaik and Kim Koronya talked about their creative process and independent game projects they've worked on. Ken Cho helped demonstrate game-making software in action, and Joshua P'ng presented a video clip of Beyond Good and Evil, one of his favourite games.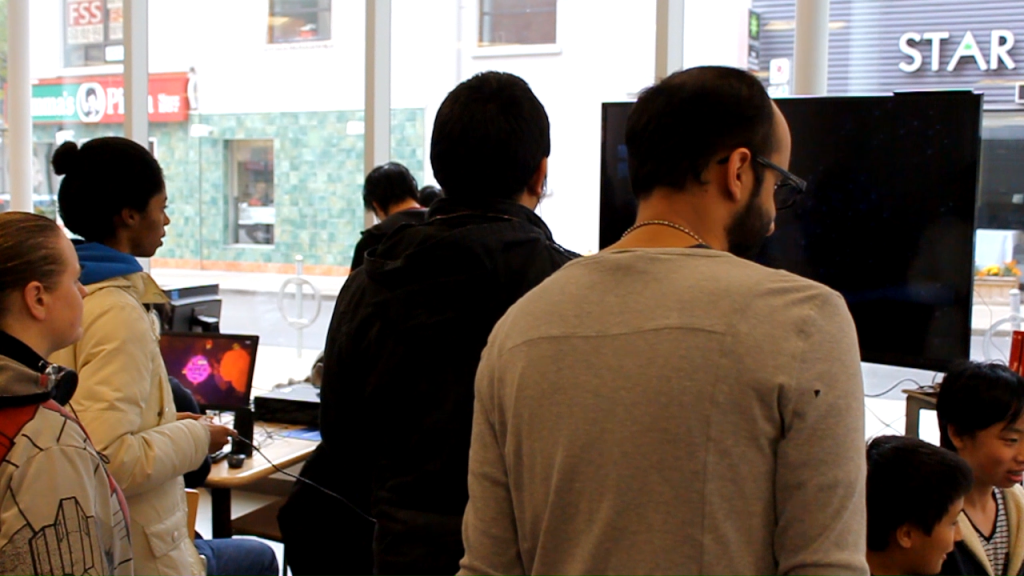 5. PLAYING POLITICS, SCIENCE AND EDUCATION
This session was of particular interest to parents and educators, as many of them were naturally interested in what kind of games could be used to enrich and educate the lives of children and students. We started with Oregon Trail, one of the most well-known of the early "edutainment" computer games, and moved all the way to the complex interactive systems of Fort McMoney and Fate of the World. Other topics included Minecraft and Portal in the classroom, games as ironic commentary on historical and current events, the politics of Sim City, and the gamification of protein folding in Foldit.
GAMES: Cat and the Coup, Foldit, Unmanned, McDonald's Game, Portal 2, Minecraft, Sim City, Fort McMoney, September 12, Oregon Trail
PRESENTATION: Adam Blake led the audience in a collective playthrough of Fate of the World, where we all tried to save the earth from global warming by manipulating various socio-economic forces. For example, we decided to turn all of Russia into vegetarians. This did not win us any popularity points with the Russians.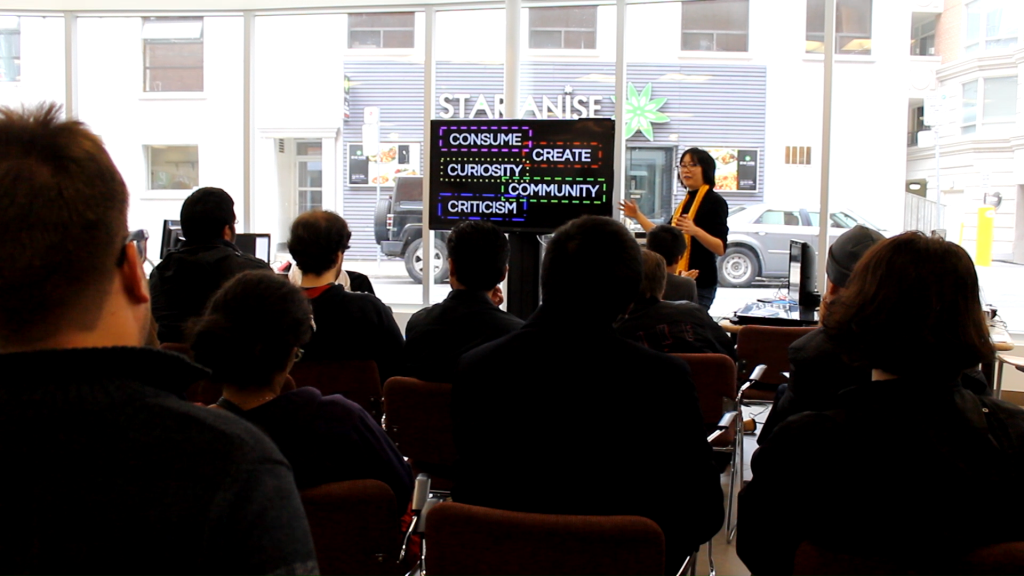 6. COMMUNITY (PARTY GAMES)
For the final session, we brought out a variety of multiplayer and co-op games for all to enjoy! Some of the games excited the participants so much that they were yelling at the screen. Although all of the games involved more than one player in some way, not all of them emphasized competition; for example, the ever-popular Lovers In A Dangerous Space Time requires players to work together to pilot a neon pink spaceship to rescue rabbit-like creatures from evil aliens. These games opened up the "community" theme to discussion, where I talked briefly about Hand Eye Society as well as other Toronto game organizations such as Dames Making Games and Vector Game Art Festival. I also spoke about the future of Game Curious, which is currently undergoing its third iteration at Glendower in collaboration with Art Starts.
GAMES: Space Race, Lovers In A Dangerous Space Time, Tether, Nidhogg, Retron 5 (Bubble Bobble), A Friendship In Four Colours, others
---
PROGRAM COORDINATOR: Sagan Yee
PROGRAM MANAGER: Jim Munroe
VIDEO AND PHOTOS: Brian Bernard
THANKS TO: Ab Velasco, Alex Dimitrov, Randall Ball, Baher Ramzy, Sukhdeep Brar, Krystle Mackenzie, Carrie, Daniel Case, Dave Murphy, Ken Cho, Adam Blake, Joshua P'ng, Art Starts, the Ontario Trillium Grant Foundation, all our guest presenters and developers, and many others without whom this would not have been possible! (If you volunteered at any point during Game Curious and were not mentioned here, please let me know and I will add your name to the list.)
2014 ADVISORY COUNCIL: John Porter, Jaime Woo, Emma Westecott, Sara Grimes
 PARTNERS: