22 Nov

This Friday! Cuphead: A Knockout! Artist Talk

Posted on Nov-22-2017

in

Event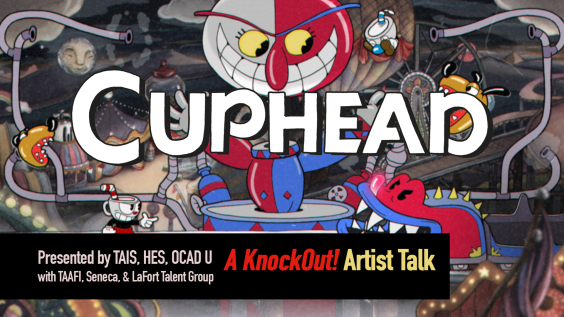 Here's a real high-class bout! The Hand Eye Society is proud to co-present this very special artist's talk from the Toronto Animated Image Society. We'll be chatting with 2 members of the Studio MDHR production team, whose knockout game CUPHEAD: DON'T DEAL WITH THE DEVIL has just been released to overwhelming enthusiasm (it also made a memorable appearance at the Hand Eye Society Ball at the Masonic Temple in 2016). This is a last-minute reminder in case you missed our announcements on social media! ☕☕
Friday, November 24th
OCAD University, 100 McCaul – 

Room 190
7:00-9:00pm (doors 6:45pm)
+++++++++++++
PRICE: Tickets are $5 at the door, FREE for HES/TAIS members and OCAD U/Seneca students. Not a member, or just want to stay updated? Click here to find out how to join!
+++++++++++++
Get Behind the Scenes of ­Cuphead – the gloriously fiendish indie run-and-gunner game inspired by classic Rubber hose cartoons of the 1930s. Hotly anticipated, and blowing up since launching on PC and Xbox One at the end of September, Cuphead was painstakingly created using techniques of the 1930s era: traditional hand drawn animation, watercolour backgrounds, and original jazz recordings.
Developed and published by Studio MDHR Entertainment, Cuphead production team members Tina Nawrocki and Ali Morbi will give a unique behind the scenes look at the artwork created for the game, and reveal details on how the Cuphead crew developed this Platinum selling gem.
The presentation will be followed by a Q&A, moderated by Hand Eye Society's Executive Director, Sagan Yee.
TAIS Event Page: More info on the artists and supporting partners!
Facebook Event
Presented by the Toronto Animated Image Society (TAIS), with Hand Eye Society (HES), and OCAD University, in partnership with Seneca College, TAAFI, and LeFort Talent Group.