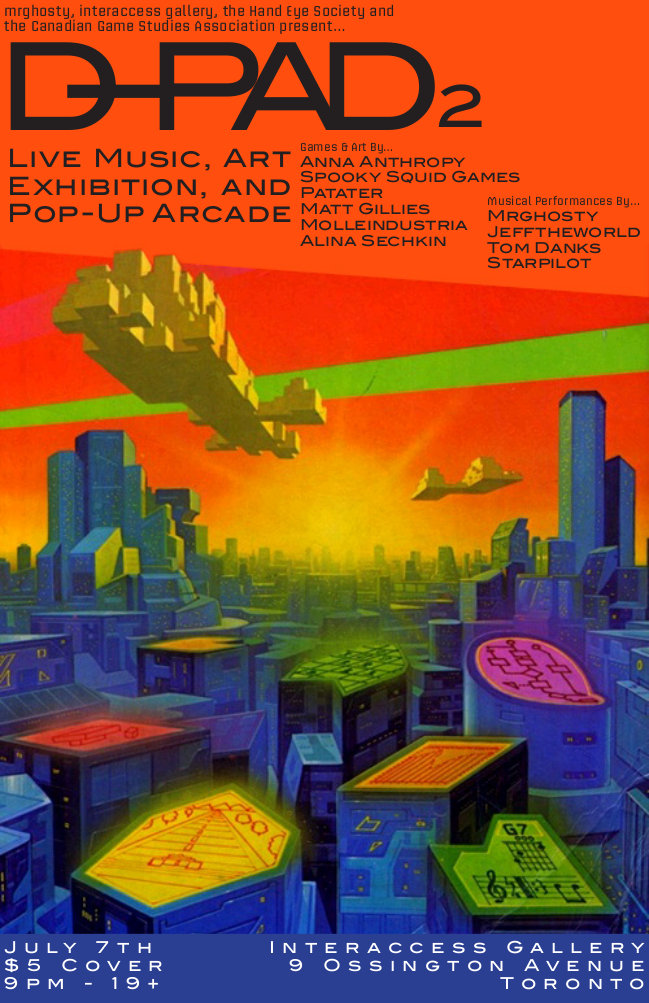 28 Jun

DPAD 2 on Saturday July 7th

Posted on Jun-28-2012

in

Event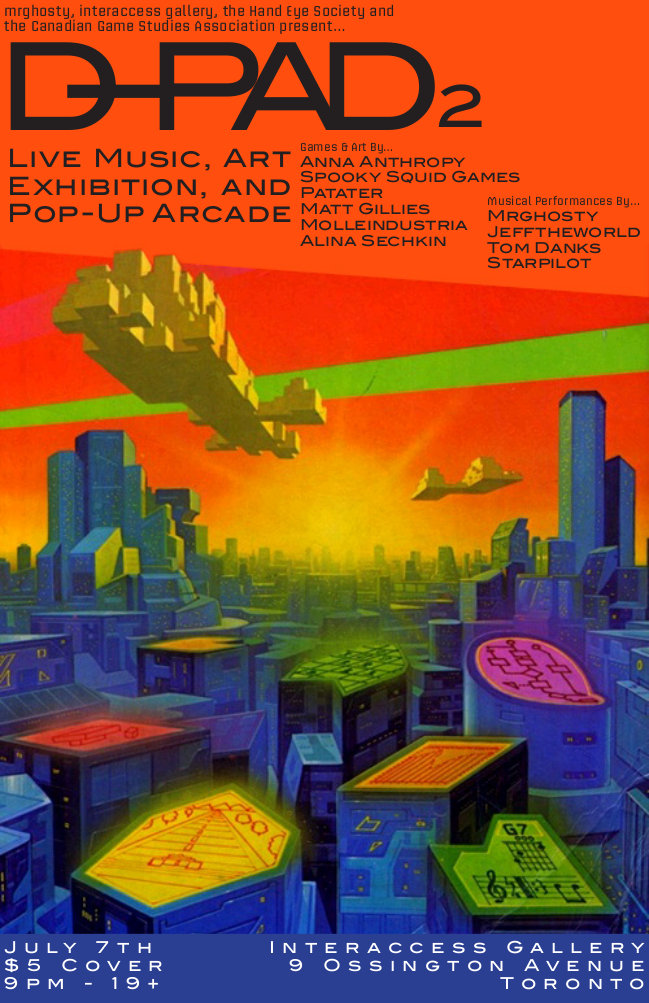 Hand Eye member Skot Deeming writes:
DPAD 2
Directions In Play/Art/Design 2
at Interaccess (9 Ossington Avenue, Toronto)
Saturday, July 7
19+
$5 Door
Cash Bar

Following the success of the first DPAD in February 2012 at InterAccess, mrghosty returns to program another one-night event centered around creative practices that orbit the culture and technologies of video games. Part live performance showcase, art exhibition, and pop-up arcade, the DPAD series showcases the spirit of ingenuity and play in videogame themed music and art.

Featuring musical performances by:

StarPilot
Jeff the World
Tom Danks
Mrghosty

with live and interactive 8bit visuals by mrghosty AND YOU!

Game Art / Art Games:
The Night Balloonists (with custom 1 button, 4 player controller) by Spooky Squid Games.
Minimal mario (Super Mario Bros. ROMhack, reducing the game to its most basic elements) Patater.
Murder Command (Kinect AR homebrew game) by Matt Gillies
Leaky World: A playable Theory (game adaptation of Julian Assange's Conspiracy as Governance Essay, made for the Wikileak stories project) by Molleindustria

8 bit artworks by Alina Sechkin

Featured guest artist for Dpad 2:

Anna Anthropy's Keep Me Occupied. – Originally Created for the Oakutron, Keep Me Occupied is a videogame about working together: two players play it at a time, ascending a building by holding gates open for each other. but after sixty seconds, each player leaves a ghost of herself behind to occupy the last gate she touched, holding it open for future players. so every player who plays, no matter how unskilled, contributes to the collective success of all players.