13 Feb

Comics x Games 2017 open submissions now live!

Posted on Feb-13-2017

in

Event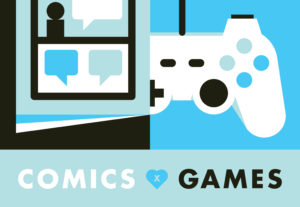 The Hand Eye Society is holding an open call for videogames to showcase on-site at the Toronto Comics Arts Festival (May 13th and 14th) as part of this year's Comics x Games 6! Comics x Games (formerly known as Comics vs Games) fosters collaboration between the independent game and comic communities through a variety of projects, partnerships and events. Every year with our partners during the TCAF, we present unique, game-focused content — from arcades and gallery shows, to panels and talks. It's a great opportunity to expose your game to TCAF's diverse audience of over 20,000 visitors. Table space is limited, so apply now!
Applications end March 21 2017 at Midnight EST. Exhibitors must be able to attend TCAF (in Toronto, Canada) both days to set up and staff their table. Send any questions to cxg@handeyesociety.com
---

Application FAQ
When and where is TCAF?  The Toronto Comic Arts Festival 2017 will take place Saturday, May 13th, 9am-5pm, and Sunday May 14th, 10am-5pm, at Toronto Reference Library, 789 Yonge Street. The Comics x Games exhibit usually takes place on the second floor.
Why did you change the name? Until 2017, this program was previously known as Comics vs Games. We changed it to better reflect the program's collaborative spirit!
Do I need to live in Toronto take part? Nope. International guests are welcome as long as you're able to travel to Toronto for TCAF and staff your table over the two days. TCAF's FAQ has some good travel information for out of town visitors.
Is there a table fee for confirmed applicants? Not currently! We have considered it for future exhibits and it may happen someday, but so far it has always been free.
Can I sell merchandise for my game? Yes; in fact we encourage it! Banners, postcards, download codes, plushies, etc. are all fine. However first and foremost this is a games showcase so you need to have your game set up for people to play, and to please respect your neighbour's table space.
My game has nothing to do with comics, so can I still apply? Yes! While we are always excited to see game submissions with some connection to the world of comics, such as visual novels or interactive experiments that play with the concept of sequential art, all games are welcome to apply! Click here to see a list of previous exhibitors.
Do I need to provide my own computer? Yes, you should bring everything you need to showcase your game. However, you can request a table with a monitor if you'd like (see the form). A small number of loaner set-ups will also be available. Priority will be given to guests coming from outside of Toronto/the GTA.
Will there be internet on site? Not particularly. While the library technically has free Wi-Fi, it's spotty at the best of times and borderline useless during TCAF. We strongly recommend having a build that is is playable offline.
I don't have a game, but my comic is super relevant to games, can I exhibit at Comics x Games? Unless it's some form of interactive comic (like Meanwhile or Framed), probably not. Send us an email if you want to be put on a list and we'll let you know if extra space becomes available. Alternatively, you can let us know you are interested in being a speaker or a panellist, as we've had many guests such as Jason Shiga talk about their comics in an interdisciplinary context.
I only want to showcase for one of the days, can I do that? Probably not. Priority will be given to exhibitors showing both days but you can send us an email with your preferred day if you want to be put on a list. Question not on the list? Email cxg@handeyesociety.com
For more information about TCAF:
Website: www.torontocomics.com
Twitter: @Torontocomics
Facebook: www.facebook.com/TorontoComics
Tumblr: torontocomics.tumblr.com