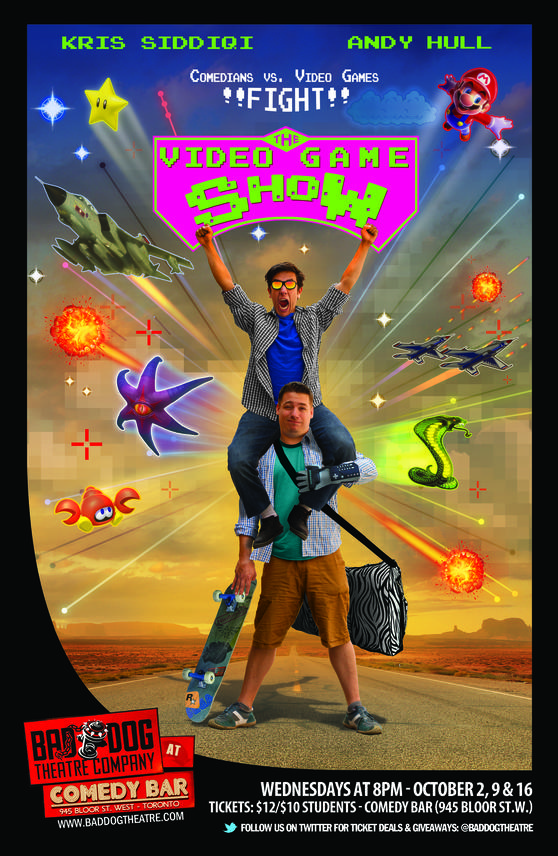 Stephanie writes:
It's an all-out melee as Toronto's finest comedians take on their favourite video games — both classic & current — LIVE on the Comedy Bar stage.

This unique show gives gamers a chance to see some of Toronto's funniest folks chat and improvise scenes based on fan-favourite video games.

Picture the classic 1990s TV show, "Video & Arcade Top 10"… add eight of Toronto's nerdiest improvisers… and you get a show jam-packed with side-scrolling storytelling hilarity. Watch each week as your favourite video games are played, paneled, and re-imagined by our cast.

Leave your basement and head to over to ours!

FEATURING: Kris Siddiqi, Andy Hull, Conor Bradbury, Sarah Hillier, Conor Holler, Alice Moran, Sean Tabares

Wednesday Oct. 16, 8:00 pm
Comedy Bar, 945 Bloor St. West
Advance Tickets: www.comedybar.ca
Tell the door you read it on the Hand Eye Society list and get $2 off your ticket!
UPDATE: Andy Hull writes: "Hey guys I co-host this show. This week we have DAVID HAYTER as our special guest! That's right, Solid Snake himself! (Not to mention screenwriter of X-Men and X2) Come on out and let's have a laugh!"