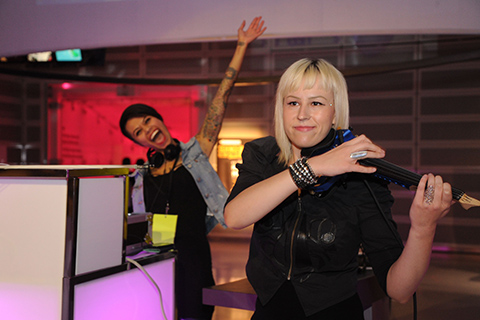 We're collaborating with the Ontario Science Centre for their ScienceRocks! Night this month.
ScienceROCKS! transforms the Science Centre into a music playground, where adults 19+ can rock out to live performances, engage in innovative presentations, explore the new exhibition The Science of Rock 'N' Roll and enjoy ROLLING STONES AT THE MAX on the IMAX® screen. Each evening event rocks a different theme, and all are accompanied by great food, cocktails and rock-it science! August 21's theme invites you to Experiment with NEW TECHNOLOGY & MAKING MUSIC.
Here's some of the things we're bringing to the night:
See a special sneak preview of Pop Sandbox's upcoming music-based mobile video game featuring top Canadian indie artists.
Learn about Jonathan Guberman's research and development process for the Pianocade, a synthesizer inspired by vintage arcade games, and play a few tunes yourself.
Get your groove on with booty-shaking tunes from DJ Dualryan, who will be spinning a selection of electronic music ranging from ambient to trance.
Play through albums by Beck and deadmau5 or compose your own musical levels in Sound Shapes, an award-winning video game that is part instrument, part gaming experience.