02 Sep

September's Super Shenanigans: Event Roundup

Heat warning days are over. Now It's all about back season. Back to school, back to work. Backpacks. Back to life, back to reality. Baby got back-end programming. Now that September's here, it's the perfect time to hit the e-books and learn something new. Even if that back-to-school biz ain't you, there's still plenty of local coding workshops and skill development opportunities around to cram your noggin with game-based education.

And if you get the feeling you're forgetting something, talk to that reclusive neighbour of yours, Google Calendar. You've only seen their face behind windowpanes and melting in your daydreams, but they'll be sure to post events as they are announced.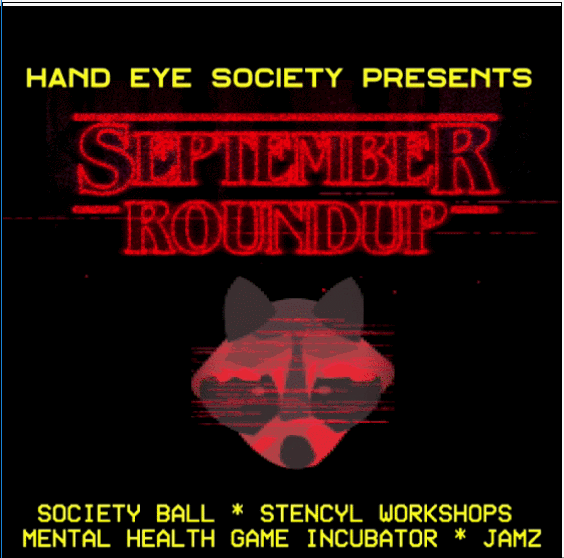 WHERE TO JAUNT – TORONTO GAME EVENTS
Thursday September, 1 to Sunday, September 4
As always, the four-day GTA geek extravaganza Fan Expo is packed with gaming guests and programming. One highlight is Trios College's presentation for aspiring game devs hoping to break into the industry.
Hand Eye's own Shaun Hatton will be a guest,  and his Transformers cover band Cybertronic Spree will be appearing at the Expo on Friday. Nerdist and Bleeding Cool gave them some love in August for their most recent release, so don't miss out. Will you DARE? Also, check out the Toronto Premiere of She Got Game, a documentary about women in gaming by Cailleah Scott-Grimes.
Tuesday, September 6
The 2-Bit Game Club returns with its September game discussion. Cult hit The Longest Journey is on the docket this month, a point-and-click adventure game from 1999 that's been commended for reviving the genre and its memorable protagonist April Ryan. This pay-what-you-can event takes place at Electric Perfume.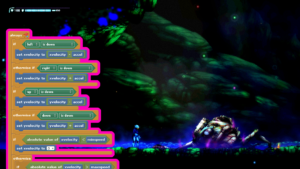 Wednesday, September 7 and Wednesday, September 21
We've partnered with a kindly Netherlands traveler to offer two Stencyl workshops this month. For beginners, the colourful drag-and-drop engine Stencyl is a great gateway into game-making. Veteran devs find it useful for designing games too! That includes instructor Stefan Dieters, who loves spreading the word about great Stencyl games such as "Ghost Song" by Matt White (pictured above).
Dieters, who will be visiting our fair city in September and promoting the upcoming "Astro-Miners," is teaching Stencyl to folks of any skill level. Workshop fees are $25 for non-HES members and $5 for HES members (a promo code will be e-mailed out, as always). Participants must bring their own laptop and snacks will be provided. Buy tickets here and check out the Facebook events for Sept 7 and Sept 21, both 6-9 PM at Electric Perfume.
Sunday, September 11
Do you like rooms? Do you like escaping from them? Welcome to Escape the Jam, a one-day exploration of technologically mediated Escape Room puzzles brought to you by Electric Perfume, Little Dada and the Hand Eye Society! We're going to explore some basic puzzle design, talk about how technology such as sensors, NFC readers and augmented reality can enhance or transform the player's experience, and jam on some puzzle ideas together. Although it will be casual and fun, we're asking for $7 to help cover snacks and support Electric Perfume. HES members get in free. Buy tickets here!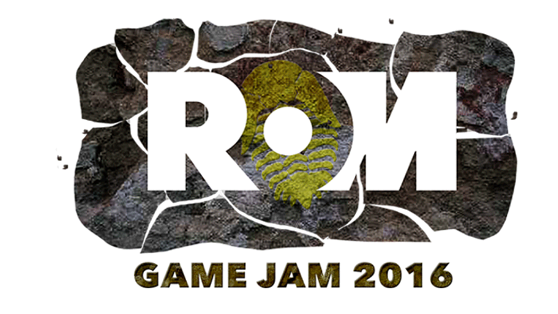 Friday, September 16 to Sunday, September 18
Hope you got enough sleep in August because ROM Game Jam is lurching back into existence with the fourth annual ROMJam. Fueled by the fossils in the Dawn of Life exhibit, inspired teams of game developers will roam the Royal Ontario Museum as they work tirelessly on creating and polishing a game in just three days.  If you want to oogle the devs as they unleash their primal programming instincts, parts of the venue will be sectioned of for the public on Saturday and Sunday. 
Saturday, September 17 and Sunday, September 18
If you didn't get into ROMJam and still want to flex your jam self, the monthly George Brown jam is back in town. The 12-hour jam intensive for gamemakers of all levels runs all Saturday, with the usual showcase of weekend masterpieces on Sunday.
WHERE TO HAUNT – TORONTO GAME SOCIALS
Mondays: September 5, 12, 19, 26
Ryerson's Gamemakers' Union continues their weekly meetups on Mondays throughout the Fall semester, to keep budding student developers productive before Fall semester. If you aren't a Ryerson student, you're still welcome to drop by. At 245 Church St. in Room 202, starts at 6 p.m.
Thursday, September 8
Trios College is holding a gaming 101 meetup, for any interested in entering the videogame industry, with experts on-hand to answer questions. At 425 Bloor Street East, starts at 5 p.m.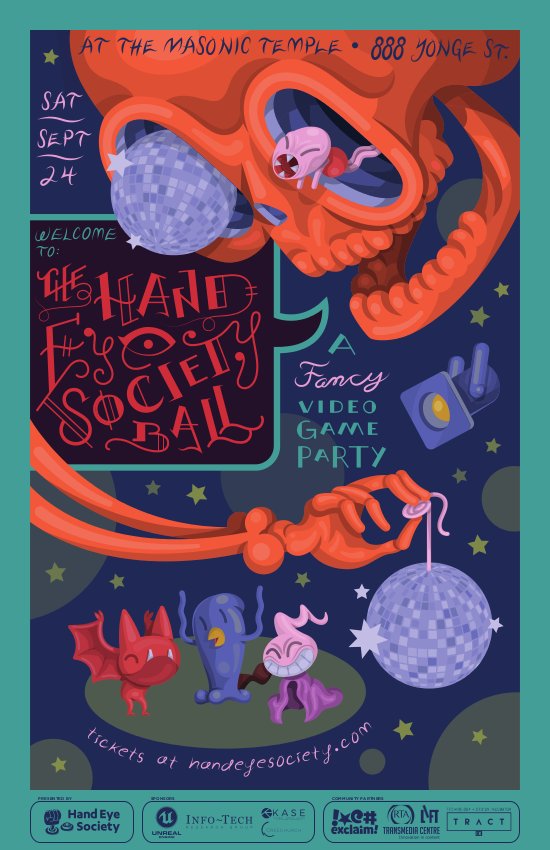 Saturday, September 24
Get on the dance floor and bust a console at the biggest fancy videogame party of the year, our grand annual Society Ball. We're taking over that mysterious Masonic Temple for the second year in a row, filling its cryptic corridors with cyber cabals and as many weird, fun, exhilarating indie games as we can sink our claws in.
Tickets are $25 for non-HES members, with HES members getting 25% off and an astounding free ticket for every new annual member who signs up before Sept. 23. We've sold out every year, so get your tickets while you can. On-site volunteers get a complimentary ticket; shoot kai@handeyesociety.com a message if you want to help out.
Wednesday, September 28
Torontaru cares not for the changing of seasons. Torontaru's partying with all indie game enthusiasts, come hell or boozy water. The monthly social starts at 8 p.m., at the Get Well.
#ICYMI
#TalkShitGetKnit: Earlier this year, we held Videogames Unraveled, an event that explored the surprising multitude of intersections between videogames and knitting. If you're plagued with fantastical, fear not. We've posted a video of the cozy shenanigans on our Youtube channel.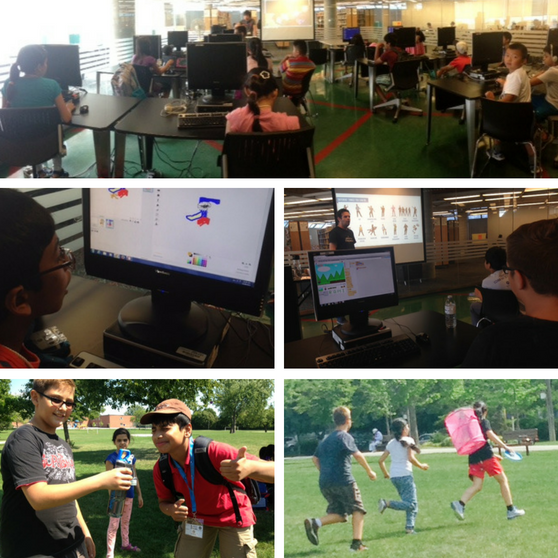 #FairviewSummerCamp: Another August throwback. For one week, tech lead Ken Cho, developer Jason Bond, song-writer Laura Barrett, and Your Humble Digest Writer all ventured to Fairview Library in North York with a mission: to show kids how to make their own videogames and outdoor games in just five days. Mission success! Kids came away with games where laser-shooting cats fought hordes of bats, beetles were mercilessly clicked, and gigantic fairy women became the world's hardest obstacle course. Expect a video featuring the young devs shortly.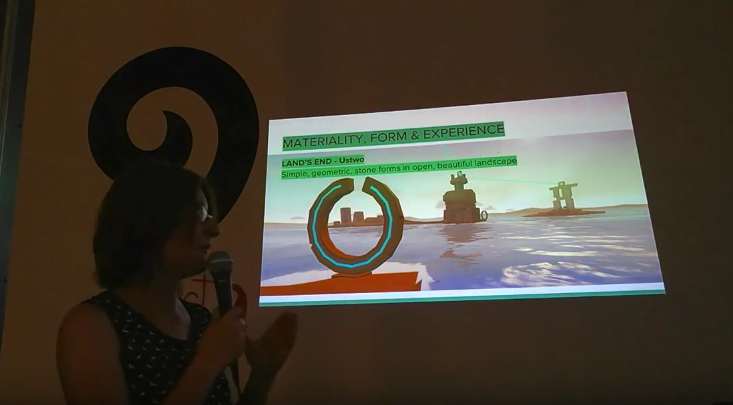 #Architecture: If you missed last month's Game Dialogues presentation with Ksenia Eic on Spatial Design in Games and Architecture, held at Tract 9 at Queen and Dufferin, you can catch the last half or so here courtesy of GameDev Cafe! Unfortunately the first half was lost due to data corruption, but due to the success of the event, we'd love to run it again soon. Ksenia also led a Game Club discussion group for Inside at Dames Making Games recently.
#GameON: If you're looking for a biz-oriented game conference to attend this fall, GameON: Ventures has you covered. They've announced speakers for their two-day October event, including local talents Mark Lotus from Mark Media, Ubisoft Toronto's Zack Cooper, and Techsdale founder Andray Domise.
**Special announcement!**
Our annual writerly games festival Wordplay is crossing the pond! This year, Wordplay will take place in the esteemed British Library in London, England on Saturday, November 19. We've decided to chuck Wordplay across the Atlantic in order to give the droves of Brit interactive fiction writers a place to explore their local scene better, as well as get a sense of how everyone else around the globe does it.
If your physical form is bound to the cruel confines of the GTA, fear not. Wordplay is accepting showcase submissions until Wednesday, September 28.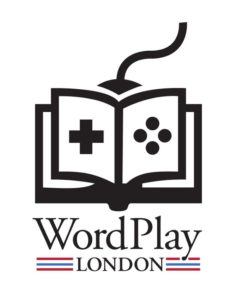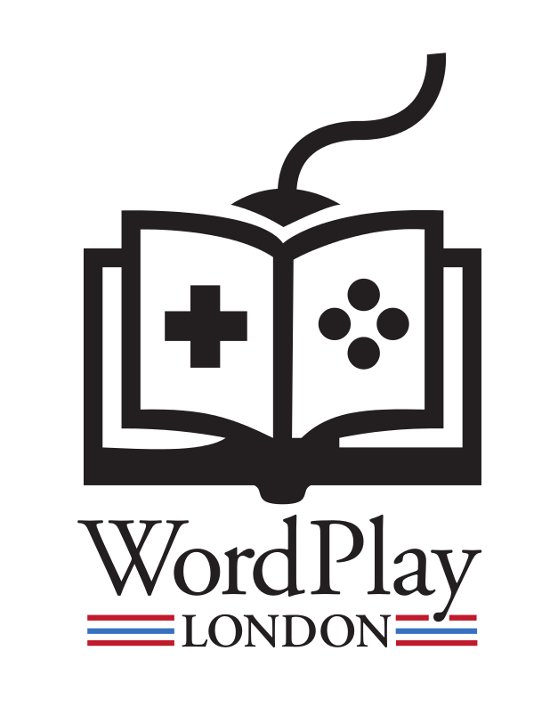 COMING AND GOING ATTRACTIONS
Household Games FTW! The studio, helmed by former "Guacamelee" developer Jason, hired speedrunner Halfcoordinated as an accessibility advocate. The position is one that prioritizes making Household's games accessible for everyone from the get-go, instead of tacked on later in the development process. Halfcoordinated, who spoke to Polygon earlier this year about his experiences as a gamer with a disability and how he single-handedly tears through action games in the blink of an eye.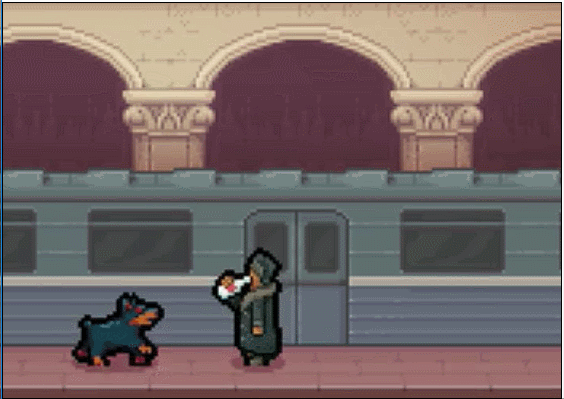 Spooky Squid Games, the Toronto studio behind the tentacletastic They Bleed Pixels, launched a Kickstarter for their upcoming game Russian Subway Dogs. Miguel Sternberg, HES co-founder and Spooky Squid head honcho, has created a If all that ain't impressive enough, everybody's favourite dog trapped in a room on fire will be a playable character.  You can support their campaign on Kickstarter. And for a quick bite, you can play the jam prototype of the game for free on Spooky Squid's website.
Metanet Software's Mare Sheppard and Raigan Burns hosted an Ask Me Anything (AMA) on Reddit, joined by Steam porter Tatham Johnson. The Q&A revealed where ninjas ventured after entering doors, why they used vector graphics instead of pixel, and revealed that N had been numberwang all along.
A new game cafe has popped up on the outskirts of Old Toronto. Power Up Bar soft-launched in late August, with drinks and vidya galore. You can visit them at 38 Wellington St E.
Just in time for the fourth annual ROMJam, local devs Pop Machine Creative (and our Netherlands comrade!) are launching their kids game "Astro-Miners" on Wednesday, September 17 at the Royal Ontario Museum. You'll be able to play it at the museum Wednesday, Thursday, as well as all weekend during ROMJam.
Benjamin Rivers' "Alone With You" has finally launched. In the narrative-based sci-fi, you play as a gender-ambiguous deep space survivor who can date dead astronauts. 
"Bloxiq" just got the VR treatment. Red Meat Games announced on Twitter that their block-piling game would be ported to the HTC Vive. You can grab it now on Steam VR.
PAPER TRAILS – GAMING IN THE MEDIA
"Alone With You" was met with critical acclaim from various outlets. Just to list a few: Verge, Killscreen, Giant Bomb, the Financial Post, and Toronto Game Devs.
Jim Sterling reviewed "Valley," an explorer where you control life and death, created by Toronto-based Blue Isle Studios.
Toronto Game Devs released four podcast episodes, with the latest rounding them up to 50. Congrats lads!
Our monthly and most furtive game speaker series soldiers on, with the latest Game Dialogues brought to participants by Ksenia Eic, a former architect, Game Curious graduate, and last month's MVP. Eic brought her structural expertise in a talk entitled "Spatial Design In Architecture And Games," where she linked IRL architectural strategies to game spaces. GameDev Cafe has kindly posted a video of Ksenia's presentation. (Eic had a busy August; she also launched a book club for games in late August with a few DMG members!)
Game Dev Cafe interviewed freelance game artist Lyndsay Gallant, of Torontaru fame and every team's favourite paladin. She discussed her buffing ability, who her real industry heroes are, and her career thus far. It's a great introspective in one artist's trajectory through videogame work.
In Twitch news, Household Games started up a channel, so get comfy on your couch watching them do the same.
MVP
This month's MVP is Alex Bethke has just played World of Warcraft's new expansion for 17 hours, but that's not the sole reason why we love him. The game developer and proud ferret whisperer has worked on over 100 games, proving his indie game hustle a hundred times over. Recently, he's worked on an augmented reality game called "Oh That Trump!" for mobile (Just guess who that's about…). He's also been hustling on "Terracosm," an alternate universe mini-game adventure which you can beta play at the Ontario Science Centre. Last month, he spoke about his lengthy expertise in the field in a monthly Hamilton game social called Game Dev Drinks. Cheers to you Alex!
A BREADWINNER IS YOU – JOBS, GIGS, AND OPPORTUNITIES
Interactive fiction enthusiasts, rejoice! The IF Competition is now running, with all entries due Wednesday, September 28.
If you're free on Friday, September 2, there will be a one-hour play-test session for a VR Google Daydream app at Secret Location. Pay is $30, contact michala@thesecretlocation.com for details.
Fancy a trip to la belle province in October? Saturday, September 3 is the last day to submit your game for the Montreal Independent Games Festival (MIGF). Registration is free, all games must have at least one developer attending MIGF.
Don't forget! Game Developers Conference is now accepting speaker applications for their Indie Summits.
Something to chew on is a job opp at Red Meat Games. The studio is hiring for a few positions, including programmers and artists.
Spore Productions is looking for some local freelance artists, composers, and back-end programmers. Their founder can be barraged with resumes on Facebook.
AbleGamers is running an international fundraiser called "Ability 2016" in October. Money raised for the charity goes towards providing specialized controllers for gamers with disabilities.