05 Sep

September's Succulent Sights: Bi-monthly Roundup

Holy Captain Crunch Culture Batman! It's time to wake up and smell the September. If you're back in school, stay hydrated ok? If you're liberated from the shackles of academia, stay hydrated too! Everyone should drink enough water…no, I'm not writing this because I forgot to h20 my sweet summertime succulents…please just…pour one out…then catch it with your cup because you gotta stay hydrated…

If you're feeling lonely, call up the night operator Google Calendar. She's not sure how you got her number but she'll bling you to the hottest lines and let you know about events as they are announced.

WHERE TO JAUNT – TORONTO GAME EVENTS
Wednesdays, September 6 and 20
Our friends at Interaccess wanna make sure you go through the grant-writing process as unscathed as possible, which is why they're hosting two media arts grant-writing workshops. Join them on the first Wednesday to hear from a Toronto Arts Council officer, and the latter with the Ontario Arts Council's counterpart. Won't be as game-specific as the one we hosted last month, but still a great general primer and chance to question council reps one-on-one.
Thursday, September 7
Rokashi Edwards, Leisha Riddel, and Gabriela Aveiro-Ojeda from Dames Making Games (DMG) host Creating Appealing Character Narratives,  a diverse representation workshop for game developers.  *This is a DMG event. Check the link to make sure if it is open to the public or for members only.*
Saturday, September 9
In case you didn't know, Mississauga's been trying to pop off on the game scene (as our Sauga Cohort Kadeem Dunn has been saying for years). triOS College will be making a valiant attempt at fortifying the city's rep by hosting a game art workshop and party game social on campus.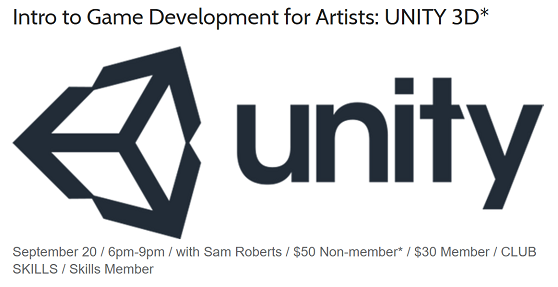 Wednesday, September 20
For artists who want to break into game development, Trinity Square Video is hosting an intro Unity 3D workshop. Here's a lil newsletter cheat code for HES members: Unlock a discounted rate ($30 instead of $50!) by e-mailing sagan@handeyesociety.com, and she'll notify TSV after verifying your HES membership status. This is applicable to any TSV workshop!
Sunday, September 24
If you've been looking for a space to share your VR game with fellow creators or just wanna bounce ideas, the VR Creators Meetup group wants to see what you've got. The monthly group encourages a jam-like structure, where they hope folks bring new projects every meetup.

Wednesday, September 27 / Thursday, September 28 / Friday, September 29
The Hand Eye Society is partnering with the Oakwood Village Library branch to run a program connecting game creators with the general public, while giving them some time to work on their own projects! The Art of Play artist's residency runs for 12 weeks from the end of September to December. The artists, who will be announced soon, will spend 3 hours once a week working on their own projects and being available for public visits, followed by an activity aimed at expanding participants' perceptions of playing and making games. All free, no registration required. Join us for Screenless Game Makers on Wednesdays, Interactive Fiction Writer's Circle on Thursdays, and Game Curious on Fridays! Click the program links for exact times and dates, and stay tuned for more details.

Friday, September 29 to Saturday, September 30
Toronto fills that indie game festival void with Damage Camp, a two-day celebration of local indie game cuture. Friday's opening party accompanies a showcase of SPF 90 FPS, DMG's summer VR intensive. After a night of arcade fun, the full-day conference on Saturday will be filling attendee noggins with indie game wisdom. Going by the topic names on their site, Damage Camp's got a full roster of awesomeness, with talks on Muslim representation, eSports accessibility,  as well as a panel on getting funds and accolades. *This is a DMG event. Check the link to make sure if it is open to the public or for members only.*
WHERE TO HAUNT – TORONTO GAME SOCIALS
Tuesday, September 5
Hop on your pogo stick and make your way over to a Commander Keen discussion with the 2-Bit Game Club. And if the IRL meetups weren't enough, get your chatty fix with their new Discord server URL. At Civis, starts at 6:30 p.m.
Friday, September 22
Remember the Toronto Skillswap? If you're like me and weren't around to see this regular gamedev talk series in its hey day, you're in luck; Randy Orenstein is restarting the meetup (which you can be a part of should you sign up to be a speaker!); the first of what'll hopefully be many is "Being Agile with Agile," a project management talk from Mighty Yell Studios' Dave Proctor. At 160 Kendal Ave, starts at 7 p.m.
Wednesday, September 27
Indie game devs, enthusiasts, and just plain thirsty folks can get their fix at this month's Torontaru social. At the Get Well, starts at 8 p.m.
Monthly, date TBA
We're not saying Molly Ringwald will make an appearance but there's nothing to stop you from heading over to Breakfast Game Audio Club, a casual A.M. game audio social over eggs and hash. Meetups so far have been at Black Cat Espresso, specific dates will be announced via Twitter (or try hassling/gently interrogating its founder Jake Butineau about it.)
A BREADWINNER IS YOU – JOBS, GIGS, AND OPPORTUNITIES
Might be a good time to apply to Ubisoft Toronto. Liz England tweeted that six level designer spots are open on her project.
If one of you smarties is up for some relocation, the University of California at Davis is hunting for a game design prof with experience making weird, personal, and/or political games. If you've got questions, hit up current UC Davis associate professor Stephanie Boluk.

Level up your business and marketing skills with the IDM Fund Futures, our new program for emerging game makers in partnership with the Ontario Media Development Corporation! You'll learn critical skills, get hands-on experience with the pitching process, and will be able to access several OMDC funding options with less than 3 years of full-time industry experience. *** Applications are due on Sunday, September 10. ***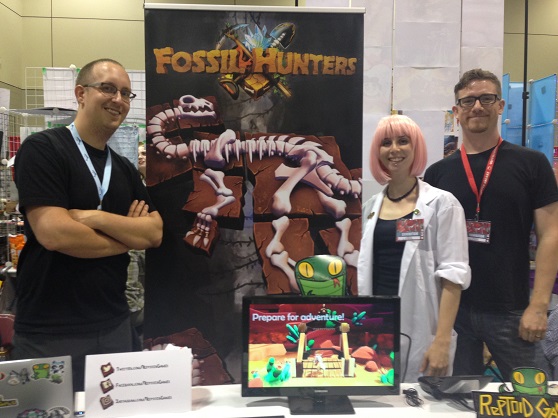 Reptoid Games just launched a Kickstarter campaign for Fossil Hunters. With help from supporters, they're hoping to bring this puzzle adventure to daring dino enthusiasts everywhere. Their tier perks are worth dusting off, including beta-testing at the $45+ mark and a digital copy of the finished game at $14+. If your irrational fear of lizard people is holding you back,  I stopped by their Fan Expo booth to snap the lovely picture above that finally verifies these devs are mostly human. You're welcome, Toronto.
On the interwebz, there's an online game jam for everyone: Queer women, GameBoys, and dragons. Bonus points to whoever makes one with all three.
Secret Location is not-so-secretly looking for a contract level designer.
La Isla Bonita was so 199-whatever. Check out Blue Isle Studios for less Madonna, more gameplay programmer opening.
An Ubisoft-partnered TDSB program is looking for a student video game coordinator to teach kids how to make games in Construct. If you or anyone you know fits the bill, direct inquiries for the job listing to info@fusionjeunesse.org

MVP
This month's MVP is Chris Tihor, a game writer, programmer, designer, and lucky for us, this year's Wordplay director. He's an emphatic supporter of Words and Play and every combination of the two. We're proud to know such a wordsmitten wordsmith! (His momma is too, considering how his game Mandatory Upgrade: X Marks the Spot nabbed all the votes for Toronto Game Devs' Game of the Year Award.)
Chris is duty-bound to inform you that there's still time to submit a Wordplay showcase game application (deadline: September 30, open to local and international titles) because he can't get enough of writerly and narrative games. No need to feel shy over your game or talk's content. He's starred in a few indie movies about murderous circus performers and undead psychiatrists, so it'll take a lot to faze him. Maybe a murderous undead psychiatrist in a circus? Who knows!
That's all folks! Thanks for reading yet another edition brought to you by our membership. Not a member? Join today!