07 Oct

October's Oakwooden Origin Stories: Bi-monthly roundup

A little pumpkin spice late, but still pumpkin spice great! Bringing you another whoops-heres-a-full-sized-digest again because you know what, it's Fall™ and long-form is in vogue. Take longer showers, wear longer layers, write longer Facebook thread replies before hitting mute…very chic! 

Viewer beware,  Google Calendar will give you a scare! And by scare we mean announce game events as they are announced.
 
WHERE TO JAUNT – TORONTO GAME EVENTS
Saturday, October 7
Dames Making Games' (DMG) Gabriela Aveiro-Ojeda is running a Trinity Square Video workshop on game representation. FREE!
Later on, you've got time to watch Kaitlin Tremblay launch her new book Ain't No Place for a Hero: Borderlands at Gamma Space!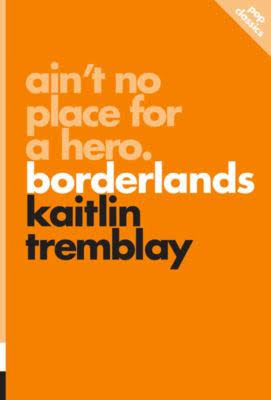 Tuesday, October 10
The re-scheduled DMG Intro to WebVR workshop from August has landed in October! Learn how to make VR worlds with accessible tools online. *This is a DMG event. Check the link to make sure if it is open to the public or for members only.*
Friday, October 13 to Sunday, October 15
Oogle at shiny new toys, drones, and super sentient evil robots (big maybe on that one) at the annual TAVES Consumers Electronic Show, where Meetup group IncubutAR will be hosting a social.

Tuesday, October 17
Major news: four representatives from Valve will be gracing our city for a rare visit. Full Steam Ahead: Valve Talks About the Future will see Kassidy Gerber, Kristian Miller, Alden Kroll, and Arisa Sudangnoi from Valve HQ chatting about current projects and where the iconic PC game distribution platform's going from here.
We're giving away free tickets for creators with a dream to get onto Steam, so reserve while you can!
Wednesday, October 18 to Saturday, October 21
ImaginNATIVE Film + Media Arts Festival runs a Digital Media Art+Cade for the first three days, including games by Indigenous creators. Check out Coyote's Crazy Smart Science Show by Loretta Todd (based on the show of the same name), Purity & Decay by Meagan Byrne and Tara Miller, and Elizabeth LaPensée's Thunderbird Strike. On Friday, several of the digital media creators will speak on their works during a one-hour artists' talk.
Wednesdays, October 18 and 24
Animator Nick Fox-Gieg leads a two-part workshop on tracking motion with a camera. Useful if you're working with interactive installation games!

Saturday, October 21
Sauga is calling and they want your butt to commute for a hot hour (or two) for some Hand Eye fun at the Mississauga Comic Expo. We've infiltrated the wild west's version of TCAF, over at the Mississauga Central Library, where you'll get to play a few games that were featured at this year's Comics x Games, along with a chance to peruse some finely vended vidya wares.
George Brown College is the crime scene yet again for another spooktacular edition of the monthly GBCJam. This month's theme is Fall. (Which is code for pumpkin DLC ok?)
Brampton's Tech Fair at Chinguacousy Library will be keeping all things robotic and engineered locked down in B-Town.
Sunday, October 22
The City of Barrie is running a gaming expo! Arcades, vendors, and a Mario Kart 8 competition. Registration for a vendor spot is open until Friday, October 20.
WHERE TO HAUNT – TORONTO GAME SOCIALS
Thursdays: October 5, 12, 19, 26
IGDA's George Brown chapter is holding weekly meetings for gamedev-inclined students this semester. At 341 King St. E., starts at 7 p.m.
Thursday, October 12
Fondly recall Game UX Summit from like a week ago at the monthly Toronto Game UX meetup. At Gamma Space, starts at 7 p.m.
Saturday, October 14 
No tricks, just treats at the DMG speaker social. At Gamma Space, starts at 6:30 p.m.
Tuesday, October 17
Get interdisciplinary at the Art Intersections meetup. At Gamma Space, starts at 6:30 p.m.
Five minutes, five speakers: Bonus Stage, a monthly open mic night for games, returns. At Power Up Bar, starts at 8 p.m.
Wednesday, October 25
Forge friendships and new levels of alcohol/Shirley Temple resistance at the monthly bar social Torontaru. At Get Well, starts at 8 p.m.
Dates TBA
Gamma Space's casual socials, Friends Play Games and Friends Make Games, are usually posted on Facebook after the beginning of the month. Check in with their Facebook page for updates.
Randy Orenstein has announced his Skillswap series is going monthly, with October's Very Own date forthcoming.
Oakwood Village Residency Cont'd!

We're running three, count em, THREE free public weekly drop-in programs at the Oakwood Village Library, employing local game makers who'll be facilitating activities and focusing on their respective game projects. And of course, the bestselling hotcakey Game Curious sashays back into the foray. All will be running until December, but here are their October schedules:
Screenless Game Makers
Wednesdays: October 4, 11, 18, 25
Open studio time: 12 to 3:30 pm
Programmed activity: 3:30 to 5 pm
Interactive Fiction Writer's Circle
Thursdays: October 5, 12, 19, 26
Open studio time: 2:30 to 6 pm
Programmed activity: 6 to 7:30 pm
Game Curious: Exploring Video Games
Fridays: October 6, 13, 20, 27
Open studio time: 12 to 3:30 pm
Programmed activity: 3:30 to 5 pm
#ICYMI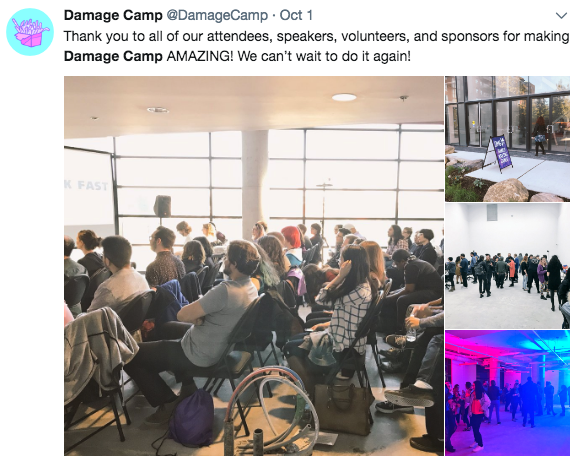 #DamageCamp: DMG's first conference was a smash hit, garnering pre-buzz from Financial Post. There were talks on everything from funding and e-sports to Muslim representation in games and blackness in Sonic the Hedgehog. If you missed it, DMG Members will soon have access to all the recorded talks; and don't forget to keep an eye on the SPF 90 FPS Showcase artists who created VR projects over 8 weeks!
#tWitchesCoven: This fun lil hashtag has been updating for Miguel Sternberg and Christine Love's prototype streaming action game, Twitches Coven.
#GameUXSummit: For the two-day conference, local game makers Kait Tremblay, Doug Gregory, Kim Koronya, and Nuha Alkadi were crushing the livetweeting game.
#2Silent4U: 2-Bit Game Club's title for September was the eerie classic Silent Hill! This discussion group happens on the first Tuesday of every month at Civis, so check out the Facebook page for updates.
#WordPlayisKey: Do get it twisted like a ball, 'cause Twine creator Chris Klimas will be our keynote at WordPlay this November. More announcements coming soon!
#MegaHumble: HES hosted two special industry events in September — Kelly Wallick from Indie MEGABOOTH and John Polson from Humble Bundle stopped by our fair city to meet local devs and talk about their organizations. Thanks to EGLX for sponsoring, and to Electric Perfume and Monarch Tavern for hosting!
#TOVGDB: We also did a soft-launch of our ongoing project, the Toronto Video Game Database.
COMING AND GOING ATTRACTIONS
One More Story Games hosts a launch party for Shakespeare's Landlord, an interactive novel adaption of the book by Charlaine Harris. Email OMSG for an invite.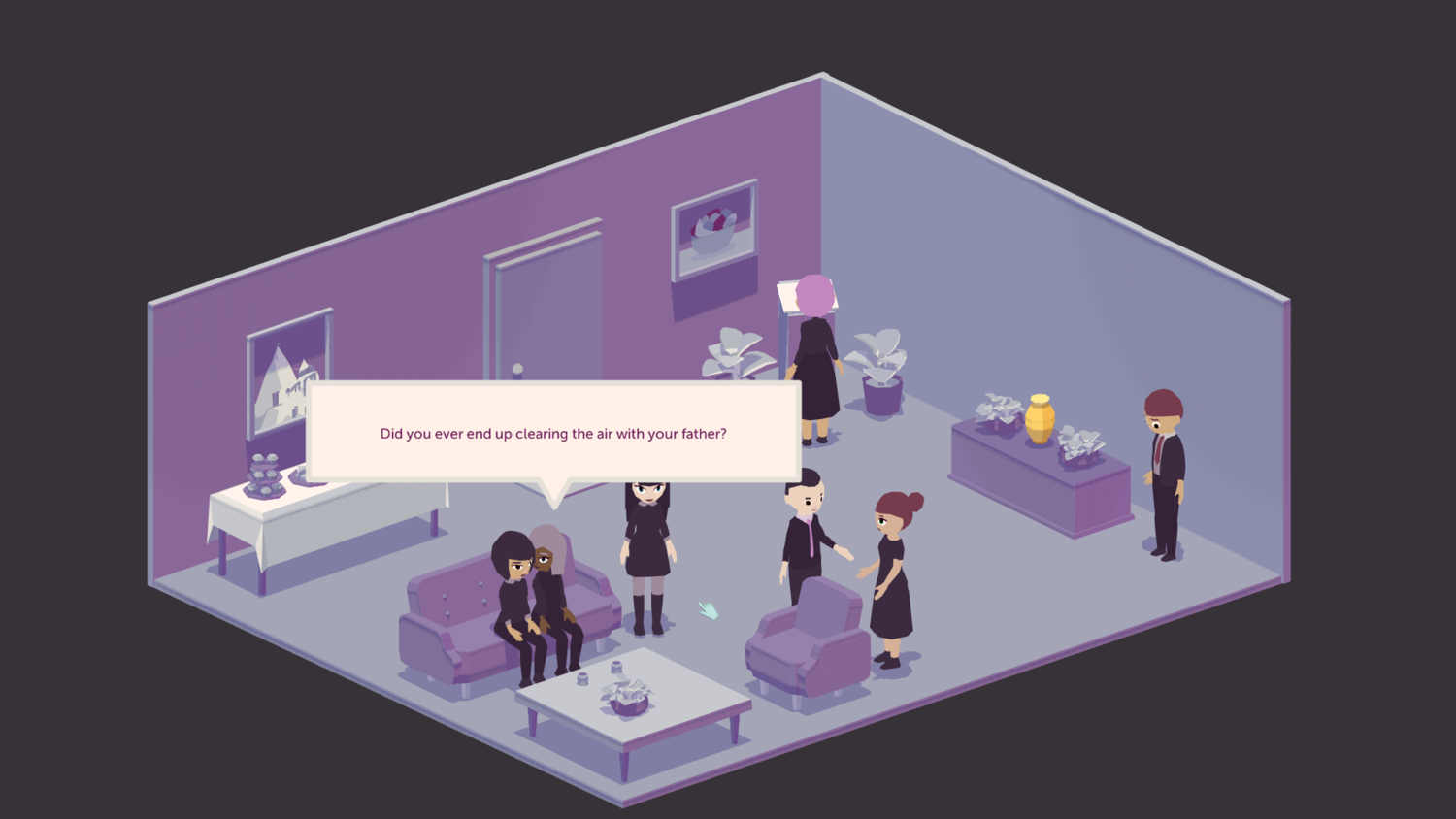 A birthday for a death game approaches: The hotly-anticipated A Mortician's Tale by Laundry Bear Games comes out on Wednesday, October 18!
Far-off Daydream Games has released the prologue to their "dark humorous psychological thriller adventure" A NEAR DAWN.
OddBird is the word: Arrow Heads, hatched by Sheridan's Very Own, is out on Steam now.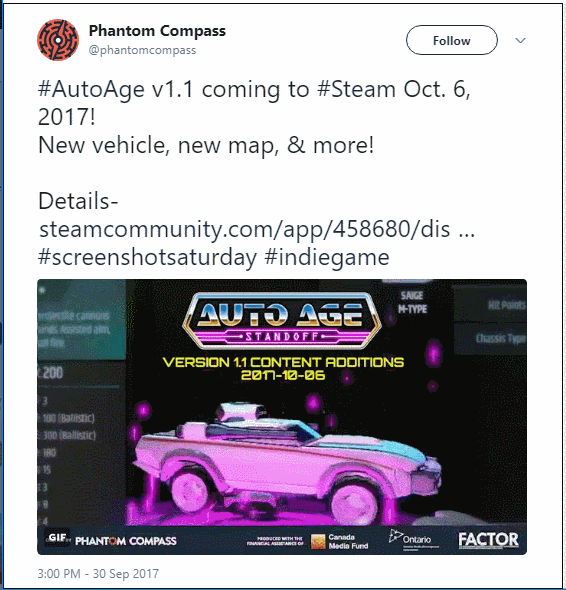 Ever wish racing games were a lil more smash-y? Phantom Compass released Auto Age: Standoff! In September, and a version 1.1 is already raring to go.
Switch News: Lovers In A Dangerous Spacetime ported on over, with Runbow expected for 2018. (But making a pit stop for a Playstation 4 launch before 2017 ends)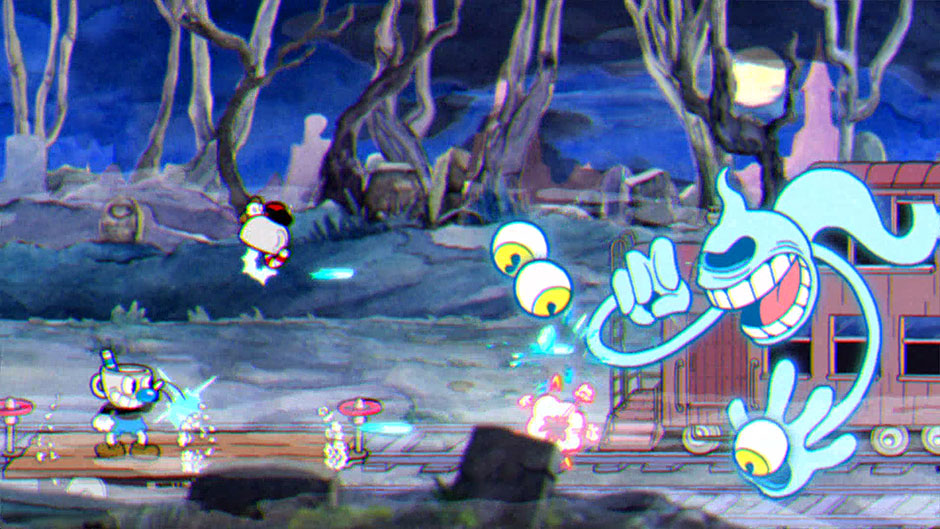 Hand Eye Ball attendees got a sneak peak at Cuphead last year, but now the whole world knows how good it is because it's out there kicking their asses on Steam, Xbox One, and the Microsoft Store.
Speed Dating for Ghosts. That is all.
PAPER TRAILS – GAMING IN THE MEDIA
Local Host by Aether Interactive wiped out game journalists, coaxing praise from Game Informer, Kotaku, PC Gamer, and Rock Paper Shotgun.
The release of Cuphead kicked asses in CGMagazine, Game Informer, Verge, ARTechnica, Fortune, Toronto Star, Polygon, and Business Insider.
Third Person Space released four podcast bites last month, including an episode featuring eagle-eyed executive director Sagan Yee and Your Humble Digest Writer, and a Mass Effect Andromeda episode with Aether Interactive's Sophia Park (who wrote a killer Polygon piece) and former Bioware writer Ben Gelinas.
Game Dev Café did a Twitch interview with Household Games' Jason Canam.
Some excellent podcasting from Toronto Game Devs!
Oh yeah. A shitty game came out of Markham. We ain't gonna talk about it because Toronto Game Devs said it best.

MVP
This month's MVP is a hivemind! We're recognizing the very awesome folks part of Hand Eye's Facebook group.The members are the gosh darn best, especially when it comes to helping each other out. Here are a few reasons why:
1) Adrianna Rosser shared a lovely editable group document of media emails to send PR and game releases. Join the group and share the inbox wealth!
2) The Art Gallery of Ontario (AGO) has gone gaga for My Neighbour Guillermo del Toro. The filmmaker has gotten a monsterous exhibit running until January. If you wanna get in on the festive fun this for a lower price, Hand Eye FB member Lexie Buchanan shared the discount code BIGFAN for 15 per cent off!

STUDIO MVP
The Studio MVP for October is Rocket 5 Studios! They first blast-offed into our hearts with Phantom PI: Mission Apparition (a great Halloween game if you haven't picked it up yet!) and have been working on a number of projects including Kitty Disastrous, an action-packed cat/ferret platformer. Autodesk Gamedev recently did a feature video on the crew, shining the spotlight on the local game scene and Gamma Space. Big ups for the community ups!
A BREADWINNER IS YOU – JOBS, GIGS, AND OPPORTUNITIES
Local videogame big brass band Square Boys have composed music for a few local games, but are looking to do more live events. If you've got the perfect gig, hit em up!
Successful Kickstarter time! First to make kissy faces at is King of the Hat, a new game by Montreal's Hyroglyphik Games, exhibited at our Comics x Games exhibit earlier this year. The second champ is Fossil Hunters by Reptoid Games! Both are still running, so if you feel like kicking some coins over for the helluva it/nabbing some sweet rewards, go for it.
Ubisoft jobs, Ubisoft jobs everywhere.
Valhalla's still a ways away, you conflict-hungry knave. For now you've got the chance to be at Big Viking Games, where there are multiple openings in management, marketing, operations, art, and more.
The deadline for the Ontario Arts Council: Media Arts Project Grant has passed, but the Toronto Arts Council deadline isn't until Oct 16. Get those artsy games applications in!