15 Mar

March's Magical Meanderings 2/2: Monthly Digest

Beware the Ides of March…unless you happen to not have 60 or so backstabby confidants vying for your empire. In that case, et tu on Spring Break Brutus? Or did ye olde GDC con plague funk you up?

As promised, here's the thrilling conclusion to the last newsletter. This edition includes three new sections that should be fairly self-explanatory. We're still tinkering with this format, so let us know what you think about these double digest blasts. And if you ever want to let us know of something you think belongs here, email calendar@handeyesociety.com or pester @handeyesociety.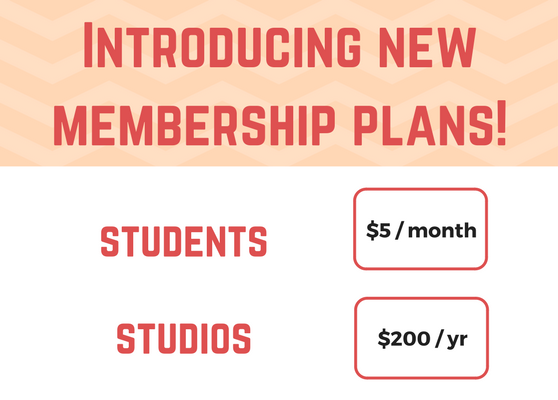 As proclaimed at our annual general meeting last weekend, we're now happy to offer student and studio membership plans.
For students, monthly dues are five dollars. It'll save you $24 off the regular annual membership fee, which should be just enough to pay for 1/10000th of your next textbook. Student members get the same perks regulars and volunteers get, including a heap of discounts around the city and reduced costs for our events, such as our Unity workshops or the Hand Eye Society Ball (BTW: it'll be back at the Masonic Temple on September 23!)
Studios can now support us with a $200/year studio membership. This includes three individual memberships you can give to your employee/contractors (a $52 savings), and features the same benefits, plus some additional bonuses: dedicated job posting space in the digest, launch event consultation, and access to our Beta Buddy program.
This year studio memberships are earmarked to support the Camp Make-A-Game we're doing for free in the Jane/Finch York Woods library. So far Capybara Games, Reptoid Games, Torn Banner Studios, Stitch Media, Rocket 5 Studios, DrinkBox Studios, and Asteroid Base have signed up to send a kid to camp. Feel free to join them or hit us up for more info!
March's Studio MVP

Chivalry's alive and well, thanks to Torn Banner. For the past seven years, this studio has dedicated itself to developing various editions of their medieval first-person slasher Chivalry, as well as Mirage: Arcane Warfare.
Besides making awesome Steam games, Torn Banner rocks for being one of the first studios to sign up for our studio membership plan. In doing so, they're helping us fund game-making summer camps for youth who might not be able to afford it. That's an act worthy of knighthood IMO.
Another reason why Torn Banner rocks: they're giving every Hand Eye paid and volunteer member a copy of Chivalry for free! Expect an email with a Steam key very soon, or join us to get in on it.

JAUNTS/HAUNTS 2: RELOADED
Friday, March 17 to Sunday, March 19
Toronto Comic-con is in town, and therefore you are in Comic-Con. What with St. Patrick's Day coinciding, be prepared to help drunk cosplayers straighten their wigs out.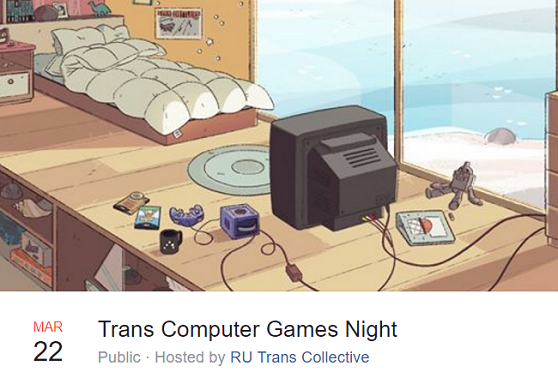 Wednesday, March 22
Ryerson's Trans Collective is holding a computer game night open for its members, as well as any trans folks in the local indie game community. FYI to any prospective game jam teams: quite a few Collective members are interested in learning game development. At 9 Isabella Street, starts at 4:30 p.m.
Thursday, March 23
triOS College is holding a student arcade on campus, promising demos, Q&A opportunities, and chatting with their resident expert Robert French about jobs in the industry. At 425 Bloor Street East, from 5 to 7 p.m.

Saturday, March 25 to Sunday, March 26
Roll for weekend plans: the seventh annual Board Game Jam returns to Ryerson for a friendly crash course in board game creation from start to finish. If you're a puritan digital deviant, consider how board games can be a great way to flex your game-making know-how with a different format or for prototyping a game idea without coding hassles. At 325 Church St., starts at 10 a.m.
Toronto Digifest is happening at the end of April, and you won't want to miss it. Among various indie game notables and a career forum, the International Game Developers Association's (IGDA) executive director Kate Edwards will be speaking and she's Kind Of A Big Deal. Use offer code DF2017 to get 20 per cent off your ticket.
#ICYMI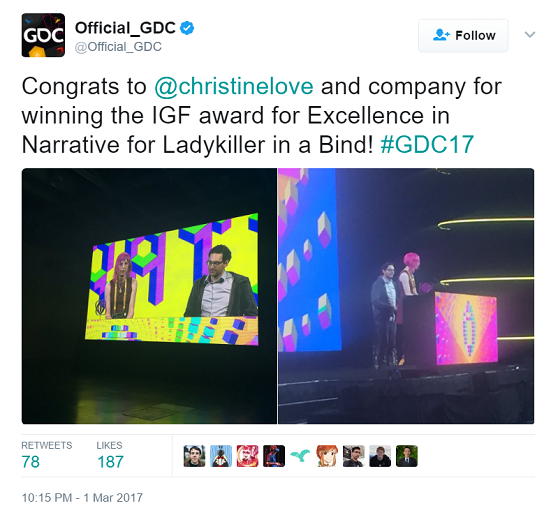 #LoveFTW: In what was a GDC highlight for Toronto's game community, Christine Love's Ladykiller in a Bind won IGF's Excellence in Narrative award and she deffo responded appropriately. You can read Love's post about the win and an acceptance speech transcript on Love Conquers All.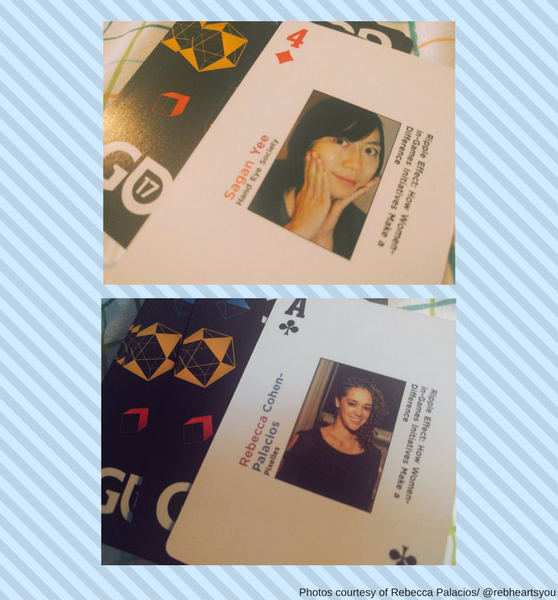 #HeartoftheCards: Another neat GDC thing! In honour of last year's top speakers, GDC made a card deck outta their faces. Our very own exec director Sagan Yee is the mage of diamonds; former Difference Initiative participant and current Rebecca Cohen-Palacios is their ace of clubs.
#HES AGM: We held our annual general meeting and it was more lively than ever. Big thanks to all who showed up, weighed in, and gobbled up the fruit platter. The later members-only half featured various votes, the results of which will be declared in our minutes that will be made public on our website soon.
#CampMakeAGame: Early bird registration for our game dev summer camp for kids is going until Thursday, March 17. If you know a youngster hankering for game design this July, enroll 'em while spots last. All genders and skill levels are welcome, ages eight to 12.
#Dobotoned: Argentina came to Toronto, and we miss 'em already. DOBOTONE from Videogamo partied with us at May last month and our tech lead Ken Cho revived it for an all-day workshop with the youths at George Vanier Secondary School. (Unrelated: Your Humble Digest Writer grew up nearby and the school is steps away from the greatest patties in Toronto, no joke. Allan's in Peanut Plaza. Make the trek. I know this isn't game-related but it would be cruel if you didn't know. Seriously.)
#CxGDeadline: Don't forget: if you wanna submit your game for our Comics x Games' arcade at the Toronto Comic Arts Festival (TCAF), the deadline is by Tuesday, March 21. And *Farnsworth voice* good news everyone! We've had some folks inquire about their analog/tabletop game's eligibility. Welp, consider yourself eligible!
#TorontoGameDevsTurns2: A big happy birthday shout-out to the community glue that is Toronto Game Devs! The site turns two in March. Another milestone: site honcho Steve Crane got a new job (whoop whoop!), if you're wondering why he's been on the down low. Should you appreciate what the TGD crew does—which is a lot, and for free, amazingly—as much as we do, consider contributing to their very reasonable Patreon goal.
COMING AND GOING ATTRACTIONS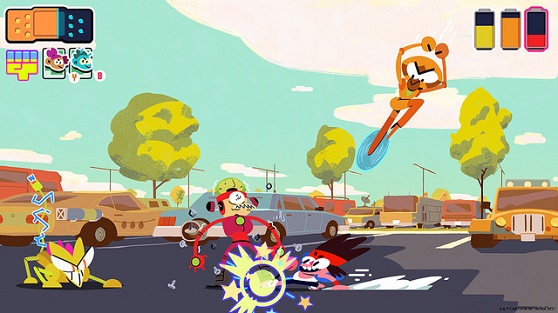 Cartoon Network's upcoming show "OK K.O.! Let's Be Heroes" is collaborating with Toronto studio Capy Games to make an exclusive console action RPG. The news was announced at Pax East via announcement trailer, featuring a Capy shoutout from show creator and animation legend Ian Jones-Quartey.
If you own a Playstation Vita and you haven't got Severed, 1) you can't be real and 2) money ain't stopping you, since Severed is free on the Playstation store for PS Plus subscribers throughout March.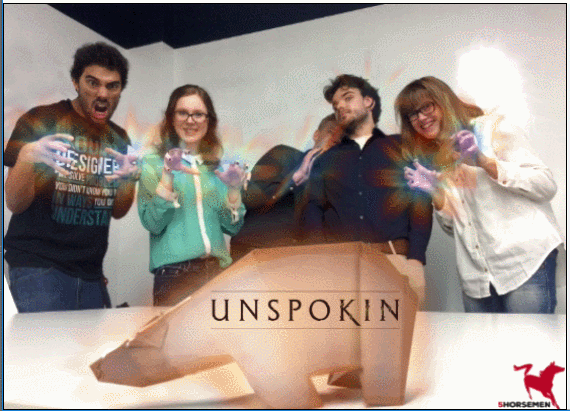 One of the games at Digifest is Unspokin, an environmentally conscious adventure by five Sheridan College students which is getting its exhibit launch at Digifest. Created by Katherine Elliott, Eirik Murbraech, Danielle Rainey, Filipe Seabra, and PJ Tremblay of 5 Horsemen Games, Unspokin gets players solving puzzles in order to help a young mute woman and her bear companion save the planet. They're basically the ultimate eco-warriors. 5 Horsemen kindly sent Hand Eye a press kit, which obviously means they had to get gifed.
LA-based Queerness and Gaming Conference (QGCon) will be hosting works by Toronto game developers, such as Gaby Aveiro-Ojeda, Kara Stone, Smol Ghost, the Monster Girl: Gaynerations team, and The Really Serious Game Company.
Gaby Aveiro-Ojeda announced she's developing a witchy point-and-click called Don't Wake the Night, with an all-Black and Indigenous cast of characters. To keep up with updates, follow Gaby on Twitter and sleep with one eye open…
PAPER TRAILS – GAMING IN THE MEDIA
Oh my god y'all have been mighty busy lately. Be forewarned that this gets lengthy.
Toronto Game Devs' podcast made three episodes since we last heard from them: one on Nintendo's mobile games, another on VR (and Homer somehow), and their thoughts on the Nintendo Switch.
Dork Shelf's death in gaming podcast Play Dead released three episodes: Gabby DaRienzo interviews Necrobarista's Justin Kuiper on death mechanics in the upcoming game; she talks to Overland's Adam Saltsman about permadeath and apocalypse survival; and Icelandic game Sofðu litla tófan mín: A Lullaby's Niamh Schönherr about Iceland, food, and death.
More Gabby news: her game A Mortician's Tale got a Spring 2017 release date, along with features from Rolling Stone and Glixel.
Graceful Explosion Machine was a Switchie indie media darling. It was named one of GDC's best indie games by Game Informer, was featured on Polygon, and its studio Vertex Pop was profiled by the Financial Post.
Kotaku did a story on game developers who are witches, and DMG's Arielle Grimes, Jillian Wakarchuk, and Gaby Aveiro-Ojeda spoke about their experiences. I asked the organization if they had any theories on why a coven of magicky makers were in their crew. One member posited: "because DMG LOL." Duly noted!
For Gamasutra, Sheridan College student Devon Wiersma wrote a student's survival guide to GDC. Hot Tip™ #1? You're not a student. Tip™ #2? You're absolutely a student. Read to figure out how the heck that works.
Tons of great livestream presentations are now up online, including one by Capy Games' Dan Cox. He spoke at Norway-based conference Konsoll in 2016 about the benefits of hiring and entry/junior-level folks. Speaking of hires, congrats to Arielle Grimes, who was hired by Capy in February! We'll be showcasing her and Sophia Park's game Forgotten at the season's last Long Winter on Friday, March 24.
From GDC's vault, you can watch Christine Love's talks on interaction and a micro-postmortem of Ladykiller in a Bind, as well as  Riot Games' Soha E presentation on diversity and inclusion.
Gamasutra did a pre-IGF win interview with Love, and Destructoid did a write-up following it.
CBC did a rundown of women lead characters in games, which includes musings from Canadian devs. Mare Sheppard of N++ raves about System Shock 2's SHODAN, Kara Stone digs the Sorceress and the Amazon from Diablo 2, Tanya Kan likes Transistor's Red, Kait Tremblay's fave is Lilith from Borderlands (sidenote: Tremblay's book entirely about Borderlands is up on pre-order).
CBC's Jonathan Ore also sat down with Capy Games' co-founder Nathan Vella and Ubisoft's Joel Burgess to chat about game trends, VR, increasing accessibility, and the age-old "are games art?" debate.
As always, the Hand Eye digest comes out every month thanks to our dedicated membership. If you liked what you read, considering signing up. ~Sending Princely Shark Boyfriend vibes to everyone who does in March~