01 Mar

MARCH'S MAGICAL MEANDERINGS ½

We're trying something new with the Hand Eye monthly newsletter this time around. Instead of one enormous compilation of every timely indie game-related thing, you'll get TWO newsletters in March with different focuses for max readability (that's why they call it a "digest")! This first half of March news contains events, socials, job opportunities and the MVP. Feel free to shout at us about this change! We'd appreciate any feedback, good, bad, or edible. And just to keep things nice and stagnant, former 80s icon Google Calendar is the same ever. Still voguing their way out of traffic tickets, flaunting their massive shoulder pads, and announcing events as they are announced.

WHERE TO JAUNT – TORONTO GAME EVENTS
Saturday, March 4
Meet your DOOM at the 2-Bit Gaming Club's first Doom Mod Jam. I say first because this will surely be one of many more, right?! The theme is learning, which you hopefully won't have to do too much of. 2-Bit's thoughtfully made a quick start guide for this beginner-friendly jam.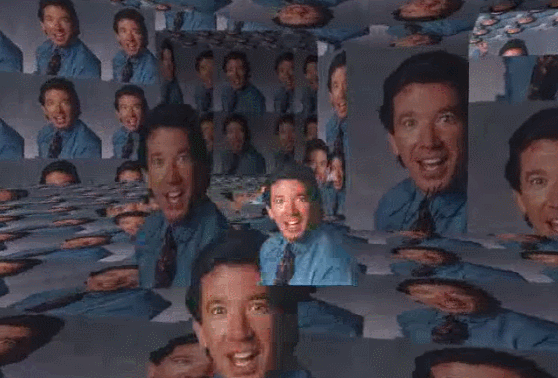 Hopefully you can produce something that marvels this masterpiece.
Monday, March 6
For you persistent folks, Dames Making Games (DMG) continue their bi-weekly C# dev book club. Working with the group or on a personal project is welcomed, as is Unity tomfoolery.  

Saturday, March 11
We're running our annual general meeting! If you didn't know already, the venue was changed from Tract 9 to Electric Perfume. Come out to learn more about what we do, who we are, and where we're going in 2017 and beyond!
Stick around long enough, and you'll witness the first Hypergame of the year. Electric Perfume's throwing another Hypergame Storytime the Musical, a live choose-your-own-adventure improv RPG.
Wednesday, March 15
DMG is running an augmented reality workshop for experienced Unity developers. Alternatively, they recommend rookie devs pair up with a more seasoned friend. Which makes me assume as long as you balance out, your team for this could be like, five literal infants and a Unity professional. Do you. Instructor is the lovely Alex Bethke from Fate Tectonics (and a former HES MVP!)
Friday, March 17
Look pal, they gave you a chance last time they ran it. If you missed your spot then, sorry to say that Kait Tremblay and Natalie Tremblay's hugely successful DMG interactive fiction workshop has sold out again. If you're one of the lucky students, gratz! Fr your sake, may the jealous stampede of those who didn't make it never find out who you are, steal your identity, and attain some ill-begotten class time.  Make sure to bring your laptop/tablet, or email events@dmg.to if you need one.
Saturday, March 19
Minecraft needs more alcohol, yeah? Get your fix at See-Scape's Winecraft, an all-night drunken lan party with your favourite creepers. You can pay $5 to play for an hour, $10 for the whole night, or nothing to stand back and bask in the chaos.
Thursdays: March 23 and 30
If you liked the sound effects from Prince of Persia or Splintercell, you have sound designer Yassine Abouelfalah to thank. You might want to thank him twice, if you attend his two-part sound production workshop at Electric Perfume. Industry-tier sci-fi sounds will be the workshops' focus, so make sure you're prepared with the right equipment and programs.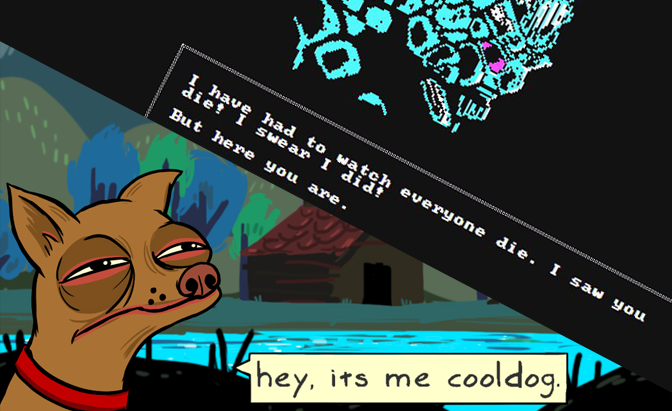 Friday, March 24
The Hand Eye Society is back to curating games for PWYC all-ages music/art festival Toronto Long Winter! We're finishing off the winter season once and for all with a double shot of local indie game goodness at the Gladstone Hotel: Forgotten by Sophia Park and Arielle Grimes (as seen on Wired!) and Cooldog Teaches Typing by Renaud Bédard, Zander Milroy, Cuxo Quijano, and Jen Costa (a TOJam11 entry). One is an elegant exercise in creepy-pasta poetics, and the other stars a sarcastic chihuahua who has maed it his mision to teachyou typeing better. Can you tell from the screenshots above which is which??
The next TLW won't be until probably November, but we're always on the lookout to showcase games for future installments. With an $80/game artist fee, free entry and volunteer support provided by HES, it's always a good time. If you know of a Toronto/GTA-made, public-friendly and visually engaging game you think would be a good fit, let us know!
WHERE TO HAUNT – TORONTO GAME SOCIALS
Thursday, March 2
It's open demo night at this month's Unity developers' meetup. They'll bring the snacks and drinks, you bring your friends and/or sheepish gestures at your half-finished creation. At Uken games, start at 6:30 p.m.
Wednesday, March 8
The DMG social train continues. Join them for their monthly VR social, which features an introduction to the Microsoft HoloLens by Mickey MacDonald. At Gamma Space, starts at 6:30 p.m.
Thursday, March 9
Oooh, an indie game social up north! Rick from BASIC Game Programming, a group that will empower artists working with programmers, is holding their first event at the Fairview Public Library. Be mindful that this costs $10 cash to attend. At Fairview Public LIbrary, starts at 7 p.m.
Tuesday, March 14
Bonus Stage, Toronto's open mic night for the indie game community, is back. Note that it's starting an hour later than usual. At Page One cafe, starts at 9 p.m.
Wednesday, March 29
Who needs St. Paddy's when you've got St. Torontaru? Drink your weight in gold at this month's bar social for indie game folks. At the Get Well, starts at 8 p.m.
A BREADWINNER IS YOU – JOBS, GIGS, AND OPPORTUNITIES
Sit down for this. Oh god, okay, so there maaaay be an official Legend of Zelda escape room happening in Toronto, Montreal, and Vancouver soon. Secret City Adventures needs a large-scale producer to make this real.
Your fruitless job search just got pointless. The makers of Are We In This Together?, an upcoming survival simulator, are looking to fill a few roles. Pointless Button Studios is hiring a Unity programmer, story designer, UX/UI artist, and a character artist.  
Ubisoft Toronto's hiring for a whopping 64 job positions, for basically every field in the industry.
Gameloft Toronto is looking for a design director and 3D character artist.
Brooklyn's Different Games Conference is moving to our grand city, and is taking part in the great Torontonian tradition of downsizing. It's now running on a smaller scale in our city on June 3. Local developer and Mini-Different Games Conference organizer Yifat Shaik is looking for volunteers. Apply if you're down for some arcade judging, photography, or event coordinating.
And heads up, here's a Hand Eye discount:
"Looking to exhibit your new or nearly-finished games? Capital Gaming Expo (CGX) is happening in Ottawa on April 1st and 2nd. CGX is a large public expoexpecting 5,000 attendees, as well as an industry conference. Expo director Jared Thomson is offering 20 per cent off any table or booth for Toronto Indies in his first year as the new co-owner of CGX. Reach out to jared@cgexpo.ca for more info, and take a look at their tables and booths online at cgexpo.ca/join/#exhibitor. Tickets to the CGX industry conference can also be found at http://cgexpo.ca."

MVP
This month's MVP is Kadeem Dunn, a weathered Game Curious comrade and Sheridan survivor. When he's not spitting absolute fire or shaking his head at awful Facebook threads, he's working on an RPG based on his post-secondary/post-apocalyptic adventures.
Deadline Reminder: Comics x Games Submissions
I'm sure Al will expound upon this in the second digest installment, but just in case, your friendly neighbourhood Executive Director would like to remind you that our Comics x Games Arcade Exhibit deadline is March 21! Come show your game off to an audience of thousands at the Toronto Comic Arts Festival, coming soon in May.
Okay! That's it! How was that? We await your verdict. You can expect the second edition around the Ides.