31 May

June 2014 Game Event Roundup

It's June — school's out! Even if school's a distant memory, we're hardwired with the feeling that it's finally time to play!
Don't forget to check out the Toronto Gaming Calendar, which will be updated as more events become announced throughout the month. (Remember, the calendar can also be added to your googlecal.) Note only the events marked with an asterisk are Hand Eye events — for the rest, we're just signal boosting for this amazing community.
Toronto Video Game Events
Saturday, June 14: DMG June Speakers Social
* Sunday, June 15: Animators Can Code: Gamemaking
Thursday, June 19: Toronto Unity Developers Meet Up: Unity 5 Demo
Monday, June 23: IGDA Meeting (more info TBA soon!)
Wednesday, June 25: Toronto Gaymers: Diverse Voices in the Toronto Game Community
Wednesday, June 25: Torontaru
Saturday, June 28: Stage Select Gaming Expo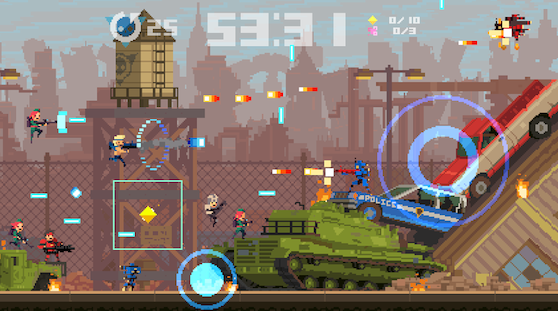 Local Game Releases
Kara Stone's Medication Meditation, a look at health and life, was released on iOS and Google Play.
Loose Strands, an interactive children's novel, was released for iOS and Android.
The long-awaited time travel-themed action title Super Time Force was released on Xbox (pictured above).
Vagabound Dog released Always Sometimes Monsters, an emotionally charged adventure game, for PC.
Toronto Folks in the Media
Asteroid Base's Lovers In A Dangerous Spacetime won Best Gameplay at the Brazilian Independent Games Festival.
Indie Game Reviewer featured Toronto Global Game Jam, and talked about some of the featured titles.
Their amazing 3D art at VRcade, Bit Bazaar, and Comics vs Games 3 were up on Kotaku again.  Comics vs Games 3 was also up on the Financial Post.
Jennie Faber was interviewed in the National Post about the secret origins of Bit Bazaar.
Paper Droids also showcased some of the games that featured at The Bit Bazaar.
There's a bundle of Super Time Force reviews, courtesy of Eurogamer, Polygon, and Destructoid!
Meanwhile, Always Sometimes Monsters was reviewed favourbly on Eurogamer.
Game designer Christine Love was interviewed on First Person Scholar.
Finally, check out some gameplay from Stratum Games's Retro Runner: Princess Power on IGM's Hitbox Live. Retro Runner was also up on Nev Games, as well as Dangergerbil.
Retro Runner: Princess Power is trying to Greenlit, as well, so check out their Steam page.
Special Announcements
Site 3 is opening up a temporary storefront called Site Bee (from May 25-July 25), and they're looking to sell artist/maker work. They're after any type of work, including illustrations, comics, t-shirts, jewelry, paintings, or electronics, or even furniture. If you would like to get involved, you can fill out this form to apply.
That's all for now! If there's any July events or Toronto video games news, releases, and rad media coverage you want shared, don't hesitate to pass it along to Kaitlin via email or on Twitter. Thanks to Anthony Geremia for help this month.