07 Jul

July's Juicy Justles: Event Roundup

June was a blur of sun rashes, free alcohol at industry events, nodding along to co-workers describing what some music festival was like. Now it's somehow July. Half the year has flown by, and most of it was wasted on subway delays. You won't ever get that time back — please, stop trying, that time machine your suspiciously old friend brags about is just an old junker — so spend your future hours wisely by checking out all the indie game events and socials going down this month. And if tick-tocking gets hard to keep track of, your momma Google Calendar is there to remind you of events as they are announced.
 
WHERE TO JAUNT – TORONTO GAME EVENTS
Tuesday, July 5
The 2-Bit Game Club is back at it with a Banjo-Kazooie meetup. Join Liam Gallagher and the 2-Bit Game Club community in a discussion about the 3D platforming adventure Banjo-Kazooie. They'll go over with a short the game's development, history, gameplay, and some of its notable influence on design. This pay-what-you-can event begins at 6:30 P.M. at Electric Perfume.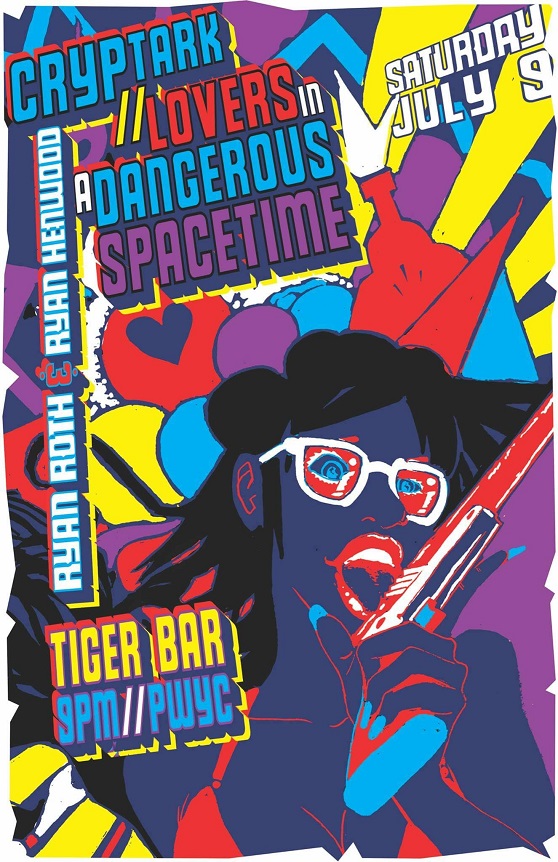 Saturday, July 9
If your life is sorely lacking in Ryans, this night of literal space jams is just the fix.
Game composers Ryan Roth and Ryan Henwood will be spinning tunes from two hometown favourites: intergalactic co-op Lovers in a Dangerous Spacetime and sci-fi shooter Cryptark. The Ryanstravganza and their electro bar bash will be taking over The Crown and Tiger, with doors opening at 9 p.m. You can RVSP on Facebook.
Saturday, July 9 and Sunday, July 10
After June's VR-centric events, it looks like Makers are inheriting Toronto! This is probably because of the month-long Maker Festival, which is culminating in this weekend's Maker Fest Extravaganza. The Toronto Reference Library will be filled with handcrafted hardware inventions, creations, and resuscitations — everyone who's anyone in the maker scene will be there, along with their electronics, wearables, and of course games (check out "We Are Fine, We'll Be Fine" by Team Sagittarius)! Free entrance for all, registering your attendance is recommended.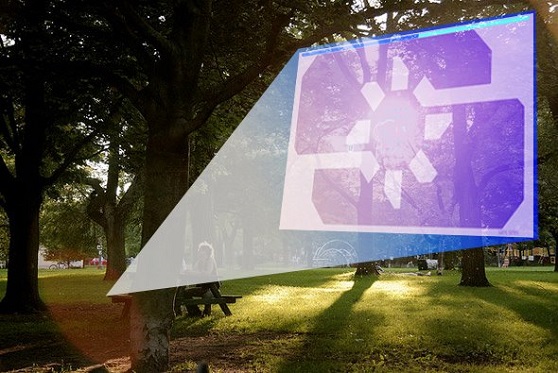 Sunday, June 10
Rise and shine! After Maker Fest Extravaganza, you're informally invited to chill out with us, some friends, and a couple videogames in the park. Ryan Roth (one-half of Saturday night's Ryanstrvaganza), game artist Droquen, and co-conspirator the Hand Eye Society are doing a guerilla game party in Trinity-Bellwoods. We're throwing a giant bedsheet over a fence and projecting multiplayer indie game titles like N++, Pirattitude, Nidhogg, and more. Your favourite mover-and-shaker David Fono and his pool noodles will be leading some physical games that will use the muscles in your body, if you're into that kind of thing. Starts at 8 p.m., runs until our batteries die.
Wednesday, July 13 to Sunday, July 17
Vector Festival makes a glorious comeback this year, with an enormous collection of digital artworks, events, workshops, performances and more.  Skot Deeming, a.k.a. Mr Ghosty to long-time game art lovers, has co-curated this year's selection of emerging creative media practices, which will include a machine that draws using algorithms and  a live performance from Castle If. As a proud community partner, we're offering discount codes to Hand Eye members.
Friday, July 15 to Sunday, July 17
Toronto International Film Festival (TIFF) is continuing their POP art series with Pop02, a showcase of VR. From watching a mother cope with grief in war-torn Gaza to a solitary confinement simulator, the exhibited works use VR to depict human experiences from all walks of life.
Friday, July 15 to Sunday, July 17
Dames Making Games wants you to get real at their Hyperreal Jam. For three days, DMG members are encouraged to use virtual reality (VR) and make worlds that are really real, maybe too real, for real this time. VR equipment, food, and caffeine will be available; groups of three and more are encouraged to make sure everyone gets a chance to use the tech. Members who are first-time game jammers can join, and are encouraged to head over to DMG's Slack channel and find kindred folks to form teams.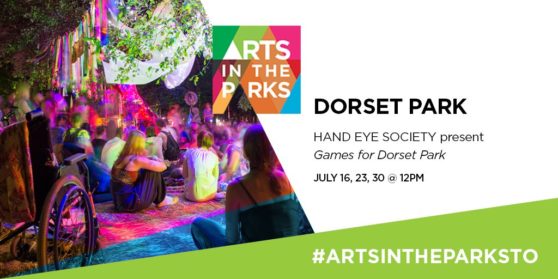 Saturdays: June 16, 23, 30
Get out! Go on, giiiit! We're shooing you out the door for this very special announcement. As part of Toronto Arts Foundation's Arts in the Parks initiative, we're running an outdoor game series in Toronto parks, with  pop-up arcades at Dorset Park on the three last Saturdays in July. These family-friendly and free arcades will make plenty use of your limbs, so be prepared to move around. (Competitive parents and guardians, elbowing children to win will be strongly frowned upon! Elbowing each other, well, ¯\_(ツ)_/¯ )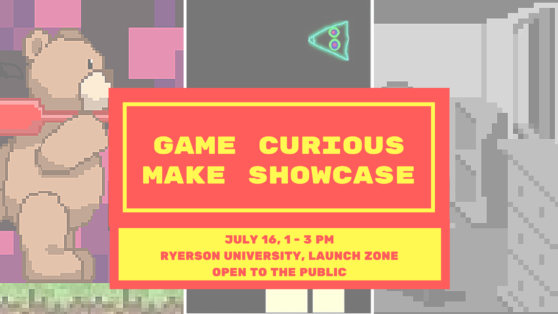 Saturday, July 16
You might remember Game Curious MAKE, our recurring game-making workshop series for folks new to making videogames. To celebrate MAKE finishing its Spring sessions in June, we're throwing a Launch Party at the Launch Zone! We'll be showcasing the MAKE participants' shiny new first games to friends, family, and everyone in Toronto. If you want to support homegrown indie games by game developer rookies, come party with us!
Open to the public, light refreshments will be provided. You can RSVP for the Game Curious MAKE Showcase on Facebook. More information about Game Curious can be found here.
Sunday, July 17
Toronto's Maker Festival is finishing off with Make Change, a conference that explores the intersections between maker culture and social change. Attendees can expect to engender their tinkering know-how with diversity practices and improving civic life. Dames Making Games (DMG) members Izzie Colpitts-Campbell, Yifat Shaik, and our executive director Sagan Yee will be speaking. Tickets can be bought on EventBrite, and Hand Eye Society members will get a discount code e-mailed to them!
Thursday, July 21
InterAccess is running a Game Maker workshop for women, trans folks, and those who identify as gender/sexual minorities. No prior knowledge of the software is needed, but a Windows-running laptop with Game Maker kinda is. (If you don't have one, contact education@interaccess.org. You can register for this, at either a workshop or regular fee, on their site.
Friday, July 22
Hypergame Storytime: The Musical returns with Star Hero of the Stars, an improvised and interactive musical storytelling experience inspired by tabletop RPGs, adventure games and VHS tapes. More event details to come soon, and remember to keep your eyes peeled on the Facebook event page for opportunities to contribute to the game before the event! Electric Perfume, 7:30.
Saturday, July 23
George Brown College (GBC) and Randy Orenstein are hosting their second one-day game jam. From 10 a.m. to 10 p.m., game-making veterans and newbies can unite at GBC's Casa Loma campus and go on a 12-hour jamming spree. It's a perfect opportunity for anyone who wants to hone their developer skills in a low-stakes environment, while chowing on free food and playing games made in the last jam. Up to 90 participants will be accepted, registration is available.
Tues, July 26 (to be confirmed)
Interwebz is partnering with the Hand Eye Society and LabTO Co-working to host a party/social.networking event for their upcoming game-making workshop series aimed at underserved youth! We're still firming up details, so keep an eye on our mailing list and social media for updates.
Friday, July 29 to Sunday, July 31
Con Bravo, a geek convention in Hamilton, is doing a ton of gaming programming. Most Con Bravo guests are YouTubers and livestreamers, but of notable indie game fame is game designer Tem, the inspiration behind Undertale's Temmie!
WHERE TO HAUNT – TORONTO GAME SOCIALS
Mondays: June 4, 11, 18, 25
Ryerson's Gamemakers' Union will be holding weekly meetups on Mondays this summer, to keep budding student developers productive over break. If you aren't a Ryerson student, you're still welcome to drop by. At 245 Church St. in Room 202, starts at 6 p.m. 
Monday, July 18
Gamma Space's Play Games With Friends returns. Exactly as it says on the tin: play games with friends, with many games by your friends! At Gamma Space, starts at 6:30 p.m.
Wednesday, July 27
Summertime sangrias and Shirley Temples are a-flowin' at Torontaru, the monthly meetup for every game-inclined local.
Thursday, July 28
Toronto's Unity monthly meetup will be joined by Lee Vermeulen of Alien Trap Games. Meetup is at Uken Games, starts at 6:30 p.m.
#ICYMI
#HandyDandy: The Dandy Federation, a mysterious new collective that we can only assume is fashionable and worships Oscar Wilde, has started holding pop-up videogame socials in the east-end. Their next social will be on August 7. Tickets are $5 per person, with half of the proceeds go to SKETCHToronto, a Toronto arts group for street-involved and homeless youth.
#NewKidOnTheBlock: Guacamelee and Severed designer Jason Canam has started a new game studio. Household Games is planning on releasing original titles for consoles later this year.
#13KidsOnTheBlock: 13AM Games, the team behind Nintendo's Runbow, are starting up a publishing company called 13AM Shipping Solutions. Their first title will be the bubbly arcade game Pirate Pop Plus, a nautical Panglike (can this be a thing? Watch out roguelikes) by Tokyo-based Dadako Studios.
PAPER TRAILS – GAMING IN THE MEDIA
E3 happened, I guess. Toronto Game Devs talked about local games that were there, such as student competition winner Oddbird Studios. They also made a handy list of Toronto games released this year since Canada Day and released four podcast episodes.
Game Dev Café did a spotlight feature on Snow developer and university professor Benjamin Rivers. Alone With You will be coming soon to a PlayStation 4 and Vita near you.
Kill Screen looked at Gloam Collective's upcoming Bravery Network. The write-up describes Bravery Network as like Pokemon, but instead of fighting bored immortal teenagers' pets, you just straight up fight the teenagers. It's worth reading for some insight on this game from developer Damian Sommer, as well as checking out a snazzy group photo of Gloam Collective at the Toronto Reference Library.
Local developer Kaitlin Tremblay wrote for Vice Gaming about Battleborn's badass women.

All good things must die and rot (or fossilize, lucky you). Play Dead, a podcast on death in gaming by Gabby DaRienzo, isn't gone forever. The series wrapped up its first season with two final episodes. Episode 9 was an interview with experimental maker Pippin Barr, where they discussed permadeath in speedruns and purposeful death. Episode 10 capped off the first cour with Night in the Woods' developer Scott Benson, which includes some musings on horrific deaths in Canadian Christmas movies. You can listen to Play Dead in its entirety on Dork Shelf.
CBC journalist Jonathan Ore wrote about Link's gender controversy at E3. Ore talked to local developer Arielle Grimes for comment, with Grimes criticizing Nintendo developer's Eiji Aonuma stance on Link being a cisgender male for the rest of the franchise's future.
Ahead of NXNE's Futureland (which was B A L L I N G, big congrats to all Hand Eye members who won tickets from our last digest), Motherland interviewed Montreal-turned-Toronto rapper Candence Weapon on his musical work with LOUD on Planet X.
COMING AND GOING ATTRACTIONS
HES community partner Company & Co. presents the gamified city tour Lost & Found in Chinatown, an escape game meets scavenger hunt meets alternative city tour! From the makers of the Escape Casa Loma series and Real Escape Game, we are excited to share with you our latest experience that breaks out of a room and into the city streets. Set in the heart of Chinatown in downtown Toronto Ontario, see the city in ways you never imagined as you discover Chinatown's history, search for clues and puzzles in graffiti-laden alleys, nearby cafes and local shops, and ultimately uncover the conspiracy afoot in the heart of Chinatown.
(Don't forget that Hand Eye Society members get 10% off Real Escape Games with your membership card! Check this page out for more information on how to become a member and other perks.)
Her Story is on Android now and for a toonie less than iOS; what are you still doing reading this, pal?
NO HOLDS BILLIARDS, which we've showcased at Game Curious and Comics vs Games at TCAF in May, has launched! It's a new spin on a classic parlor game that answers the question "what happens when you remove the turn taking from pool". From the first scratch, to the sinking of that sweet eight ball, NHB is an accessible yet competitive experience perfect for a night in or a fine addition to a local gaming event. The game is out on Itch.io and we're currently running a Steam Green light Campaign.
Long Story's episode 6 will be dropping between July 9 to 13, which is up to half a week of hair-ripping anticipation! While you wait, there's a swell article on Motherboard about the dating sim.
Spacing Store is not-so-secretly working on a TTC-inspired board game, which might mean gamers can solve our transit system once and for all… or possibly get gamers to rip up their friends' Metropasses if Spacing gameifies subway closures

MVP
This month's MVP is Ksenia Eic, a Game Curious MAKE participant, Hand Eye member, and former Yukon race wrangler. She's been ambitiously tackling game projects throughout the year, with her first solo project an echolocation adventure made in the MAKE program. It'll be making its premiere at our Launch Party.
If Ksenia's batty game sounds familiar, you might have seen a jam version reported by Kill Screen bounce around on your newsfeed.
A BREADWINNER IS YOU – JOBS, GIGS, AND OPPORTUNITIES
Rexdale-based charity Techsdale, which teaches kids from diverse communities how to code and develop, is looking for youth of colour to blog for them. They're interested in reviews on all things geek, and are paying bloggers from $75 to $150. More details can be found on their site. 
Makerkids, an organization that runs maker programs for children, is hiring instructors. Their hardware and software programs teach Arduino, Minecraft, 3D printing, Scratch, and more.
StoryStylus, a new text-based game engine, is looking for feedback on its interface. You can contact Jean Leggett with your constructive criticism and praise.
Hand Eye Society Volunteer Opportunities
The Hand Eye Society is looking for data entry volunteers for their upcoming project– the Toronto Videogame Database, or TOVGDB for short. The TOVGDB is a heavily tag-based system to attain maximum accuracy and flexibility of the Advanced Search results, as well as a whimsical and exploratory approach to discovering games that would otherwise be difficult to find. Our goal is to hit 1000 entries by September–with at least 10 volunteers completing 1-3 entries per day for two months, we should achieve this goal easily. If you have any questions or would like to know more about the project, feel free to email Sagan Yee, the project lead, at sagan@handeyesociety.com or Amanda Wong, the data entry coordinator, at amanda.c.wong@gmail.com. You can sign up for updates on data entry volunteering at this online form. We will be contacting people very soon about data entry expectations and work sessions (we will feed you!)
The Hand Eye Society Ball is coming your way on Sept 24! We've got some exciting developments in the works and will be contacting volunteers shortly about specific roles and duties. In the meantime however, we are still looking for suggestions for spectacular, multiplayer, party and physical games to showcase at the Masonic Temple (we have already gotten in touch with a few devs about games we'd love to showcase). If you know of a suitable game, whether it's already released or a playable work-in-progress, please let us know via this form.