03 Jan

January's Jazzy Jewels: Monthly Roundup

*deep trailer voice* In the year 2018… Only one newsletter… Has the power… TO TELL YOU ALL THE GAMING ARTS EVENTS HAPPENING IN JANUARY! *massive explosion*

This may seem like a bit of a slow month as we continue to digest the mountains of cookies, potato, and other sundries we consumed over the holiday season, but we did our best to dig some gems out of the snow to get you back in the gaming arts spirit. After catching up with friends old and new, it's time to set our sights on new projects, new adventures, and new events! Consider subscribing to the Google Calendar next door, who always shovels their sidewalk.
Where to Jaunt – Events

Work in progress: Jordan Sparks modelled the interior of the Oakwood Village Library!
January 12
Meet the artists of the Hand Eye Society's Oakwood Village Library Residency, which took place from September to December. Seven artists spent time in the branch creating seven new, unique interactive pieces, including an autobiographical roguelike, a pair of mysterious blinky boxes, and a Unity game modelled on the library branch itself. Check out the details on our Facebook event and come on out, 3:30 to 5:30 PM at 241 Oakwood Ave! Thanks to the Toronto Arts Council for funding.
January 19
Gabby DaRienzo of Laundry Bear Games is leading this month's Toronto Skillswap — Marketing 101 for Indies — valiantly organized by Randy Orenstein! She will provide tips for branding your game, showcasing it publicly, getting it in front of a wide audience, and garnering press attention. Check it out at 7 PM at the George Brown Casa Loma campus, 160 Kendal Ave, room C416.
January 26-28
Join in with the Global Gam Jam and make a game over the weekend! Jam anywhere or you can also work on location at Uken Games (with a Uken employee on your team) or at George Brown.
Where to Haunt – Socials
January 2
Hang out and write code while drinking coffee! Perfect for getting into the groove of the new year.
January 4
The Breakfast GA Club is meeting at the Black Cat Espresso Bar at 9am. Moving forward, all Breakfast GA Club events will be the first Thursday of the month, so mark your calendars, or download ours 🙂
January 31
Join other gaymers at Power Up Game Bar for a night of games on the big screen!
#ICYMI
Golly gee whiz! The sold-out Cuphead artist talk which we co-presented with the Toronto Animated Image Society in November was recorded and is now online. Artists Tina Nawrocki, Caitlin Russell, and Ali Morbi gave an incredibly in-depth behind the scenes look at different aspects of Cuphead's artistic development, from animation, background painting and prop design to workflow and production process.
The Hand Eye Society New Year's Eve party went fantastically! Thank you to Ken Cho for organizing, to Kadeem Dunn for being a fantastic DJ, to May Cafe for hosting, and to all of you who braved the cold to come out. And of course, to the devs who brought their projects for all to play.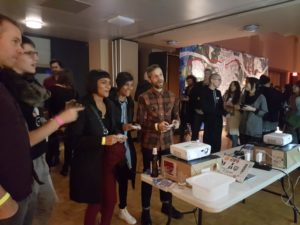 Taylor Bai-Woo's Osteotic Bypass (music by Reila Tab Cai) and Droqen's Inconsiderate Climbers wowed the crowd at Toronto Long Winter last month. Got an artsy party game you wanna show off? Give us a shout at info@handeyesociety.com!
Coming and Going Attractions
Our very own Kadeem Dunn wrote a great piece for Gamasutra about 8 ways to avoid going crazy while developing your indie game. Check it out!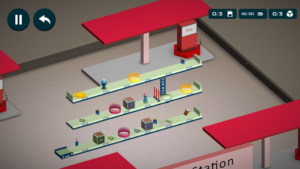 FREE GAME ALERT: RoBoX 2 by local devs The Pixel Crushers is out now on IOS, Android, and Windows. It's a puzzle game where you help RoBox restore the energy back to Robo City. Congratulations to the team on crushing it!
Yifat Shaik wrote about what makes players cry on Gamasutra! She also released The Worksheet Saga, a game she made using Excel based on Conway's Game of Life on Christmas Day.
The charmingly animated Floorkids, which was showcased at last year's Comics x Games, was released on the Nintendo Switch.
Toronto Game Devs voting for Toronto/GTA Game of the Year 2017 has commenced! Categories include Best Port, Best Mobile Game, and GOTY. Remember to use the #TGDGOTY hashtag on Twitter and enter for a chance to win a 50 dollar Steam, Xbox, or PSN card.
The Mount Royal Game Society in Montreal is putting on a truly stellar program that takes the "book club with buttons" format of our original Game Curious initiative to radical new heights. Topics include Immigration and Borders, Environmental Justice and Decolonization, Feminism and Consent, and Capitalism and Workers' Struggles. Check out the program here, although (for now) you'll have to travel to Montreal to participate.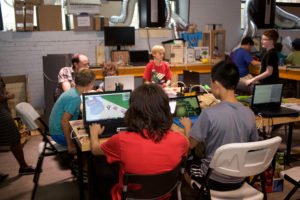 Do you know someone between the ages of 12 and 17 who's interested in learning how to use Unity? SteamLabs has a program for them! This program starts January 17th, so sign up soon!
Paper Trails – Gaming In the Media
As if her month wasn't busy enough, Yifat was also featured in a recent episode of the Built To Play podcast alongside local game artist Taylor Bai-Woo, with a topic that is no doubt on many folks' minds: Make Bread, Pay Rent.
A Mortician's Tale by Laundry Bear Games has been officially nominated for the Nuovo Award at the Independent Games Festival! It also made an appearance at this year's Fantastic Arcade in Austin in November, the first year the fest has been independent from the film festival.
A Mortician's Tale is just one of three Toronto indie games listed on this Best Indie Games of 2017 article from Stephanie Chan over at VentureBeat: It also includes Aether Interactive's LOCALHOST (featured in season 2 of the Play Dead podcast in November) and Will O'Neill's Little Red Lie!
Due to the ongoing TMAC dispute, covered by the Toronto Star  and Globe and Mail in recent articles, Dames Making Games and Gamma Space are currently without homes and have set a court date of January 17 to try and resolve their prolonged and now crucial space crisis. Visit TMAC's website to keep updated and learn how you can help. If you plan on writing to your local Councillors, here is some publicly available communication from local devs and other TMAC supporters to get you started:
Breadwinner – Jobs/Gigs/Opportunities/Deadlines
The Student Science and Technology Online Research Co-op is looking for volunteer mentors for high school students interested in science and tech.  Mentors work with a student in an online environment to complete a research project related to their mentor's expertise. Sign up here and read more about the program here.
Are you an Ontario-based games company heading to GDC this year? The OMDC wants to know so they can update their invitation lists to their annual Canada Party, and to send out other updates that might be of interest to Ontario companies at GDC. If the above applies to you, follow these steps to receive updates on GDC activities and events from OMDC:
Note: you will not receive updates from OMDC unless you have provided consent.
The list is not shared with anyone outside of the OMDC. We try to keep emails to a minimum so people should expect to receive 2-6 messages in advance of GDC. We will share information regarding events, networking receptions, business opportunities, speakers from Ontario, the Ontario GDC Play exhibitors, anything that we think folks might be interested in.

January 12
Annual media arts event Vector Festival has extended its call for submissions for the theme Born Digital. From their website: "What might it mean to witness the birth of a new technology, or to be 'born digital'? How does the term 'digital native' function in relation to this? How can technologies mold or inform identity? How do artists adopt, advance, hack, or dismantle digital technologies, to critically reflect on their meanings and implications? How does analogue detritus live on in the digital? What comes after the digital, how do post-humanist, post-digital, and post-Internet artistic perspectives inflect these questions?"
We know some of you have made video games that answer these burning questions, so now is your chance to SUBMIT!
January 20
Interaccess has an open call for submissions for their programming for the next half of the year. Get those projects in!
January 26
Toronto DigiFest's It's A Start! call for submissions closes; you can get up to $5K and a space for your start-up.

January 31
Get ready to showcase your games at the annual Comics X Games arcade at the Toronto Comic Arts Festival (TCAF) in May! Submissions close at midnight on the last Wednesday of January. We're super excited to see what you've been working on. Please note there is a tabling fee in effect this year, which you have the option of waiving. Check the application link for all the details!
---
Disclaimer: This is a monthly compilation of various Toronto game news and events in and around the city — many of which are not organized by Hand Eye Society — and is by no means comprehensive. Always check official links for accurate details and credits, and please send any corrections, additions, or submissions for future months to calendar@handeyesociety.com